Orchard Lounge, DJ Leila and Mentally Ill are all scheduled to perform what will be a fantastic show at The Putnam Den tonight,  October 25th. All three acts played a show earlier in the year at the formerly named Bayou Cafe, now the Hollow, in Albany, NY. With excellent feed back and a large draw, they will once again take stage, this time in Saratoga, NY.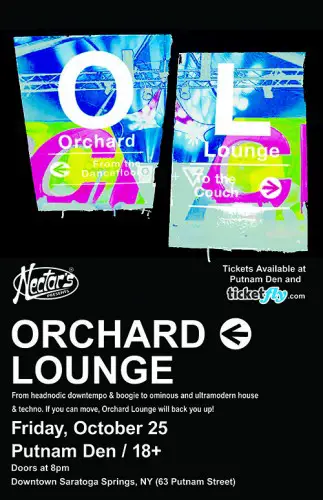 Orchard Lounge is known for bringing their fusion of a wide variety of genres together to create unique sets that keep the masses coming back for more. O lounge is the collective of Bethany Lokken and Spencer Lokken who have set themselves apart from the typical club DJs we have all become accustomed to hearing night after night. The duo has toured festival to festival as a fan favorite, opening for major bands such as Sound Tribe Sector 9, The New Deal, The Disco Biscuits and Future Rock.
Both Dj Leila (Leila Harrison) and Mentally Ill (Jon Santolla) bring high energy, hard hitting sets compiled primarily of Drum and Bass with gritty beats. Both artists run the Drum and Bass Coalition out of Albany and tour extensively on the East Coast festival circuit.
This is going to be a show you definitely do not want to miss.
This show is ages: 18+ and doors are at 8 pm, show starts at 9 pm.