Syracuse natives Jeff Jones, Brian Coyne and Jeff Tripoli, collectively known as The Pale Green Stars, celebrate the release of their album The Honky Tonk Years this week. The album mixes strains of blues, rock and full-bodied vocals to bring together an offering well suited to its moniker.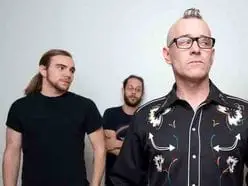 Observations of and reflections on life experiences make for songs like "Lazy Man", which ponders the possibility of getting rich without working, and the literal "Dance Floor's Empty" in what can only be an attempt to motivate audiences to move.
True storytellers, the trio set scenes with each of their songs, weaving in context for their lyrical stories. The fast tempo of "Never Took Nothin", a ditty about love, doing time and getting pulled over brings the listener to the moment those red lights start flashing on the highway. The slow tempo and baritone vocals of "Cold Vicious Man" was quickly reminiscent of The Grinch, slithering around Whoville, up to no good. The Frampton-esque "You Keep on Talking" bemoans an ever nagging significant other whose voice inexplicably sounds like Charlie Brown's teacher.
The bands humorous spin on work, life, love and struggles combined with talented musicianship make for an enjoyable album from start to finish. The Pale Green Stars are actively touring in support of The Honky Tonk Years. Find their tourdates on their Facebook page and pick up their album.
Key Tracks: You Keep on Talking, Long Hard Road, Dance Floor's Empty