Dave Grohl's involvement with Swedish rockers, Ghost, was the butt of one April Fool's prank earlier in the year, but his contributions to the Rock & Roll world may finally be rewarded with a prestigious accolade come next May.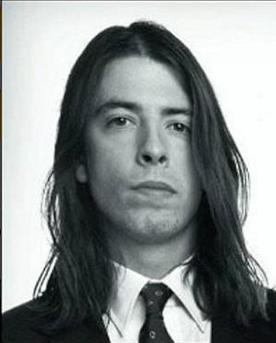 Wednesday, the Rock and Roll Hall of Fame named Nirvana among a field of 16 nominees for the induction Class of 2014. Grohl was drummer for Nirvana from 1990 to 1994 (and not a mere doppleganger, as some on the Internet have observed).
"Interesting," Grohl told Rolling Stone. "Well, hopefully they make us wait as long as Rush did."
The field of nominees include – Nirvana, Linda Ronstadt, Peter Gabriel, Hall and Oates, The Replacements, YES, Link Wray and The Zombies, KISS, LL Cool J, N.W.A., Cat Stevens, Deep Purple, The Meters, The Paul Butterfield Blues Band, and Chic.
Grohl stepped into the limelight in 1990 as part of the three-piece grunge band from Seattle.  The video for "Smells Like Teen Spirit" served as the proverbial trumpet blast that ushered in the grunge movement to mainstream television on MTV.  
The band would ultimately disband when Kurt Cobain died four years later. Grohl, however, has remained busy. He continues to perform under Foo Fighters, a band he founded initially as a solo project. Since 1994, Foo Fighters has released eight studio albums. 
Despite the huge impact Nirvana left upon the music industry (selling approximately 70 million albums as of date), Grohl's personal resume is perhaps more impressive.  He has become ever-present.  Outside of Foo Fighters, Grohl has an impressive resume that includes collaborative work with Nine Inch Nails, David Bowie, Paul McCartney, Slash, and Iggy Pop, and Queens of the Stone Ages. He is also a man of many hats, who has taken on the duties of drummer, singer, song writer, film director and guitarist. 
Last week, Ghost revealed that Grohl produced their upcoming EP, "If You Have Ghosts." In past months, his involvement with Ghost has been speculated to go beyond that of producer. 
Ghost is (in)famous for performing under shadow, of speak.  The front man dons ceremonial garb akin to a Catholic cardinal., and is supported by an act dressed in dark, hooded robes, who refer to themselves collectively as "nameless ghouls." 
This past April, it was reported that Grohl admitted to being one of the nameless ghouls. With the news release reported as of April 1st, the news was quickly debunked as a hoax; however, search engines have an uncanny ability to breath life in such things. 
"If You Have Ghosts," is scheduled for a November release. 
Nirvana received a nomination for induction in it's first year of eligibility – 20 years after the death of Cobain.  The induction ceremony will be broadcast in May 2014 on HBO. 
Cobain's widow, Courtney Love, continues to fight the Hall of Fame over mementos of her late husband.  She reportedly slammed the Hall for their induction class back in 2000, and demanded the return of items of which she claims ownership. "I hope that no one I know is ever inducted into your idiotic 'Hall of Fame,'" she is reported to have stated in a telegram.
Rush, the legendary rockers from Canada, were inducted into the Hall of Fame only last year, only after several years of clamoring from fans.