After a long anticipated wait, the daily lineup for City Bisco has been released, as well as a kick off date in Baltimore, MD.  The long weekend will start at the Baltimore Soundstage on September 26th and end in the Disco Biscuits home town of Philadelphia, PA. Disco Biscuits fans from all over the country will convene at the Mann Center in Fairmount Park for two nights of astounding musical guests on September 27th and 28th.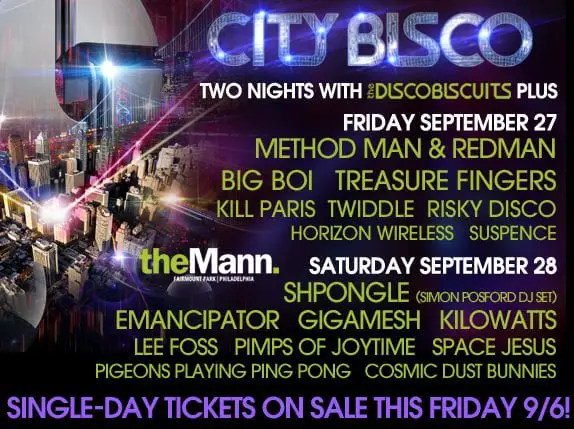 After the great success of last year's City Bisco, and the tremendous success of Upstate New York's own Camp Bisco, it seems the buzz surrounding this festival is greater than ever. Over the past 18 years the Disco Biscuits have created a vast following that spans from coast to coast. The boys have played Mayan Holidaze on the Riviera Maya, hosted Bisco Inferno at Red Rocks, and  brought world renowned artists to the quaint town of Mariaville that hosts Camp Bisco. City Bisco has become an urban installment of their beloved Camp Bisco which has grown with great intensity to accommodate 25,000 patrons annually. Since the early 90's The Disco Biscuits have created their own genre of "Jamtronica," as well as forged the path for the exponentially growing music scene that is home to many electronic acts from all parts of the world. City Bisco will bring together a diverse group of artists for an epic weekend of music in Philadelphia that should not be missed.
The lineup will include two nights of The Disco Biscuits, Method Man and Redman, Big Boi, Treasure Fingers, Kill Paris, Twiddle, Risky Disco, Horizon Wireless, Suspence, a Simon Posford Shpongle DJ set, Emancipator, Gigamesh, Killowatts, Less Foss, Pimps of Joytime, Space Jesus, Pigeons Playing Ping Pong and the Cosmic Dust Bunnies. This is sure to be a weekend to remember, so grab your  City Bisco tickets now.