When Hurricane Sandy devastated the east coast last year, drummer Mickey Hart sat around watching the news, saddened but inspired by the resiliency shown.
"It was heart-wrenching," Hart, one of the four living members of the Grateful Dead, said in a recent phone interview. "I saw Bon Jovi on NBC News and all of a sudden the song just popped into my head."
The song he is referring to is titled "JerseyShore," and is available for free download at mickeyhart.net. Hart said he wanted to give back to the people affected by asking for donations from those who download the song. You can download it for free, but the site encourages you to donate whatever amount you can. Hart is giving 100 percent of the proceeds to the Sandy Relief Fund.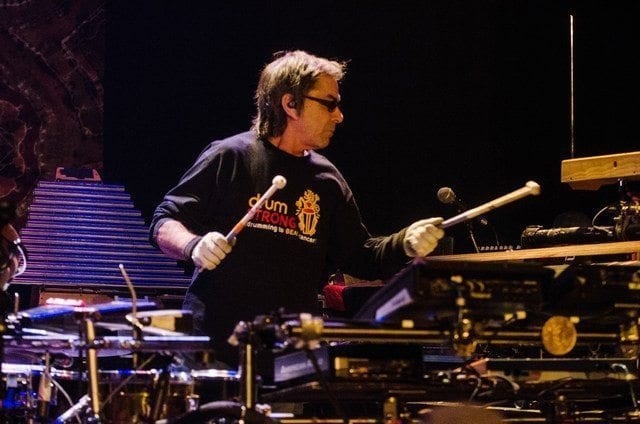 Hart said that he and his group, the Mickey Hart Band, collaborated to come up with the song. He gave credit to bassist DaveSchools, also of Widespread Panic, in helping the song develop.
"It was my idea for the song, but the entire band contributed," Hart said. "It just popped out, but everyone in the band lent a voice to it. … To me, music is many things, and one of those is that it helps to heal, to sing about what hurts and to illuminate pain. It's like medicine and it boosts confidence."
Hart's band has been going strong for three years now, with an ever-changing cast of musicians. For a guy who is about to hit his 70th birthday, Hart said he is as inspired as ever to write new music – he disclosed that a new album should be released by the end of the summer – while keeping the Grateful Dead spirit alive by putting a new take on old classics. The album does not have a title yet, but Hart said that he and long-time Dead lyricist Robert Hunter have collaborated on it, and that Hunter is rejuvenated.
"Hunter is writing at the top of his game," Mickey Hart said. "He's still chock-full of ideas for great songs, and we're gonna play those songs on this tour."
Hart joined the Grateful Dead in 1967, right around the time Hunter moved into the famed house at 710 Ashbury St. in San Francisco. Hart said his relationship with Hunter is just as strong as it was 46 years ago.
"There's no one like him," Hart said. "He has an egoless style."
The band recently wrapped up the first leg of the Worlds Within Tour and announced a second leg, which focuses mainly on the northeast. The tour starts May 8 in Charlotte, N.C., and concludes May 24 at the Dark Star Jubilee in Ohio. In between are stops in Virginia, New York City, Pennsylvania, Maryland, Washington, D.C., Delaware, Connecticut, New Hampshire, Boston and Burlington, Vt.
On May 22, Hart brings his band, which comprises vocalist Crystal Monee Hall, keyboardist Joe Bagale, guitarist Gawain Matthews, percussionist Sikiru Adepoju, with whom Hart won a Grammy in their Planet Drum project in the 1990s, drummer Greg Schutte and multi-instrumentalist Jonah Sharp to the Westcott Theater in Syracuse. The following night, the band will perform at the WaterStreetMusic Hall in Rochester.
Schools will not be involved with this tour, as he has previous commitments. Schools said he is prepping for Widespread Panic's upcoming summer tour. Schools joined the band in late 2011, and has toured with band ever since.
"He's got a day job, man," Mickey Hart said. "But I can say that 'BassMountain' is still a big part of the band. He and I have a great dynamic in working together."
Filling in for Schools on the Worlds Within Tour is Adam Theis, who will also play trombone, according to Hart.
On Jan. 6, 2012, the band performed at the Westcott, throwing down some amazingly brilliant and completely different takes on the Dead's repertoire. Hall's voice adds a layer of depth the Dead didn't have vocally. Prior to joining Hart's team, Hall was a part of the Tony Award-winning musical RENT.
Before that show, Hart talked about his plans for taking light waves captured from outer space by scientists from Lawrence Berkeley Labs in California and turning them into sound bytes. From there, Hart used those sounds as either inspiration, or built a song or rhythm around them.
To Dead fans, this may bring up the "Drums>Space" segment that happened at almost every show, but Hart cautioned otherwise, saying: "This is not space like (the Dead) used to do; we're not interpreting what space is. This is us using the source material, the sounds of space, to play with our sound. This band can do that."
The conversation then turned toward the obvious: Will the living members of the Dead ever tour again? Was 2009's tour the last?
"I can't answer that," Hart said. "I look forward to any reunion of any kind, but it has to feel good."
Hart concluded the conversation by connecting the fans and the band.
"These shows are gonna throb," he said. "Fans will experience it with us. We need the audience, and they need us. Each night will be three hours of powerful music, and I consider it a privilege that I continue to do this. I might not be able to do some of the things I was capable of in my 20s, but I can say I am focused. I'm almost 70 and I don't see myself retiring."
For more information on the tour, please visit mickeyhart.net for shows and ticketing information.