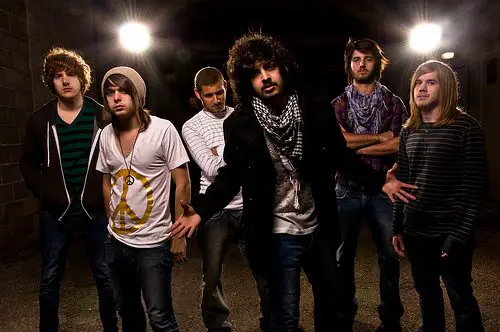 Last Saturday, April 6th, Everyone Dies In Utah came to the Lost Horizon in Syracuse on their Dark Hearts & Open Eyes tour with The Overseer and Bleach Blonde. To support them were some of the finest upstate metal acts: Redfield, Meira, and Turn the Tide. This show was exactly what it promised to be; a showcase for up-and-coming talent in the various forms of underground music. While the bands all did very well and had good energy, the crowd seemed less enthusiastic. I'm not sure why this is the case, but by the end of the night, EDIU most certainly made the crowd come alive.
Local metalcore sextet Turn the Tide opened the show and did what they always do; they "kept it metal". Their high-energy stage presence and tight stage-move choreography kept things interesting, on top of talented musicianship and vocals. Not even drummer Mike Hopper's overhead microphone falling on top of his drum set could stop the flow of their musical onslaught. However, being the first band has some serious drawbacks, and the crowd didn't really give these guys as much energy as they deserved.
Following them was Meira, a metalcore quartet that sounds like there are way more people than that. Playing songs from last year's debut EP, Closure, plus a new song, these guys brought their dark, brutal sound to the stage with full force. The crowd started to pick up a bit as they went on, and some dedicated fans revealed themselves and sang along with them. They showed a lot of promise and cohesiveness with just the four of them, and proved that they are not messing around.
Redfield, a local fan favorite, was the last local band to play. This metalcore act has gone through some lineup changes to date, and I think some of it showed. The vocals and rhythm section were spot-on, and brought the familiar partying energy we've all come to know and love, but it seemed as though at least one of the guitarists were new to the band and still needed to learn parts of some songs. However, vocalist Travis Bartlett carried the energy they are known for and engaged the crowd well, and induced some singing along of their newest songs.
Pop-punk band Bleach Blonde were next, and they created some mixed feelings. They have a light, fun sound, and the music itself was performed excellently. Their drummer truly stood out with his skill and fills, but the whole band kept it together very well. That is, except for the singer. I don't know if he couldn't hear himself or what, but I don't think he sang one note on key the entire show. That wouldn't be too big of a problem if he wasn't also boring on stage. This may sound harsh, but I think this band would have a much more promising future with a different singer.
The Overseer, the last supporting act, took the stage by storm and brought some life back to the crowd after the previous band had finished. With their engaging stage presence, musical skill, and varying effects, these guys most certainly made a good impression on the crowd. They proved to be nice guys too, hanging with the other bands and talking to the audience about Syracuse University in the Final Four between songs. This band is definitely one to watch, because as good as they already are, it can only go up from here.
When Everyone Dies In Utah took the stage, it was like a tidal wave. Strobe lights, keyboard effects, and brutal postcore music seemed to completely revive the crowd. It seemed many of the people in the crowd came to support the local bands, which is good, but the ones that stuck around to see EDIU were most certainly impressed. Somehow, they are able to combine brutally heavy verses and breakdowns, super catchy choruses and riffs, and electronica all into one distinct sound. They also proved to be nice guys, taking the time to talk to me for an interview after taking down the massive amount of equipment they had.
Here's my interview with Everyone Dies In Utah:
http://www.youtube.com/watch?v=ogBYZeFC330
My interview with Meira:
http://www.youtube.com/watch?v=XSKIMvHpQvs
My second interview with Turn the Tide:
http://www.youtube.com/watch?v=y0NRs6AyRvA
(Here's my first interview with TTT, just so you're all caught up and learn everyone's names…):
http://www.youtube.com/watch?v=zTaX0cJz_N0
www.facebook.com/315MusicReviews