With Daft Punk slowly leaking the collaborators of their upcoming album Random Access Memories, anticipation is at an all time high as fans await the release of the first single, "Get Lucky", in the coming weeks. The reclusive French duo have no plans to tour just yet and even when they tour, tickets are likely to be impossible to get and in select cities throughout the country. Fortunately, the tribute act One More Time is filling a void with an incredible live show that mimics Daft Punk's live act, to the best degree that one can imitate such a spectacular show.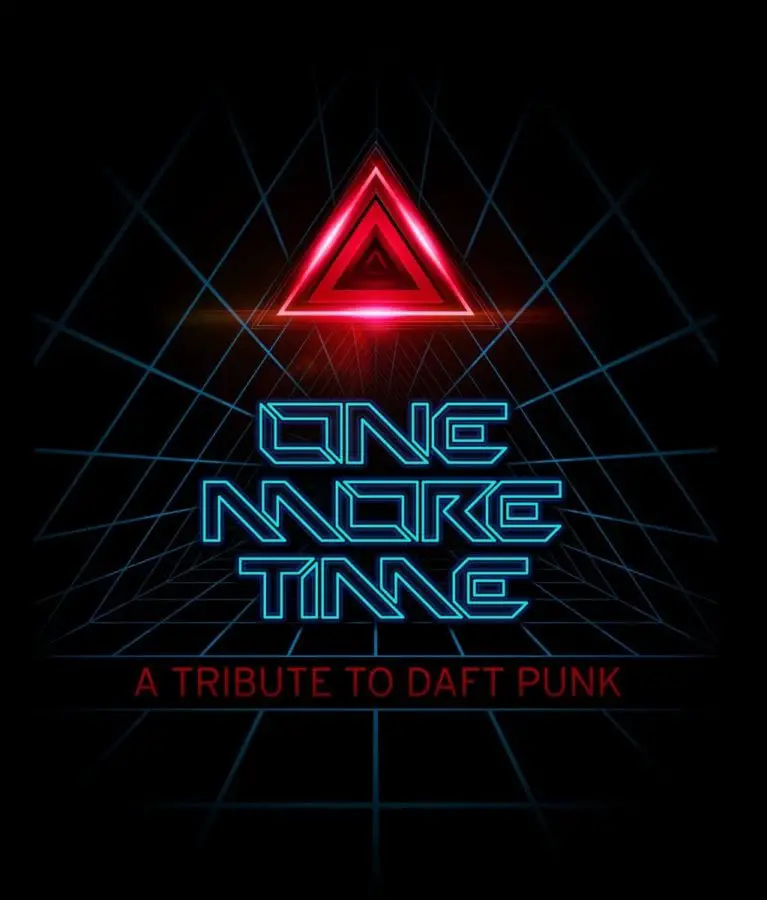 With two shows coming to Upstate New York – Saturday April 20th at The Westcott Theater and Saturday April 27th at Upstate Concert Hall, lucky fans are going to be in for a huge treat. Not knowing what to expect beyond Youtube videos, an interview was in order with R and B, the guys behind One More Time.
Pete Mason: For those who have never seen a Daft Punk tribute such as One More time, how closely, if at all, does your stage show replicate that of Daft Punk?
R & B: Our show has been perfected and grown into a FULL scale LED pyramid stage show complete with a lot of the same equipment used during the Alive tour. There are even sections in the set that replicate the same lighting cues as Daft Punk's Alive tour. From the chromed helmets, to the light suits, and finally the encore performance, our show is as close as your going to get to the actual band. This is a project heavily researched and perfected with the help of the hardcore Daft fanbase.
PM: What makes Daft Punk continue to be the gold standard of Electronic Music, especially since the surge of dubstep in the past few years?
R: Daft Punk are the pioneers of modern electronic music of our generation. In the 70's, we had Kraftwerk, In the 90's, it's DP. Daft Punk's show in '07 was the very first large scale electronic production show that paved the way for such artists and their large stage shows, i.e. Deadmau5.
N: It's also in their sound. For instance, Daft Punk has grown to be a successful group because of their appreciation for a "true to time" quality which has been seen on each of their albums. We intend to model our sets around that same feel by using songs and samples which fit "that" mold, instead of pushing for a contemporary sound such as dubstep, or complextro.
PM: Is there a particular Daft Punk album, or era, that you identify with in particular, or love to play more than any other album?
R: Our set is heavily flourished with Human After All, Since it was this era that the band had premiered their full-scale light show for the first time.
B: It's this kind of inspiration we kept going back to while programming our current show with the likes of the Tron soundtrack and of course our fav, Homework. There's a little bit of everything throughout the set.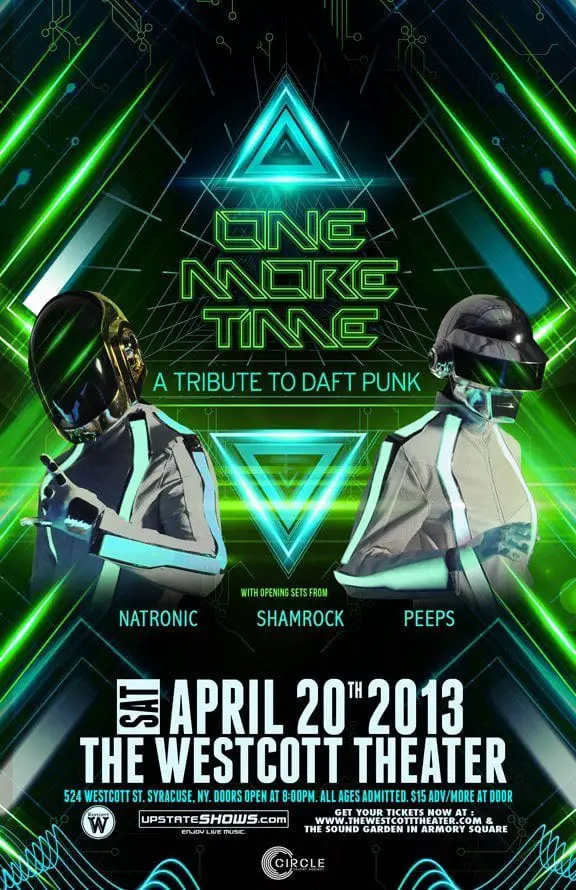 PM: How has the lack of Daft Punk live shows necessitated the arrival of a band such as One More Time?
R & B: There's such a heavy fanbase that wants to see the band perform more live. We grew from researching the Daft fanbase and are simply a living and breathing interpretation of all that work put into one. After we started this show, Daft Punk fans have continuously come up to us and thanked us for bringing our interpretation to the local and theater venues that wouldn't be able to accommodate the real band. Our show is a presentation of material and fan requests in a new and unique way.
PM: Have you had any contact with the reclusive duo?
R & B- We have not.
PM: How eager are you anticipating the new album Random Access Memories?
R & B: We are both very excited for the release. The 10 second clip that debuted on SNL, exhibited our favorite element and style of electronic music, Disco.
PM: What other influences have had an impact on your musical education and brought you to play electronic music?
R: While my main influences in EDM stem from Daft Punk itself, I regularly listen to a lot of classic and indie rock. My musical taste was heavily influenced from college radio back when I was in school. This is where I got my start at as DJ for the first time.
B: I'd say an early love for electronic music, lent itself to loving the French house sound. Artists like Underworld and The Chemical Brothers led me into harder styles of music as a child. When I originally saw Daft Punk and their costumes, I immediately fell in love with the idea of electronic artists using stage presence in a more creative way. Everyone from Aphex Twin's dancing bears to artists like Deadmau5 have pushed the scene into more entertaining dimensions; we're just trying to pay tribute to the guys that started it all.