Adam 'Shmeeans' Smirnoff has played with Lettuce since their inception nearly 20 years ago in Boston, and has since branched out with The Expanded Consciousness, which includes Craig "Butter" Glanville on drums, bassist Chris Loftlin and Blind Boys of Alabama keyboardist Pete Levin. In advance of the shows, Adam sat down for an interview, where we talked Lettuce, the Boston music scene and a solid amount about the Knicks and the NBA's undervaluing of franchises.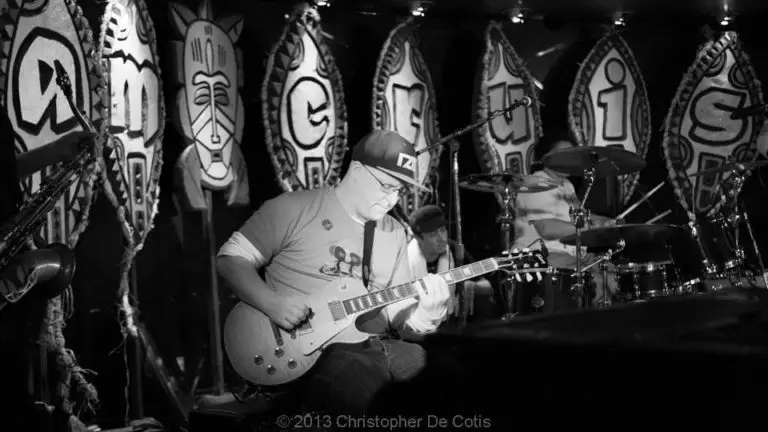 Pete Mason: You started out at Berkelee, like alot of the Royal Family Musicians, as well as members of The Slip, among others. What is it about the school that makes it such a hotbed for musicians like yourself and a launching pad for innovative jazz and improv groups?
Adam "Schmeeans" Smirnoff: Obviously Boston in general is a young college town and so you have an influx of all these people from around the entire world who are interested in improving their craft, whatever their craft may be. In Boston with Berklee, The New England Conservatory, all these other schools you have a lot of people with a lot of similar interests and the idea of growth. For me personally, I felt like I was coming from a high school in New York where I didn't have that many people to play with and I was searching for people who had similar ideas and had similar direction, and I think that's what Berklee School of Music in Boston gives you.
PM: What was your first interaction with Eric Krasno and the other members of Lettuce? Can you recall your first gig with the band?
AS: I can, I can recall all those events. My first interaction with Krasno was when we were 13-14 years old at the National Guitar Summer Workshop. I didn't know that many people and Kras would sit outside with his friends and bust everyone's balls, just like he does today (of course I'm saying that with love.) My first gig with Lettuce, there are two ways of looking at it: one, the 'Caf show' during the five-week program when we were 16, that might be considered the first Lettuce show, but not really. The first real show was in 1994 at Tufts University at the Wilson House set up by Noah Smith, another Hastings High School alumni, who was going to Tufts at the time.
PM: The Expanded Consciousness is one of the relatively new Royal Family acts to head out on the road. What sets the sound apart for your group and what can fans expect?
AS: Obviously, this is a much smaller group, as a trio or quartet. I think this is a much more open project and we're currently still trying to figure it out. It really hasn't developed into what it can become, but come check it out and be part of the growing process. The sound is more jammy and more funky, leaning towards longer jams and more improvisation, trying to really find the spiritual element as we play together as a unit.
PM: You have since played with Lady Gaga and Robert Randolph. How did each of those gigs come about and how long did you play with each group?
AS: Robert Randolph and the Family Band was my longest tenure, six years, and that came about from Tobacco Road. Robert Randolph opened for Lettuce at The Wetlands, they jammed and Krasno reminded Robert that I was around and took me out on the road with him. He introduced me to the whole world of sacred steel and I've been able to play with some of the most incredible sacred steel players in the world Aubrey Ghent, Roosevelt Collier, Chuck Campbell, Robert Randolph and Calvin Cook. I don't know if you can get any higher playing on the plateau that sacred steel is on, and it has permanently affected me in my life and I really enjoyed that experience.
Lady Gaga was through Jeff Basker, the original keyboard player of Lettuce who played on the Outta Here album, and who just recently won a Grammy for Song of the Year (as a producer) for 'We are Young' by Fun. I did Saturday Night Live with her and her first Monster Ball Tour. I truly enjoy musically, our world, the jam world, a lot more than I enjoy the pop world. It was a fun, short lived experience, I'm glad I got the opportunity to do it, although I'm not sure I would do the pop world again, but it was an amazing experience to play with Elton John at the Grammys.
PM: How good is it to be a Knicks fan lately?
AS: (Laughs) It's been a fun year, we're in the final stretch here and we gotta turn it up a notch, there's a lot of great teams in the NBA right now. Win or lose, I'll be the Knicks #1 fan. Look out Spike Lee, I'm coming for ya!
PM: Having played festivals and shows around Upstate NY, what are your favorite spots to hit off when traveling through the state, whether they be venues, towns, restaurants, etc…
AS: I'm a huge fan of Woodstock. I used to have a friend who lived out there for no reason other than living out there in the trees and woods. I love all the little organic stores out there, feeling that not everything is commercialized and there are mom and pop places, which I really enjoy. There is nothing worse for a musician than traveling and seeing the same thing, the same stores, chain stores in every city.
PM: It breaks up the monotony traveling in Upstate?
AS: For sure
Schmeeans and The Expanded Consciousness play Red Square on Friday, February 22nd and at The Putnam Den on Thursday, February 28th. Both shows are in support of Earphunk.