Branching out from one of Albany's biggest bands, Mister F is set to debut on March 1st  in Albany as a side project of prog-rock group Timbre Coup. The band will be playing shows on a recurring basis, but by no means supplanting the current lineup. Musical growth is always welcome and stands to benefit all musicians from both bands in the long run.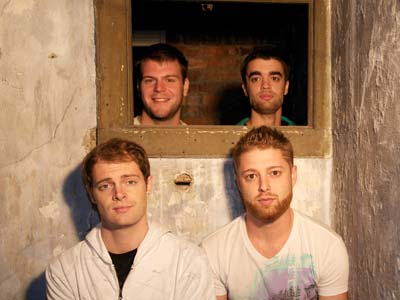 Included in Mister F are three members of Timbre Coup: Matt Pickering (drums), Ben Pickering (bass) and Andrew Chamberlaine (guitar) and Scott Hannay from Capital Zen (keys), although you can expect a fair amount of instrument switching from these talented musicians. Scott has been friends with Timbre Coup for many years now, having sat in with them, as well as playing with the likes of Umphrey's McGee. Scott also created the Umphrey's McNes stream of songs (Nintendo-style versions of Umphrey's songs) which can be heard on MySpace. Matt Pickering remarked "I think we have great chemistry and he writes amazing music on all instruments. In fact, he writes and programs drum parts better than I can play them. It's a challenge learning his drum parts and I know the other guys feel the same about his guitar and bass parts."
The name of the band, Mister F, is a nod to one of the best shows in American Television history, Arrested Development and all band members share an affinity for the program.
The group's debut show will be at The Bayou Cafe in Albany on March 1st with Cosmic Dust Bunnies slated to play the late night portion of the night, with an opening act set to be announced soon. Look for Mister F to play shows in April and into the summer.
For now, check them out on Facebook and their website
Listen to an exclusive track 'Hedgehog', featuring some instrument switching – Scott on bass, Ben and Andrew on guitar creating the key/synth sounds, and Matt on drums.