1988 was a groundbreaking year for Steven Page. 1988 was the year Steven Page was introduced to the locals in Toronto, Ontario, as he was taking the stage with Ed Robertson for the first time as Barenaked Ladies. Witty lyrics and quirky stage presence quickly become the norm for this duo who routinely missed or skipped show rehearsals and relied more on improv as they took to the stage.
After a successful run with the band including Juno awards, Grammy nods, and huge pop songs, Page left in 2009 and pursued a solo career. A solo career which still includes the witty lyrics and quirky antics, both of which helped make him a household name in Toronto, and across SUNY school campuses in New York. Having seen Barenaked Ladies 10 times, all with Page as the front man, I was hoping for some of that charisma at the Riviera Theatre in North Tonawanda.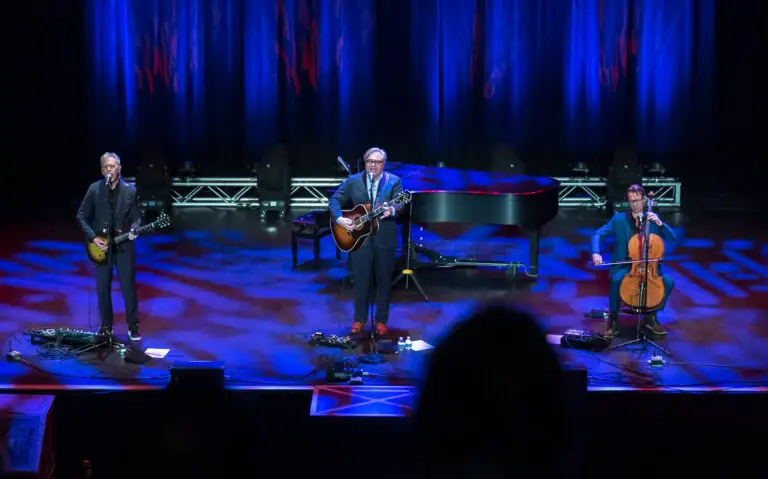 With nearly 1000 fans filling the seats at this 97-year-old theatre, Steven Page opened up the show with 'It's All Been Done," from the album Stunt. Fans of all ages were immediately into it. Hands waving in the air, random lyrics being belted, and a couple 20-somethings dancing in the aisles. We all knew then how this show was going to go. While he is no longer with the band, Page routinely plays favorites like this as diehard fans still enjoy them.
Coming up next was one of my favorites, from 1994's Maybe You Should Drive, Page belted out lyrics to "Jane." More of the sellout crowd began singing along and dancing in the aisles. Sadly, the security wasn't having it, as they were quick to make these young ladies take their seat. It wouldn't last though.
When Page was done talking about Jane, he began to reminisce of yesteryear, touring with Barenaked Ladies across campuses of SUNY schools. Recalling shows at Fredonia, which some fans cheered at, as well as driving around saying "we played there, we played that college…" I recall seeing Barenaked Ladies at SUNY Brockport in 1993, or maybe 1994. Either way, it was few years ago and the year doesn't matter. What matters is watching Steven and the band have a blast on stage and fans throwing boxes of Kraft Macaroni and Cheese during one of their songs. These are the memories that Page was getting at, along with meeting new people and seeing how they perform. Bands such as The Odds, featuring Craig Northey, who now tours with Page as one third of Steven Page Trio.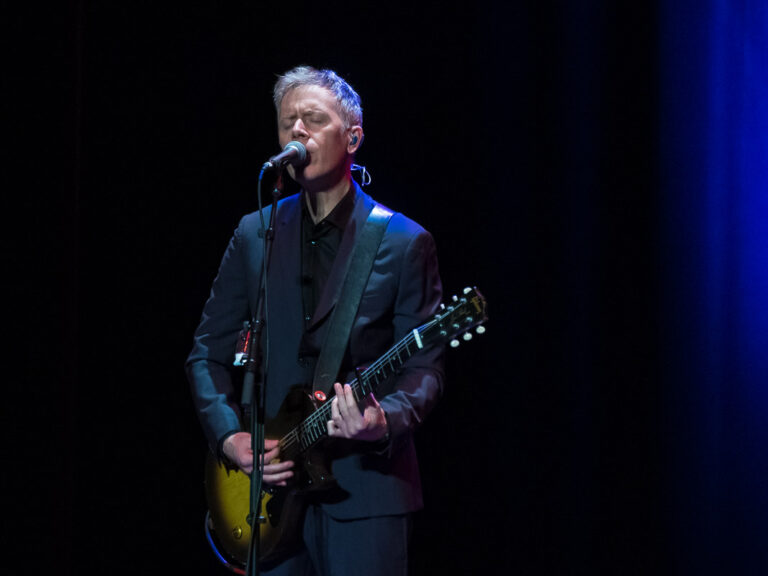 Done recalling the past, page continues his set with an extended version of "Alternative Girlfriend," "Golden Age," and "What a Good Boy."
In the midst of all this, of course he has to plug his newest album, Excelsior – Steven Page, to which he references New York's state motto, and continues on about the new NY rest stops. Being a newer NY resident, Page seems to not agree with the size of some of the newer rest stops as well as the choice of an un-named chicken place that isn't open on Sundays. All of which got some loud applause and cheers from the crowd.
During the height of the pandemic, Page began doing home show, as many artists to keep in contact with their fanbase. Although the worst is behind us as far as the pandemic goes, Page continues his live from home shows and recently aired his 100th episode Steven Page Announces 100th Live From Home Show ::antiMusic.com. With this he recorded the song "Zoom," which is an ode to a way of life for everyone for a great while. The song talks about seeing your family and your living room, making new friends, and of course hoping the internet holds up.
As Page finishes his set with Northey and Kevin Fox on cello, he is still amazed that he sold out the theatre and thanks everyone for their continued support. Very grateful for 30+ years in the business, both with Barenaked Ladies and on his own. The support he has received over the years is clear as the packed house is on their feet for the entire 4 song encore.
Follow and support Steven as he continues touring and pushing his albums. Steven Page | Musician
Setlist: It's All Been Done, New Shore, Jane, Alternative Girlfriend/SW Cool, Golden Age, What a Good Boy, Gravity, Linda Ronstadt in The 70's, Something About Me, No Song Left to Save Me, Looking For The Light, Zoom, Bull in a China Shop, Old Apartment, Brian Wilson
Encore: Asleep at the Wheel, Enid, Call And Answer, Shoe Box