The second annual edition of the Hudson Valley Follow The Arrow festival presented by Marco Benevento at Arrowood Farms in Accord lineup has been announced for June 17.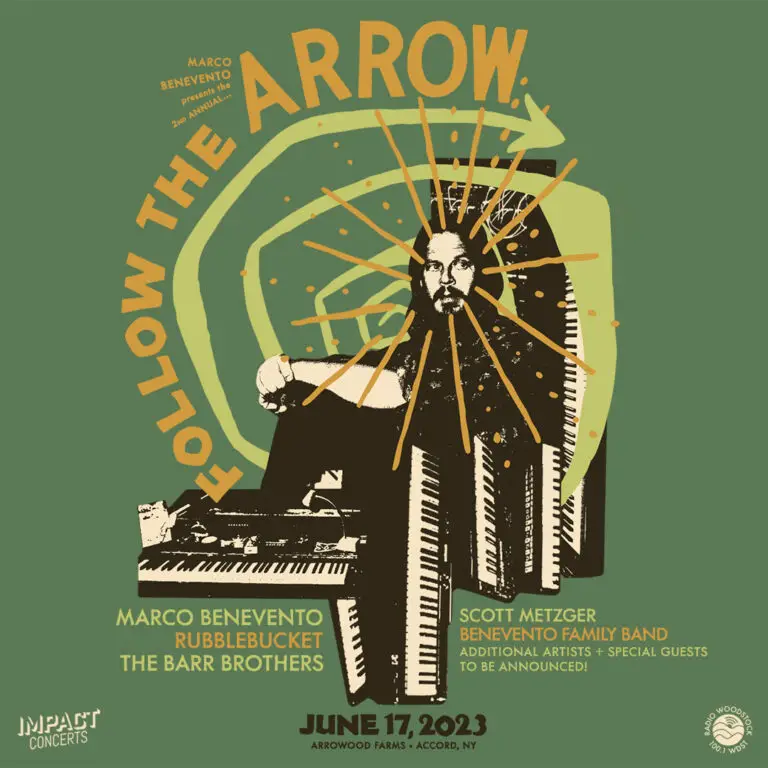 Follow The Arrow Festival was created by Marco Benevento along with his record label Royal Potato Family and Impact Concerts in 2022. The festival featured performances by Antibalas, The Slip, and Mikaela Davis, among others. It is centered around the importance of self-expression and maintaining one's values, all while listening to great music and enjoying a sense of joy and positivity.
Woodstock-based artist Benevento has toured the world for his eight studio albums, amassing a devoted fanbase, while drawing praise from tastemakers far and wide. The Los Angeles Times said, "it's safe to say that no one sees the keyboard quite like Marco Benevento's genre-blind mashup of indie rock, jazz, and skewed improvisation." His songwriting is infectious and earthy, yet at the same time is pumped full of dance-rock energy. On his latest album Benevento, he dives deep down a psych funk rabbit hole, reimagining the negative times we are living in with optimistic groove tracks like "At The End Or The Beginning," "Winter Rose" and "Do You Want Some Magic?"
We're so excited to invite everyone back to Follow The Arrow this summer. As anyone who attended last year will tell you, it was a magical day. Everyone partied and had an amazing experience, but it was also family friendly vibes where you could bring your kiddos and relax because they were having as much fun as everyone else. This year's line-up includes some of my all-time favorite musicians and we'll be revealing a few exciting additional artists and plans for the day in the coming weeks. We're still feeling it from last year, so you know we're only gonna build on it and have ourselves an absolute blast.

Marco Benevento
This year's festival features Marco Benevento and his band as well as indie rock groups Rubblebucket, The Barr Brothers, and Scott Metzger, with a second round of artists and special guests to be announced in early April. Rubblebucket is a spunky art-pop and indie-rock band from Brooklyn, featuring members Kalmia Traver and Alex Toth. Their performances are high-energy, with an engaged crowd that sings every note, grooving back and forth to their music. The duo's sixth record Earth Worship explores love songs for and from the natural world, featuring infectious melodic complexity, hooky vocals, and shimmering beats.
The Barr Brothers is an indie folk band founded in Montreal in 2006, consisting of brothers Andrew and Brad Barr, as well as bassist Morgan Moore, pedal steel guitarist Brett Lanier, and harpist Eveline Gregoire-Rousseau. Scott Metzger has performed extensively all over the United States, Europe, Japan, and Australia and has recorded projects of all styles. He is a full-time member of the critically acclaimed, increasingly popular Joe Russo's Almost Dead.
The second round of artists includes heavy groove trio LaMP featuring guitarist Scott Metzger with keyboardist Ray Paczkowski and drummer Russ Lawton who are best known for their work with the Trey Anastasio Band, Beacon, NY-based indie folk band Upstate, and jam rock meets indie pop dynamo Karina Rykman and her band. In addition, Marco Benevento and friends will cap the night off with Let's Dance: A Tribute To David Bowie, with special guests Duane Betts, Stuart Bogie, Mikaela Davis, and Sister Sparrow.
Tickets go on sale on March 24 at 10 a.m., including an allotment of discounted early bird tickets. For more information about Follow The Arrow Festival and to purchase tickets, visit here.