Brooklyn-based melodic punks Warn The Duke are back with a new album titled All That's Solid, out on Friday, March 17th. The band will celebrate that night with a show at Brooklyn's Our Wicked Lady.  
The new LP All That's Solid is a window into the ebbs and flows of recovery. Songwriter and lead singer Dan McCool (former River City Rebels) leads us through cycles of despair, renewal, and self-forgiveness that emerge after trauma and loss.  
This is Warn The Duke's first album in eight years, being written on the heels of lockdowns, divorce, and addiction. By layering harmonies and the combo of male/female vocals, the band emphasizes the record's bittersweet atmosphere. 
There are some far-ranging influences bringing the listeners through All That's Solid. For instance, the warmth of Mike Ness's vocals, the wry defiance of Against Me!, the dense, dark guitar tone of Nothing. Also, the earworms and hooks of The Replacements, early 2000s math rock-inspired lead guitar lines, and the hard-hitting punk grit of Hot Water Music.  
"These guys play that brand of punk rock and post-hardcore that bands like Hot Water Music perfected."

-Nerdist 
Joining McCool on the album are drummer Derek Davis (former Big D and The Kids Table/The Toasters), bassist/vocalist Chris Marciniak, lead guitarist Chris Ferreria, and guitarist/vocalist Dori Cameron. 
The album features the songs "Sometimes," "The Middle" and the single "Anniversaries" (the latter of which is now streaming). Watch the music video for "Anniversaries" below and pre-save the album on Spotify. "All That's Solid" arrives on 12" LP vinyl and digital on Friday, March 17th. The band will celebrate that night with a show at Brooklyn's Our Wicked Lady.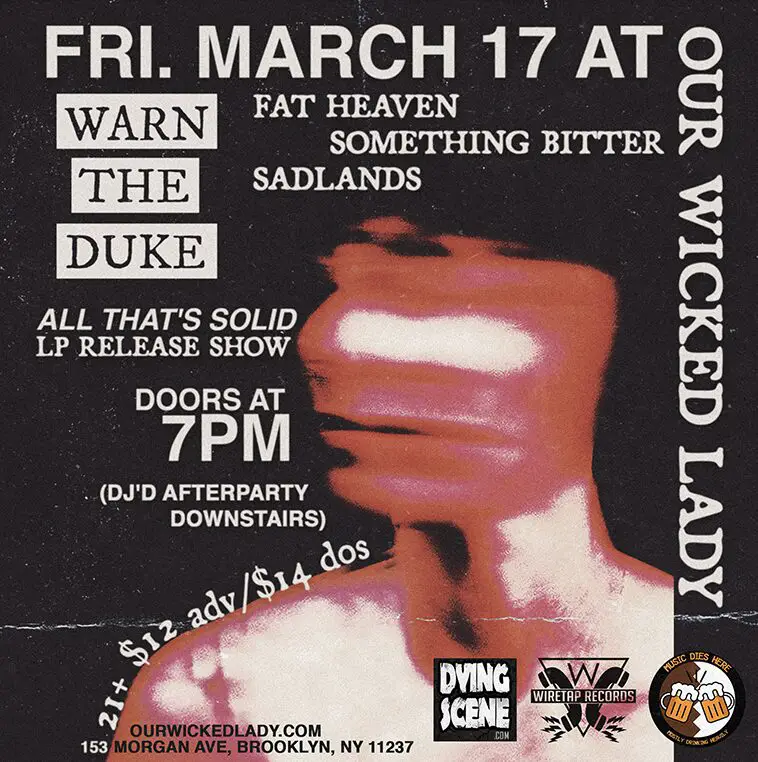 All songs on All That's Solid were written, performed, and produced by Dan McCool and Warn The Duke. Furthermore, some were recorded and mixed by Jeff Berner at Studio G (Brooklyn). Additional record recording and co-production was done by Chris Duggan at Blue Banshee Studio (Brewster, MA), and mastered by Jon Markson.
For more on Warn The Duke, click the link here. 
To pre-save All That's Solid, click the link here.