The Great South Bay 2023 Music Festival presented by Island Federal Bank announced its back for its 15th anniversary, taking place at Shorefront Park in Patchogue Village, from Thursday, July 20 through Sunday, July 23.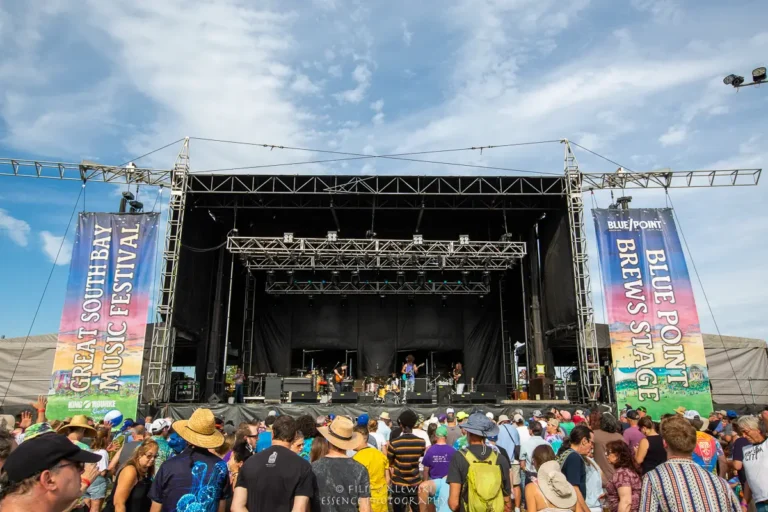 The Great South Bay 2023 Music Festival features over 60 performers on four stages, in classic and contemporary rock, jam, blues, jazz, Americana, ska, reggae, alternative, and funk genres. The festival is known for its eclectic lineup of headliners with four very different days of music.
Kicking off the festival Thursday, July 20, with ten performers on two stages, is the legendary Hot Tuna, returning for their fourth visit to Headline the Main Stage. Classic rock act Dave Mason supports, and Barnburners The Fabulous Thunderbirds featuring Kim Wilson round out the lineup and local guitar legend Kerry Kearney and the Kings of the Psychedelta make an appearance.
Friday brings the annual rock-reggae-ska party, with 15 performers across three stages. Huntington Beach California rock-reggae veterans Dirty Heads return with support from LA ska-punk band Goldfinger, plus Sublime Tribute: Badfish, Maryland rockers Ballyhoo and emerging LI hometown reggae-
rockers Oogee Wawa. The annual Jam-Saturday features 18 performers across four stages. Phil Lesh & Friends, featuring the legendary bassist and original founding member of the Grateful Dead, takes the main stage. Supporting acts include jazz-funksters The Eric Krasno Trio, Neighbor, and local singer-songwriter musician Cassandra House.
Great South Bay 2023 will close out Sunday with guitar legend, Warren Haynes & Govt. Mule, performing "Dark Side of the Mule", a tribute to the 50th Anniversary of Pink Floyd's classic album The Dark Side of The Moon, complete a laser light show and over-the-top effects. Immediately supporting is Jason Bonham's Led Zeppelin Evening, plus Duane Betts and Palmetto Motel. Returning to the Main Stage is Long Island-born and bred guitarist Brandon "Taz" Niederauer who performed at Great South Bay on the "emerging artist stage" when he was just 12 years old and has since shared the stage with Gregg
Allman, Gary Clarke Jr., Lady Gaga, and many more.
The mission of the Great South Bay Festival is to always support emerging local artists, and are proud present over 30 talented original artists. Some of these not mentioned previously include Jules, Jack & Friends, Dudley Music, Robinson Treacher, MJT, Circus Mind, Miles to Dayton, Foster Europe Band, Baked Shrimp, and more.
Tickets are available to purchase now. Children under 10 are free.
Festival Times:
Thursday, July 20: Doors are at 3:00 p.m., fest goes till 10 p.m.
Friday, July 21: Doors are at 3:00 p.m., music till 11 p.m.,
Saturday, July 22.: Doors are at 1:00 p.m., music till 11 p.m.,
Sunday, July 23: Doors are at 2:00 p.m. with performances till 10 p.m.