The latest and greatest concert series in the North Country – Saturday Night at the Waterhole – returns to downtown Saranac Lake beginning Saturday March 4th. As the name suggests, The Waterhole Music Lounge will host live music on Saturday nights in the Upstairs Music Lounge.
The series runs from March 4th through early May, with a wide variety of bands and artists making their way into the North Country to warm up audiences well into the spring.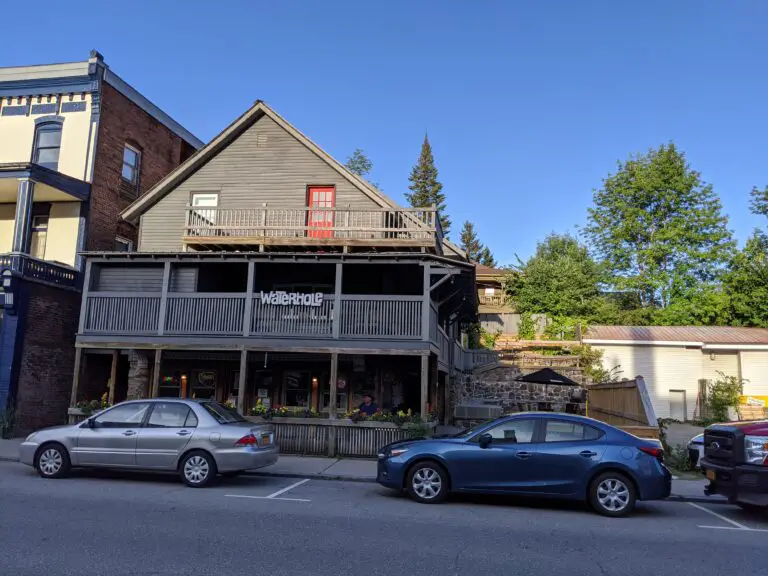 Concert tickets and more information can be found at saranaclakewaterhole.com or in person by stopping at the downstairs bar. Ticket prices will vary. Doors open at 7:30 and shows begin at 8:30 pm. The Waterhole is a 21+ music venue.
The Bubs will open the concert series on March 4th. This 10-piece white jumpsuit-clad collective of artists & musicians, have been sweeping everyone off their feet with their catchy songs and fiery contagious energy. Their music is ferocious, tender, vindicating, and cathartic; a crooked vessel for pain, nostalgia, empowerment, and vindication, all filtered through a dirty sieve. Think white-hot punk & garage rock styled music.
March 11th marks the return of Kat Wright, whose voice is both sultry and dynamic, delicate yet powerful; gritty but highly emotive and nuanced. She has been described as "a young Bonnie Raitt meets Amy Winehouse." Add to that voice enough stage presence to tame lions, and the combination of feline femininity, proving to be immediately enchanting.
The Sideways return March 18th for their 5th Saranac Lake performance. Hailing from Rochester, New York, this eight-piece band offers up their own joyful blend of disco pop + snarky soul, with a heavy dose of jazz influence, founded by brainchild Joey "sideways" Stehle.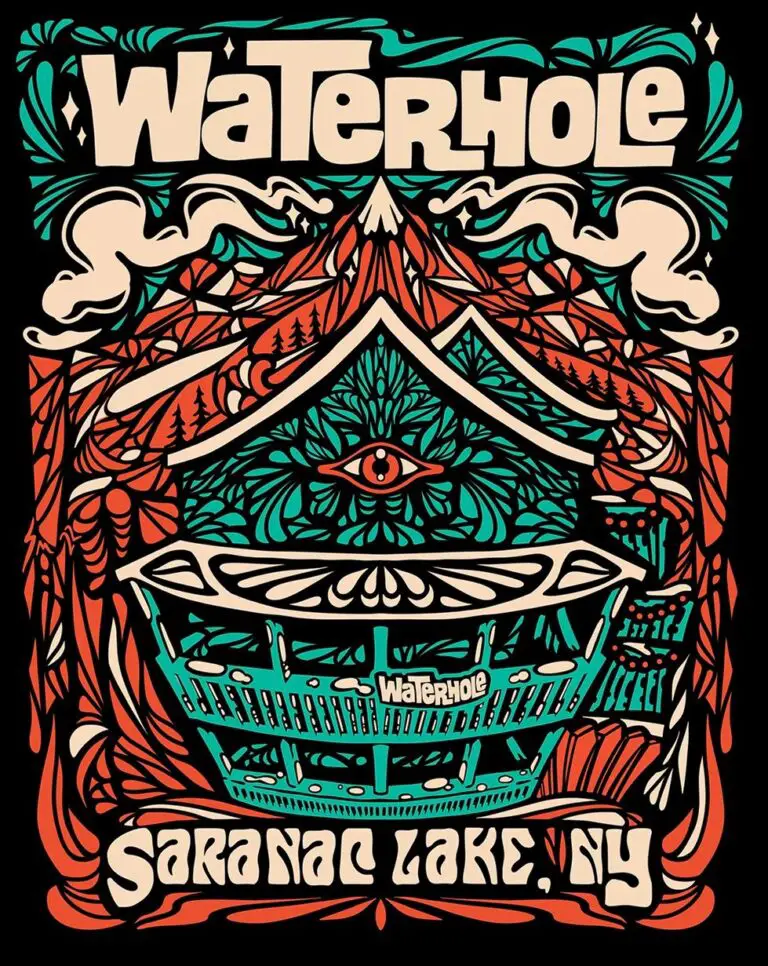 Driftwood will make their long awaited return to the Waterhole stage on the 25th of March. Their music has been described as fusing traditional Americana with contemporary influences and timeless subject matter. Listening to their music, one gets the sense that the band is young with an old soul. There's a deep, driving force behind each refrain – the kind that makes you dance with your eyes closed, or stop still to take in the energy the band is passing on to the audience.
April 1st will mark the rescheduled date for Los Blancos. This band has a reputation for ripping through blues, soul, rockin' zydeco, Latin, outlaw country, funk, folk, and bottomless bag of tricks that's always sure to get the party started.
On the last Saturday in April, Mal Maiz will turn up the heat on the dance floor. Costa Rican "Brujo" Maiz Vargas Sandoval and his Afro-Latino Orchestra are a hot East Coast dance band with both a traditional and modern flair. Based out of Burlington VT, Mal Maiz blends traditional cambia with psychedelic grooves, latin, reggae, and afro-carribean sounds.
If David Byrne is one of the geniuses of modern times, then Start Making Sense is a tribute to genius. A crowd favorite, Start Making Sense will return to the Waterhole on May 6th. The musicians in this 7-piece Talking Heads tribute take pride in faithfully recreating the music of Talking Heads' entire career, including songs they never performed live.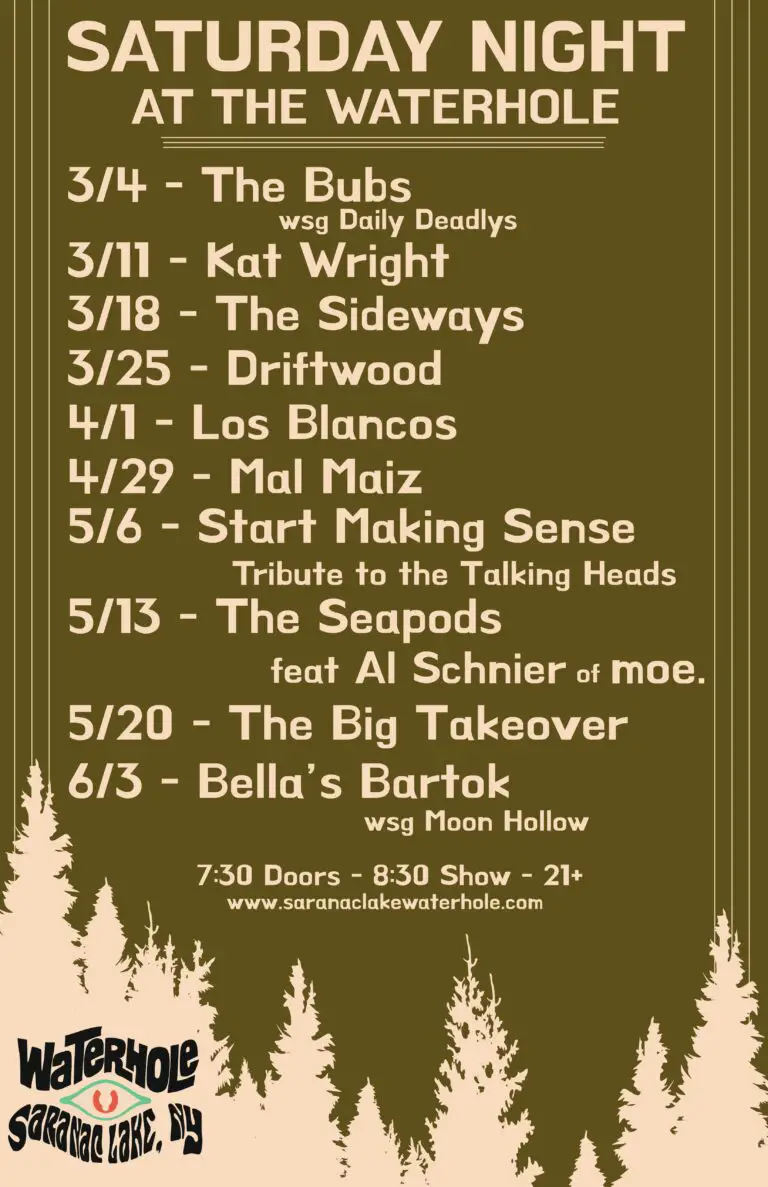 The Waterhole is stoked to announce The Seapods featuring Al Schnier of Moe. on May 13th. The Seapods are 4/5ths of the seminal 90's jamband, Ominous Seapods who have now been playing at the Waterhole for 30+ years.
May 20th will highlight another crowd favorite, The Big Takeover. The 7-piece band hails from the Hudson Valley and is fronted by charismatic Jamaican-born singer and songwriter Nee Nee Rushie. The Big Takeover plays original music that is rooted in and reverent toward the genres and rhythms of Jamaican pop: reggae, rocksteady, and ska.
The final concert in the Saturday Night at the Waterhole series will feature the bedazzled and glittered performers of Bella's Bartok. Their sound has gradually evolved from street-punk performers to an electric, brass filled, accordion-based spectacle that has continued to entertain audiences for nearly a decade.