Rock group Weezer announced the Indie Rock Roadtrip Tour set for this summer, joined by some of the biggest names in indie rock today, coming to CMAC and Forest Hills Stadium in July.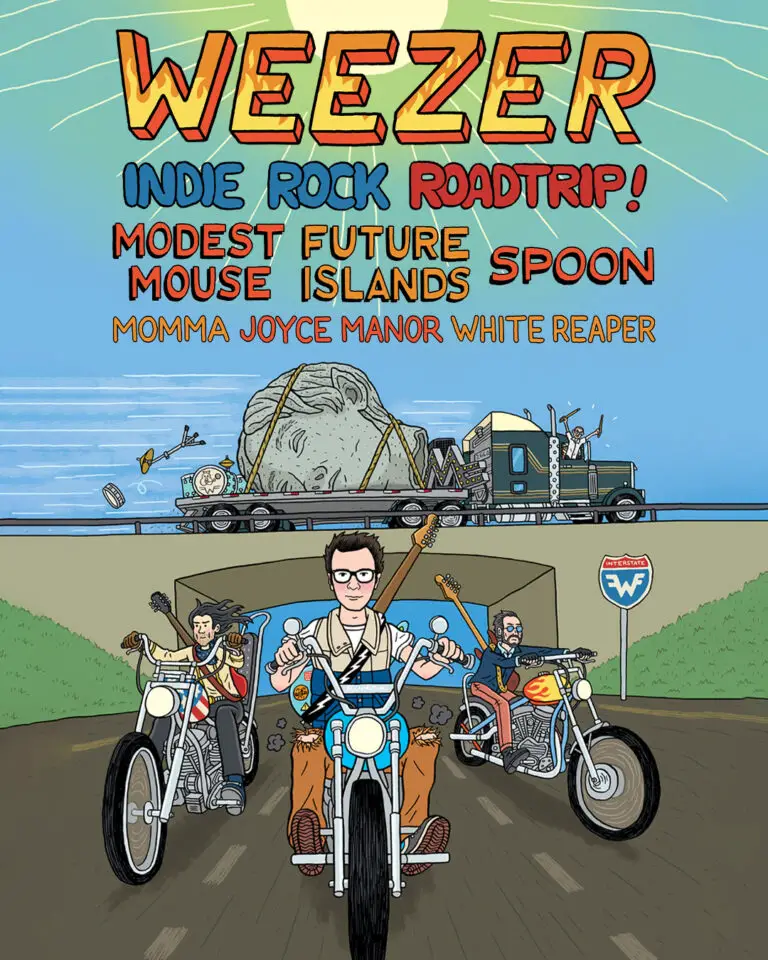 The summer tour will support last year's release of SZNZ, the season-themed collection of EPs Weezer shared throughout each quarter of 2022. They've sold over ten million records in the United States and 35 million worldwide. Created in 1992, the group came together when Rivers Cuomo joined Patrick Wilson, Matt Sharp, and Jason Cropper, who Brian Bell later replaced. Some of their hits include "Buddy Holly," "Undone (The Sweater Song," "Say It Ain't So," "Island In The Sun," and many more.
The Indie Rock Roadtrip features openers Modest Mouse and Momma, Future Islands and Joyce Manor, Spoon, and White Reaper. The tour will be coming to CMAC on July 3 and Forest Hills Stadium on July 13. Tickets are on sale on Friday, March 3  at 10 a.m., for more information, go here.
Weezer Tour
Sunday, June 4, 2023
Huntsville, AL, USA
The Orion Amphitheater
Modest Mouse, Momma
Tuesday, June 6, 2023
Irving, TX, USA
The Pavilion at Toyota Music Factory
Modest Mouse, Momma
Thursday, June 8, 2023
Austin, TX, USA
Germania Insurance AmphitheaterModest Mouse, Momma
Saturday, June 10, 2023
Oklahoma City, OK, USA
Zoo Amphitheatre
Modest Mouse, Momma
Sunday, June 11, 2023
Bonner Springs, KS, USA
Azura Amphitheater
Modest Mouse, Momma
Tuesday, June 13, 2023
Minneapolis, MN, USA
The Armory
Modest Mouse, Momma
Wednesday, June 14, 2023
Madison, WI, USA
Breese Stevens Field
Modest Mouse, Momma
Friday, June 16, 2023
Cuyahoga Falls, OH, USA
Blossom Music Center
Modest Mouse, Momma
Sunday, June 18, 2023
Clarkston, MI, USA
Pine Knob Music Theatre
Modest Mouse, Momma
Friday, June 23, 2023
Columbia, MD, USA
Merriweather Post Pavilion
Future Islands, Joyce Manor
Saturday, June 24, 2023
Charlotte, NC, USA
PNC Music Pavilion
Future Islands, Joyce Manor
Sunday, June 25, 2023
Alpharetta, GA, USA
Ameris Bank Amphitheatre
Future Islands, Joyce Manor
Tuesday, June 27, 2023
Philadelphia, PA, USA
TD Pavilion at The Mann
Future Islands, Joyce Manor
Wednesday, June 28, 2023
Bridgeport, CT, USA
Hartford HealthCare Amphitheater
Future Islands, Joyce Manor
Friday, June 30, 2023
Bangor, ME, USA
Maine Savings Amphitheater
Future Islands, Joyce Manor
Saturday, July 1, 2023
Worcester, MA, USA
The Palladium Outdoors
Future Islands, Joyce Manor
Monday, July 3, 2023
Canandaigua, NY, USA
Constellation Brands Marvin Sands Performing Arts Center (CMAC)
Future Islands, Joyce Manor
Tuesday, July 4, 2023
Toronto, ON, Canada
Budweiser Stage
Future Islands, Joyce Manor
Sunday, July 9, 2023
Gary, IN, USA
Hard Rock Casino Northern Indiana – Hard Rock Live
Joyce Manor
Tuesday, July 11, 2023
Pittsburgh, PA, USA
Stage AE
Future Islands, Joyce Manor
Thursday, July 13, 2023
Queens, NY, USA
Forest Hills Stadium
Future Islands, Joyce Manor
Sunday, August 20, 2023
Auburn, WA, USA
White River Amphitheatre
Spoon, White Reaper
Tuesday, August 22, 2023
Bend, OR, USA
Hayden Homes Amphitheater
Spoon, White Reaper
Thursday, August 24, 2023
Berkeley, CA, USA
Greek Theatre
Spoon, White Reaper
Sunday, August 27, 2023
Magna, UT, USA
The Great Saltair
Spoon, White Reaper
Monday, August 28, 2023
Denver, CO, USA
Fiddler's Green Amphitheatre
Spoon, White Reaper
Wednesday, August 30, 2023
Phoenix, AZ, USA
Arizona Federal Theatre
Spoon, White Reaper
Friday, September 1, 2023
Las Vegas, NV, USA
Zappos Theater at Planet Hollywood
Spoon, White Reaper
Saturday, September 2, 2023
Irvine, CA, USA
FivePoint Amphitheatre
Spoon, White Reaper
Sunday, September 3, 2023
San Diego, CA, USA
Gallagher Square at Petco Park
Spoon, White Reaper