David Crosby, a founding member of both The Byrds and Crosby, Stills & Nash, died today at age 81. A key player in the mid-60's L.A. folk-rock scene, Crosby was known for his harmony more than songwriting, as he penned "Guinnevere," "Wooden Ships," "Long Time Gone," "Almost Cut My Hair" and "Déjà Vu," among others.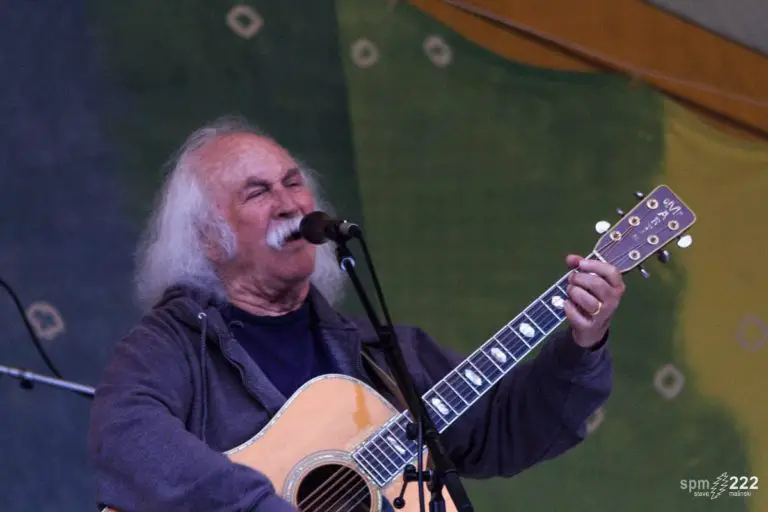 Just yesterday Crosby tweeted on his very active Twitter account about the afterlife, saying Heaven is "overrated….cloudy."He was inducted into the Rock and Roll Hall of Fame twice, once for the Byrds and once for Crosby, Stills, Nash, & Young. In recent years, he also had an advice column on Rolling Stone, Ask Croz.
Crosby was born in Los Angeles as the child of famous Hollywood cinematographer Floyd Crosby, who won an Oscar for his work on F.W. Murnau's 1931 feature Tabu. He gravitated to acting and music at an early age and dropped out of Santa Barbara City College to pursue music. He found himself in the commercial folk music scene via brief membership in Les Baxter's Balladeers.
After working at L.A. folk clubs as a solo act, he attracted the attention of Jim Dickson, the house engineer at Richard Bock's L.A. label World Pacific Records. He was a solo act for a while but eventually formed a band in 1964 when jamming with Roger McGuinn and Gene Clark. They went under different names for a duration, starting as the Beefeaters, then picking up Chris Hillman along the way to become the Byrds.
The group's cover of Bob Dylan's "Mr. Tambourine Man" leapt to No. 1 in the United States singles chart in early 1965. For the next two years, Crosby's group would reign supreme as America's version of The Beatles. All of their records under Columbia during this time reached the U.S. top 25.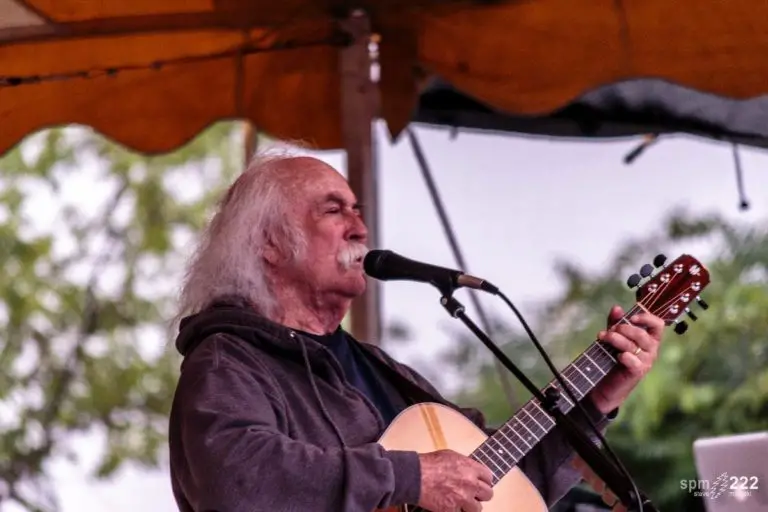 In 1967, Crosby's time with the Byrds came to a close after an argument at the historic Monterey Pop Festival. He began jamming with Stephen Stills, whose group Buffalo Springfield had recently ended, and Graham Nash, who met the others during a 1966 U.S. tour with the Hollies. David Geffen freed the three from their contracts, and Crosby, Stills & Nash was signed to Atlantic Records.
The group's self-titled record was released in May 1969, went to No. 6 on the U.S. chart, and sold four million copies. CS&N won the Grammy for Best New Artist in 1969. In August 1969, the group, along with new member Neil Young, performed at Woodstock in front of half a million people, only their second live performance together. After Young's addition, the group's 1970 record Déjà Vu went No. 1 and sold seven million copies.
Crosby, Stills, Nash, & Young had continued success until personal problems in Crosby's life escalated. He was addicted to cocaine and eventually heroin, after his girlfriend Christine Hinton was killed in a car accident in 1970. Young eventually left after that to focus on his solo career, but returned to tour with the others in 1974. 
During his addiction, Crosby released a 1971 solo debut, If I Could Only Remember My Name, which peaked at No. 12 in 1971. He reunited with the original Byrds lineup in 1972, disbanding after their 1973 release Byrds was dismissed by critics. He reunited with CS&N to release CNS in 1977, and Daylight Again in 1982, before things unraveled very publicly. 
In April 1982, Crosby was arrested in a Dallas nightclub and charged with possessing a .45 caliber handgun and a pipe for his cocaine use. He was convicted in 1983, and served five months of the five years he was sentenced to in 1986. He credited this conviction to ending his addiction to cocaine. He also suffered from ill health and underwent a liver transplant in 1994, and in 2014 was named "rock's unlikeliest survivor" by Rolling Stone.
In 2000, it was revealed by singer Melissa Etheridge that Crosby was the biological father of two children born to her then-partner Julie Cypher via artificial insemination. One of those children, Beckett Cypher, died at the age of 21 in 2020, with Crosby writing "I didn't get to raise that kid… but he was here many times. I loved him and he loved me and he was family to me."
He was convicted and fined for marijuana and firearms possession later in 2004. In 2015 he had another run in with the law, agreeing to pay a $3 million settlement following the filing of a suit that alleged he was intoxicated when he crashed into a jogger.
His six-decade career culminated in a final solo album, For Free, released in 2021, having kept busy in the last decade by releasing six studio albums. He also put out live albums, including one, David Crosby & The Lighthouse Band Live at the Capitol Theatre, live at the iconic Port Chester venue. The 16-track live offering includes an uncut gem with the song "1974," a long lost demo that Crosby had sitting around on a hard drive for decades.
Crosby also dabbled in acting, with stints on Roseanne and in 1991's Hook.
In 2017, Crosby embarked on his Sky Trails tour, playing at The Egg in Albany. In 2019, Cameron Crowe would direct the 2019 documentary David Crosby: Remember My Name.
Crosby retired from performing live in 2021, saying "It's because I'm old. Being on a bus tour is a daunting task. It's very hard. It takes it out of you. I'm too old to do it anymore. I don't have the stamina; I don't have the strength." He also said he was "trying really hard to crank out as much music as I possibly can, as long as it's really good." He backtracked about that statement, saying he did want to play live again. 
David Crosby is survived by his wife Jan Dance, their son Django, James Raymond, his son with Celia Crawford Ferguson and two daughters, Erika and Donovan, from previous relationships with Jackie Guthrie and Debbie Donovan.