As 2022 was wrapping up its final week, Patti Smith returned to Brooklyn Steel for two nights on December 29 and 30 to celebrate her birthday (which coincided with the second evening). Brooklyn Steel was flooded with fans for the shows, seemingly sold out on the evening we attended and sold out on Dec. 30. The venue's size and layout made it an excellent atmosphere for an intimate performance.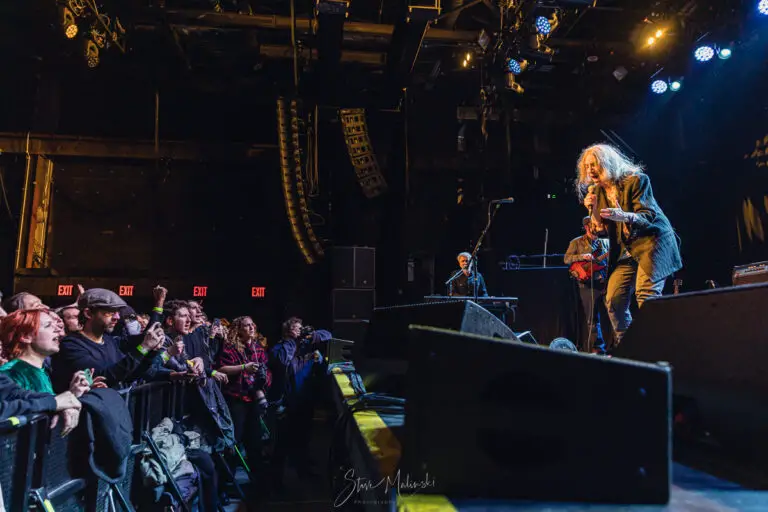 In her true spirit, Smith's show was an amalgamation of poetry, beauty, and fierceness wrapped in a blanket of rock and roll. The show featured her high energy songs such as "Free Money," "People Have the Power," and her mainstay take on Them's "Gloria." Earlier that day, the world had lost iconic British fashion designer and cultural influencer Vivienne Westwood. Many musicians had taken to social media to pay tribute to her, and Smith dedicated her song about sadness and loss "Redondo Beach" to Westwood after saying a few words.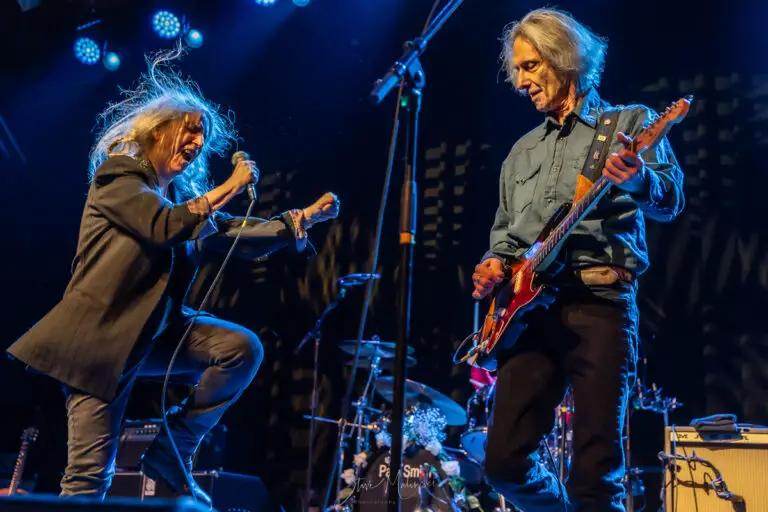 A motif of the evening was time, given the impending change of year and two more important milestones – the birthdays of both Smith and her long-time collaborator and guitarist Lenny Kaye. While taking a brief break mid-set, the band covered "Time Won't Let Me," "If I Could Turn Back Time," and "Time Is On My Side" while a cover of The Chambers Brothers' "Time Has Come Today" came later in the show. With Kaye's birthday a few days prior, Smith rallied the audience for a round of "Happy Birthday" for his day (Smith had her birthday moment with the sold-out crowd the next evening, with cake!).
Along with Patti Smith, her band includes Lenny Kaye and her son Jackson Smith on guitar, Tony Shanahan on bass/keys, and Jay Dee Daugherty on drums. Smith's tradition of performing shows for her birthday (and by nice coincidence, celebrating the upcoming New Year) is one not to miss.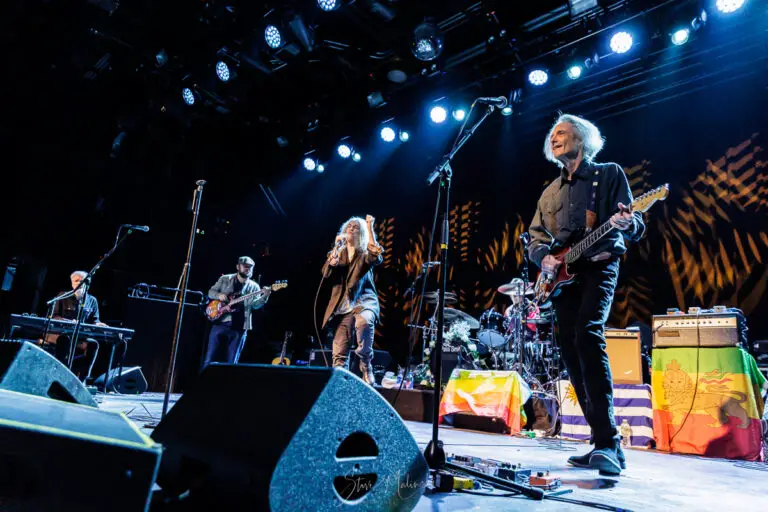 Patti Smith – Brooklyn Steel – December 29, 2022
Setlist: Dancing Barefoot, Redondo Beach, Free Money, Ghost Dance, Because the Night, My Blakean Year, Nine, Pissing in a River, Time Won't Let Me (>) If I Could Turn Back Time, Time Is on My Side, One Too Many Mornings, Peaceable Kingdom / People Have the Power, Summer Cannibals, Ain't It Strange, Time Has Come Today, People Have the Power
Encore: Happy Birthday to You, Gloria