Canadian singer/songwriter Alan Doyle is headed to the U.S. for 2023 on a month-long tour which includes four New York concert dates.
Opening on February 15 Buffalo's Town Ballroom and closing March 11 in Bonita Springs, FL, Doyle's U.S. run also features stops at the Clayton Opera House on February 16, Sony Hall in Manhattan on the 24th, and Port Washington's Landmark on Main Street on the 25th.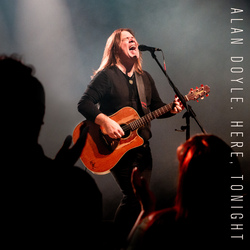 The tour is in promotion of Doyle's recent live album, Here Tonight, released in March. It's his first appearance on the road since the COVID-19 pandemic halted his 2020 Canadian national tour.
A Newfoundland native, Doyle is a 12-time JUNO Award nominee for his solo material and work with his band, Great Big Sea. Also an author, his 2020 book All Together Now: A Newfoundlander's Light Tales for Heavy Times was his third national bestseller.
Tickets for Alan Doyle's U.S. tour can be found here.
U.S. TOUR DATES
FEB 15 / BUFFALO, NY @ Town Ballroom
FEB 16 / CLAYTON, NY @ Clayton Opera House
FEB 17 / BARRE, VT @ Barre Opera House
FEB 18 / BOSTON, MA @ City Winery
FEB 19 / BOSTON, MA @ City Winery
FEB 21 / PORTLAND, ME @ Aura
FEB 22 / AMHERST, MA @ The Drake
FEB 23 / CONCORD, NH @ Capitol Center for the Arts
FEB 24 / NEW YORK, NY @ SONY Hall
FEB 25 / PORT WASHINGTON, NY @ Landmark on Main
FEB 26 / PHILADELPHIA, PA @ City Winery
FEB 28 / ANNAPOLIS, MD @ Rams Head On Stage
MAR 1 / WASHINGTON, DC @ City Winery
MAR 2 / CHARLOTTE, NC @ Neighborhood Theatre
MAR 3 / RICHMOND, VA @  Tin Pan
MAR 4 / RALEIGH, NC @ Lincoln Theatre
MAR 5 / ASHEVILLE, NC @ Grey Eagle
MAR 7 / PONTE VEDRA, FL @ Ponte Vedra Music Hall
MAR 8 / OCALA, FL @ Reilly Arts Center
MAR 9 / CLEARWATER, FL @ Bilheimer Capitol Theatre at Ruth Eckerd Hall
MAR 10 / BOCA RATON, FL @ The Funky Biscuit
MAR 11 / BONITA SPRINGS, FL @ Centers for Arts Bonita Springs