On Saturday, November 27, 1943, Duke Ellington and his Orchestra performed in Buffalo at the Trico Products Factory, for a performance that was broadcast on the NBC Blue Network. The show was recorded for the Coca-Cola Spotlight Parade of Bands #372, part of the Victory Parade of Spotlight Bands. The recording was preserved through Special Services and the Internet Archive.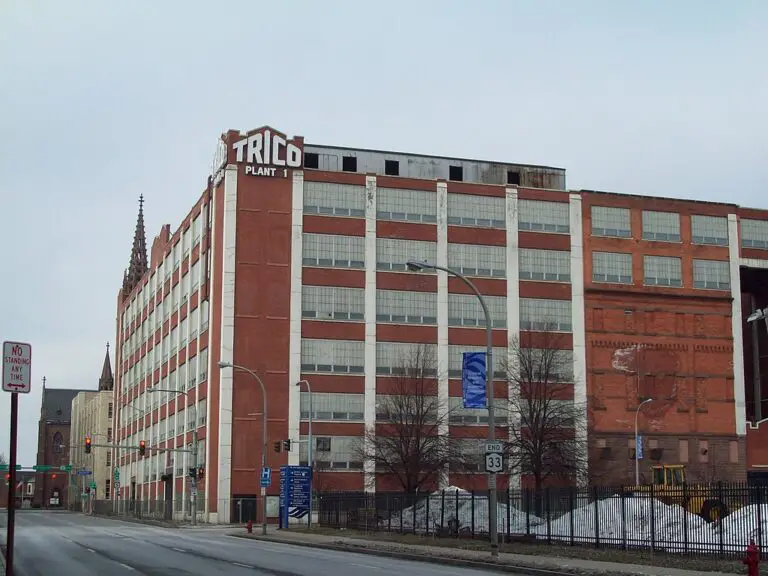 The Trico Factory made windshield wipers and was located at 817 Washington Street, before closing in 2002 after 85 years of operating on the edge of Downtown Buffalo. Where in the building – one that used electroplating, smelting, die-casting, rubber extrusion and metal fabrication – this show took place is as mystery, but all indications point to Trico Products Factory as the venue for this performance.
Most recently, construction on the Trico Building began in September 2022 to convert the factory into loft apartments, a modern repurposing of a building that had been listed on the National Register of Historic Places since 2001.
With the Second World War having been on the front pages of newspapers and forefront of American minds for nearly two years, various military bases and defense plants across the country hosted shows like this one. As a method of paying for the venue space, the promoter and/or artist would simply provide the recordings to Special Services who would repackage them as "Victory Parade" for the Air Force Recruiting Service.
Musicians including Benny Goodman, Charlie Barnet, Les Brown, Guy Lombardo, Ted Fio Rito, Jack Teagarden, Louis Armstrong, Lawrence Welk, as well as the Duke Ellington performance in Buffalo, and many others, would be featured on the program, with broadcasts beginning with a bugle call. A roll call would then start with the band leader, the band members and then the workers at the facility the show was visiting, all giving a military accent to the performance. Old Time Radio Catalog notes that Victory Parade recordings are some of the best of the Swing Era.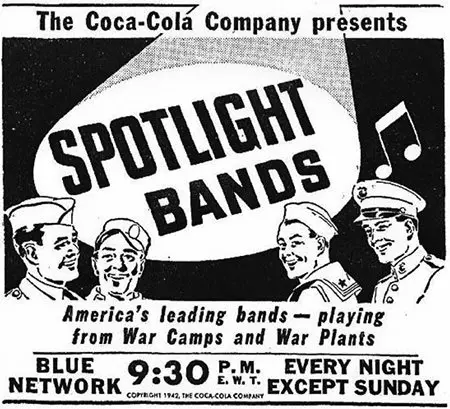 Coca-Cola Spotlight Bands was a notable, if not important and influential music radio series that debuted just days before the attack on Pearl Harbor on December 7, 1941. The series initially had various popular bands, instead of just one specific band, and was aired on Mutual Broadcasting System stations six nights a week. From Monday through Friday, a 15-minute program would be broadcast nationally at 10:15-10:30 p.m ET. On Saturday evenings, a 30-minute program would be broadcast at 10:15-10:45 p.m. ET, which would feature the artists with the largest national record sales for the previous week. The identity of the band was kept secret from the national audience until the program went on the air, in order to attract a larger audience.
In August, 1942, Coca-Cola entered into agreement with the Blue Network (formerly the NBC Blue Network) launching the revised "Spotlight Bands" series. The Blue Network was the former NBC Blue Network. In 1945, Blue would become the American Broadcasting Company (ABC) after being purchased by Edward J. Noble. Music historian Wayne Knight notes "Not only did Coca Cola send the bands to these locations at their expense, but, each time, the bands were booked and paid to play a three hour engagement."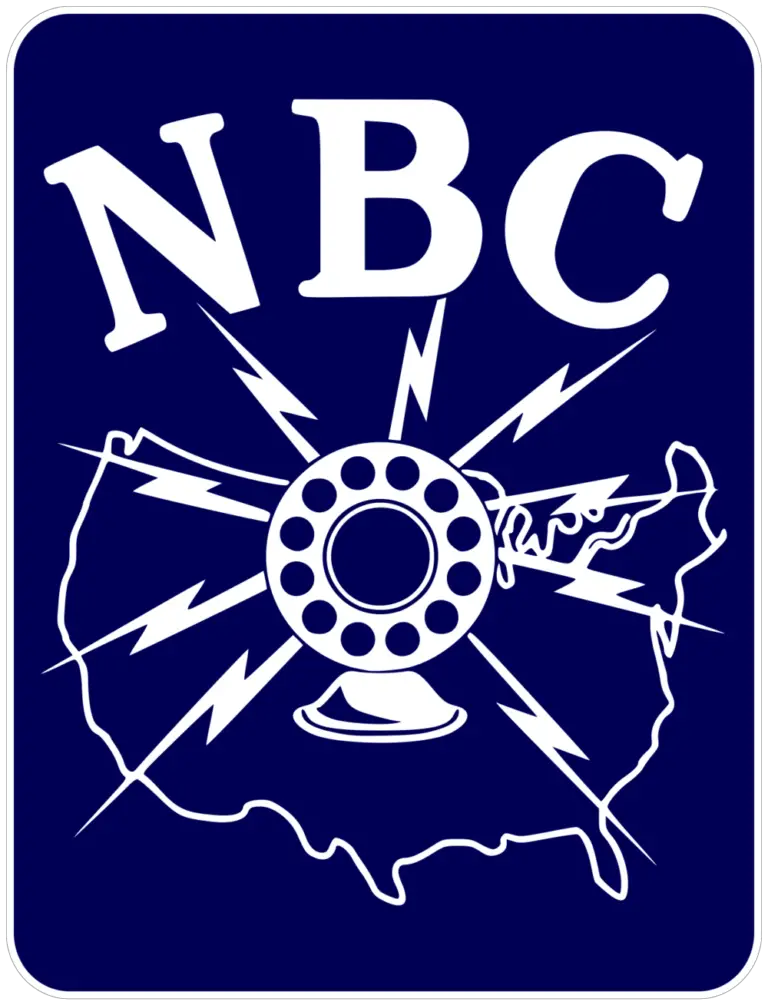 With Blue having a wider audience than Mutual Broadcasting System, Coca-Cola and the Blue Network entered into a new 26-week agreement and the name of the program was changed to "The Victory Parade of Spotlight Bands." The weeknight programs were extended from 15 minutes to 25 minutes, airing at 9:30-9:55 p.m ET, with the last five minutes of the half-hour devoted to news.
Listeners directly influenced the bands which would appear, with two polls – one by civilians and one by service personnel and workers at defense plants – replacing record sales as the criteria. The second series launched on September 21, 1942, with Harry James performing at the Marine Barracks, Parris Island, South Carolina. Click here to read more about Victory Parade Of Spotlight Bands.
An advertising segment of this Duke Ellington performance in Buffalo begins halfway through the recording, with the announcer saying, "From an American soldier somewhere a few thousand miles away, comes a letter with these words." A second voice says "I'll tell you another thing I would sure go for right now and that's a Coca-Cola. My mouth is absolutely watering for one." While it is doubtful a GI would write an ode to Coca-Cola in a letter home, brands of all sizes showed their support for the war effort, building war propaganda into advertising. The announcer ends the ad spot, saying "For many Americans overseas, that Coke is not so far away, because Coca-Cola is bottled in 35 allied and neutral countries 'round the globe, and there, our soldiers, by the thousands, enjoy the goodness of its cheery refreshment, just as you do at home."
Giving the listening audience a sense of normalcy among soldiers stationed abroad is punctuated by connecting the listener at home to the soldiers, uniting the war effort to the sugary goodness of this all-American beverage. A commercial from 1944 or 1945 can be seen below, hammering home the Americanness of Coca-Cola, something that German soldier were not unfamiliar with and unable to enjoy. Watch until the end for a surprise bottle opener.
Meanwhile on that day in World War 2, President Franklin D. Roosevelt, Prime Minister of England, Winston Churchill, and President Chiang Kai-shek of the Republic of China were meeting at the Cairo Conference in agreeing to the Cairo Declaration, which said that "all the territories Japan has stolen from the Chinese, such as Manchuria, Formosa, and The Pescadores, shall be restored to the Republic of China" and that U.S., the U.K. and China "covet no gain for themselves and have no thought of territorial expansion", setting instead the goal that "Japan will also be expelled from all other territories which she has taken by violence and greed" and "that in due course Korea shall become free and independent."
Meanwhile, the Battle of Wareo began between Australian and Japanese troops in New Guinea, and the Army–Navy Game was played at West Point, with No. 6 Navy defeating No. 7 Army by a score of 13–0. Only 15,000 spectators were on hand due to wartime travel restriction that only allowed residents from within 10 miles of the game site to attend. Thus, the surrounding towns near West Point – Fishkill, Cortlandt Manor, Mahopac, Newburgh, Woodbury and Beacon – would make up the entire crowd that afternoon.
As for the music in Buffalo this evening, Ellington was already well established by this point, having been a staple of the Harlem Renaissance. Ellington had held long engagements at the Hollywood Club (later known as the Kentucky Club) and the Cotton Club, signed with agent/publisher Irving Mills who brought Duke and his recordings to multiple record labels. In 1927, Ellington began a weekly radio broadcast, which increased his name recognition, especially to the white and wealthy clients of the Cotton Club. And Ellington was no stranger to the Queen City, having performed at The Colored Musicians Club in the 1930s.
The variety of music performed in those broadcast – of which only 22 minutes was aired and preserved for audiences today – gives a taste of Ellington's broad appeal and range. Shrill horns, dance numbers, both male and female vocalists joining in the fun, plus jitterbugs and light comedy that was appropriate for the times. Great thanks to Jazz LIVES for bringing this performance to light.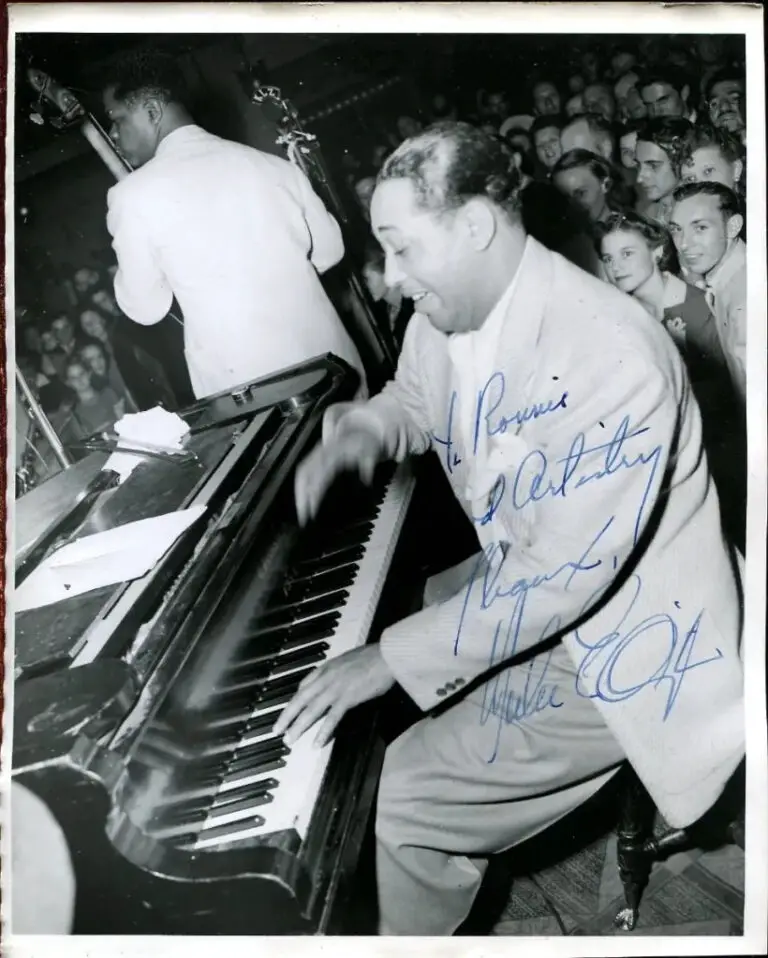 Joining Ellington this evening were Rex Stewart (cornet), Wallace Jones and Harold "Shorty" Baker (trumpet), Ray Nance (trumpet, violin, vocals), Joe Nanton and Lawrence Brown (trombone), Juan Tizol (valve-trombone), Jimmy Hamilton (clarinet, tenor saxophone), Johnny Hodges (alto saxophone), Otto Hardwick (alto saxophone, clarinet), Skippy Williams (tenor saxophone, clarinet), Harry Carney (baritone saxophone, clarinet, bass clarinet), Fred Guy (guitar), Junior Raglin (string bass), Sonny Greer (drums) Betty Roche and Al Hibbler (vocals) and of course, Duke Ellington on piano.
Listen below to the preserved recording of Duke Ellington and his Orchestra, performed to a wartime audience at an atypical venue for musical performance.
Duke Ellington – Trico Products Factory, Buffalo – November 27, 1943
Set: Blue Skies, Do Nothing Till you Hear From Me, A Slip Of The Lip, Sentimental Baby, I Wonder Why, Rockin' In Rhythm