Phish continued their Summer 2022 tour as they rolled into Columbia, Maryland for a weekend run at Merriweather Post Pavilion (MPP)
Fans got their first look at the venues upgrades from the renovations in 2018. The raised canopy and improved sound system is a major upgrade if you're on the lawn, the sightlines in the pavillion have also improved. They have also added a "Skylawn" if you're looking for an almost pavilion like lawn experience, if you can manage to get in there early. The one thing they forgot to improve were the bathrooms, as the wait could take a good 30 minutes.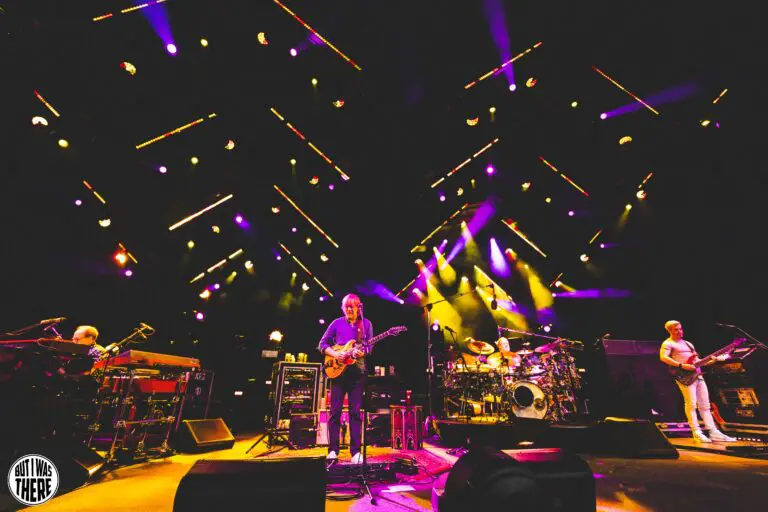 A bit light on the improv, Phish leaned on a mix of classics along with some surprises deep from their catalog for the first night of the run on a beautiful, but hot, Maryland summer night. The night started off with "Sand" to get things cooking. Next was an always welcomed "If I Could", before throwing things back into high gear for the heart of the set with "Buried Alive", "Set Your Soul Free" and "Llama". Next Page took over with a "Halfway to the Moon" as the sun set. The song featured some improv for the first time in the song's history as the jam melted into "Shafty."
Afterwards was a take on The Brothers Johnson classic "Strawberry Letter 23", which again, the band took the song out for an extended spin for the very first time. They made the perfect call to end the set with a Lizards, and not a person in the building disagreed with it.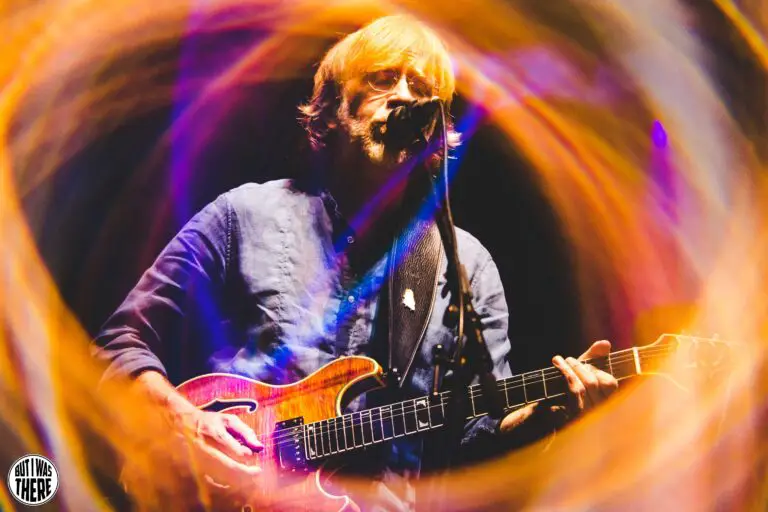 The second set started out focusing more on the songs before loosening into a slippier fourth quarter. "First Tube" started the set off and had the venue pumping. Next up was a "Fuego" that included some of the better improv of the night. After was a solid combo of "Sigma Oasis" and "Prince Caspian." The peak of the show was next with "Waves," "Meastick" > "Simple. "
"Waves" was the another fantastic jam, and the "Meatstick" was one of the better versions they have played in some time. The band linked up like a funk Voltron and it felt like we were back in 1998. "Meatstick" oozed into a 'Simple" that was sublime. Simple turned into "The Oh Kee Pa Ceremony," which turned into a rocking "Suzy Greenberg" to wrap the set up. The encore started with a fun "Alumni Blues" > "Letter to Jimmy Page" > "Alumni Blues" and ended with a rocking "Character Zero."
Knowing not to miss a Sunday show, Phish fans returned to MPP for a show with on-again, off-again rain throughout the day, best described as "alternately annoying, refreshing, fun, beautiful, obnoxious, baptizing, cleansing, cold, healing, and joyous" by phan @ZZBenz.
Set one began and ended with 15 minutes versions of "A Wave of Hope" and "Ghost," respectively. Prior to "Ghost," Mike Gordon Band's "Mull" took a surprise turn as a jam vehicle, stretching out farther than many expected, and segued neatly into the Junta composition, "Foam."
Prior to playing a Set two opening "Halley's Comet," Trey and Mike briefly teased "Those Were the Days" (All in the Family theme). A long-awaited "Tweezer" featured a jam on "All Along the Watchtower" before delving into a unique final seven minutes of improvisation. After a jump to "Wingsuit," a little bit more "Tweezer" was played before working into "Birds of a Feather." A rare second set "Taste" gave way to "What's the Use?" which had Trey 'holding the note' in a "Divided Sky" manner. A combo of "The Howling" and "Say It To Me S.A.N.T.O.S." closed the set, with a three song encore of "Show of Life," "Loving Cup" and "Tweezer Reprise" to wrap up another Sunday show at MPP.
Phish keep the tour moving to the beautiful Blossom Music Center in Cuyahoga Falls, Ohio, then Clarkston, MI at Pine Knob Music Center, before returning to the East Coast for three nights in Atlantic City over August 5-7.
Phish – Merriweather Post Pavilion, Columbia, MD – Saturday, July 30, 2022
Soundcheck: My Soul, Fluffhead
Set 1: Sand, If I Could, Buried Alive > Set Your Soul Free > Llama, Halfway to the Moon -> Shafty, Strawberry Letter 23 -> The Lizards
Set 2: First Tube > Fuego > Sigma Oasis > Prince Caspian > Waves > Meatstick -> Simple > The Oh Kee Pa Ceremony > Suzy Greenberg
Encore: Alumni Blues > Letter to Jimmy Page > Alumni Blues > Character Zero
The jam out of Halfway to the Moon contained Shafty lyrics from Trey and Page and teases from Trey and Mike. Mike teased Miss You (Rolling Stones) in Strawberry Letter 23 and Flash Light in Character Zero.
Phish – Merriweather Post Pavilion, Columbia, MD – Sunday, July 31, 2022
Set 1: A Wave of Hope, Dogs Stole Things, AC/DC Bag > Sparkle > Back on the Train, Mull > Foam, Ghost
Set 2: Halley's Comet > Tweezer > Wingsuit > Tweezer > Birds of a Feather, Joy > Taste > What's the Use?, The Howling > Say It To Me S.A.N.T.O.S.
Encore: Show of Life, Loving Cup > Tweezer Reprise
Mike teased Twenty Years Later in Ghost. Mike and Trey teased Those Were the Days before Halley's Comet.