In what will perhaps go down as the warmest day of 2022, Wednesday, July 20 also proved to be a scorching night of live music in Saratoga Springs, NY for the nearly 15,000 fans who packed SPAC to see the Dropout Boogie Tour. A stellar lineup was headlined by the critically acclaimed blue-collar Blues/Rock duo, The Black Keys. Bolstered by indie rock icons, Band of Horses, along with charismatic up-and-comers Ceramic Animal, the trio of talented bands left it all on stage, giving fans every ounce of sweat they had. Confirming what most of us already know: rock 'n roll is alive and well in the Capital Region.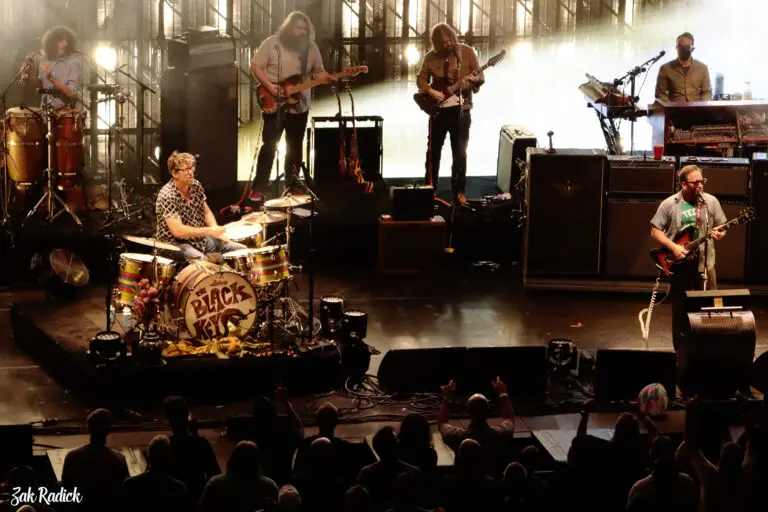 Kicking off the "boogie" in fine fashion, was Doylestown, Pennsylvania's Ceramic Animal.  A band consisting of three brothers and two of their childhood friends, this genre blending, high energy psychedelic-rock quintet has been around for a while now, having put out three self-funded studio albums, before garnering the attention of Black Keys front man and producer Dan Auerbach. Impressed by their songwriting, big yet down-to-earth personalities, and their DIY work ethic, Auerbach quickly signed Ceramic Animal to his label, Easy Eye Sound. The renowned producer then brought the band to Nashville to record their most recent album, Sweet Unknown (released this past March). Sticking close to their roots while honing their chops, their look and their stage show, Ceramic Animal's relentless ambition is finally showing dividends. Tapped by Auerbach for a slot on this huge national tour produced by Live Nation, Ceramic Animal quite literally went from playing Albany's intimate Empire Underground club last month, to making their Red Rocks debut last week, to taking the main stage at SPAC by storm on Wednesday night.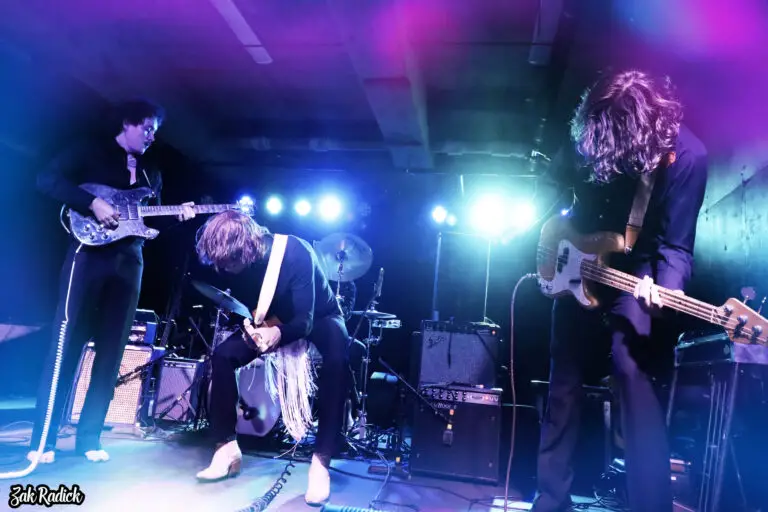 Dressed to thrill and ready to make the most of their allotted time, the band came out firing on all cylinders with "Ann Marie" which flowed directly into the hard charging foot stomper "I Can't Wait." Taking a brief moment to address fans who showed up early, songwriter Chris Regan lifted the brim of his cowboy hat and acknowledged the significance of collaborating with Auerbach before going into the set's only "slow" tune, "Forever Song," which Auerbach originally helped them arrange and record. With stage time at a premium, Ceramic Animal saved perhaps their most impressive and catchiest song of the night for last, uncorking a near 10 minute rendition of "All My Loving," a hybrid song of sorts that truly showcases what this band can do; seamlessly shifting tempos from rock riffs to a disco-type funk, then slowed to a darkly psychedelic build before reaching it's climactic end. Successfully cashing in on a huge opportunity to gain new listeners, if people didn't know who Ceramic Animal was before this show, they certainly did after. At the end of the night, the guys could be seen near the merch both hanging out and taking selfies with scores of new fans.
Ceramic Animal | July 20, 2022 | SPAC | Saratoga Springs, NY | Dropout Boogie Tour
Setlist: Ann Marie, I Can't Wait, Forever Song, All My Loving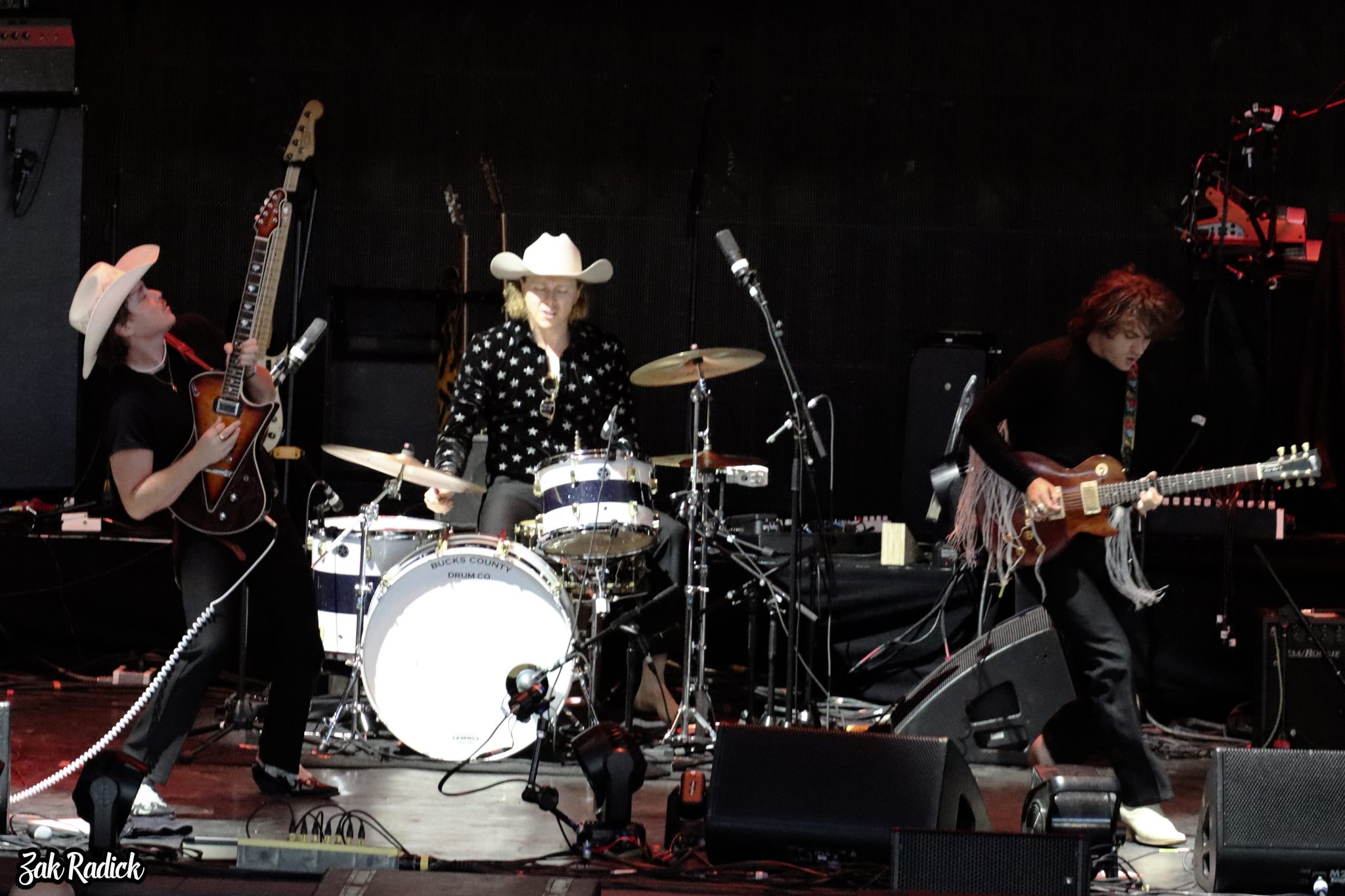 Next on the bill was a different kind of animal in the form of enduring alt rock titans Band of Horses. Led by songwriter Ben Bridwell and featuring a noticeably more "road tested" look than their predecessors, the tattoo covered, flannel wearing rockers from Seattle immediately got the crowd singing along with "Is There A Ghost" from their 2007 album Cease To Begin. With a layered sound full of subtleties and textures thanks to the bands three distinct guitar parts, it wasn't until Matt Gentling dropped in with his first big bass bomb that the set really took off. Thrashing about the stage with reckless abandon, Gentling's long haired headbanging was some of the best of the entire night and that's saying something.  Keeping the crowd involved with another sing-along, "The Great Salt Lake" off their debut album was next, followed by my personal highlight of the set, an irresistibly catchy version of 'The General Specific' which gave burley and bearded multi-instrumentalist Ryan Monroe a prime opportunity to shine behind the keys. Keeping it old school, another pair of fan favorites, "No One's Gonna Love You" and "Islands on the Coast" came next.  Perhaps taking a que from the audience as you could smell it all night, from there things got a little hazy as The Horses turned SPAC into an all-out "Weed Party" before going into a new tune,"Crutch," the only song played off their recently released 2022 album Things Are Great. "In a Drawer" and "Laredo" would lead Band of Horses down the home stretch before their final song of the night and easily their most popular, "The Funeral," which currently has over 300 million streams on Spotify.
Band of Horses | July 20, 2022 | SPAC | Saratoga Springs, NY | Dropout Boogie Tour
Setlist: Is There a Ghost, The Great Salt Lake, The General Specific, No One's Gonna Love You, Islands on the Coast, Weed Party, Crutch, In a Drawer, Laredo, The Funeral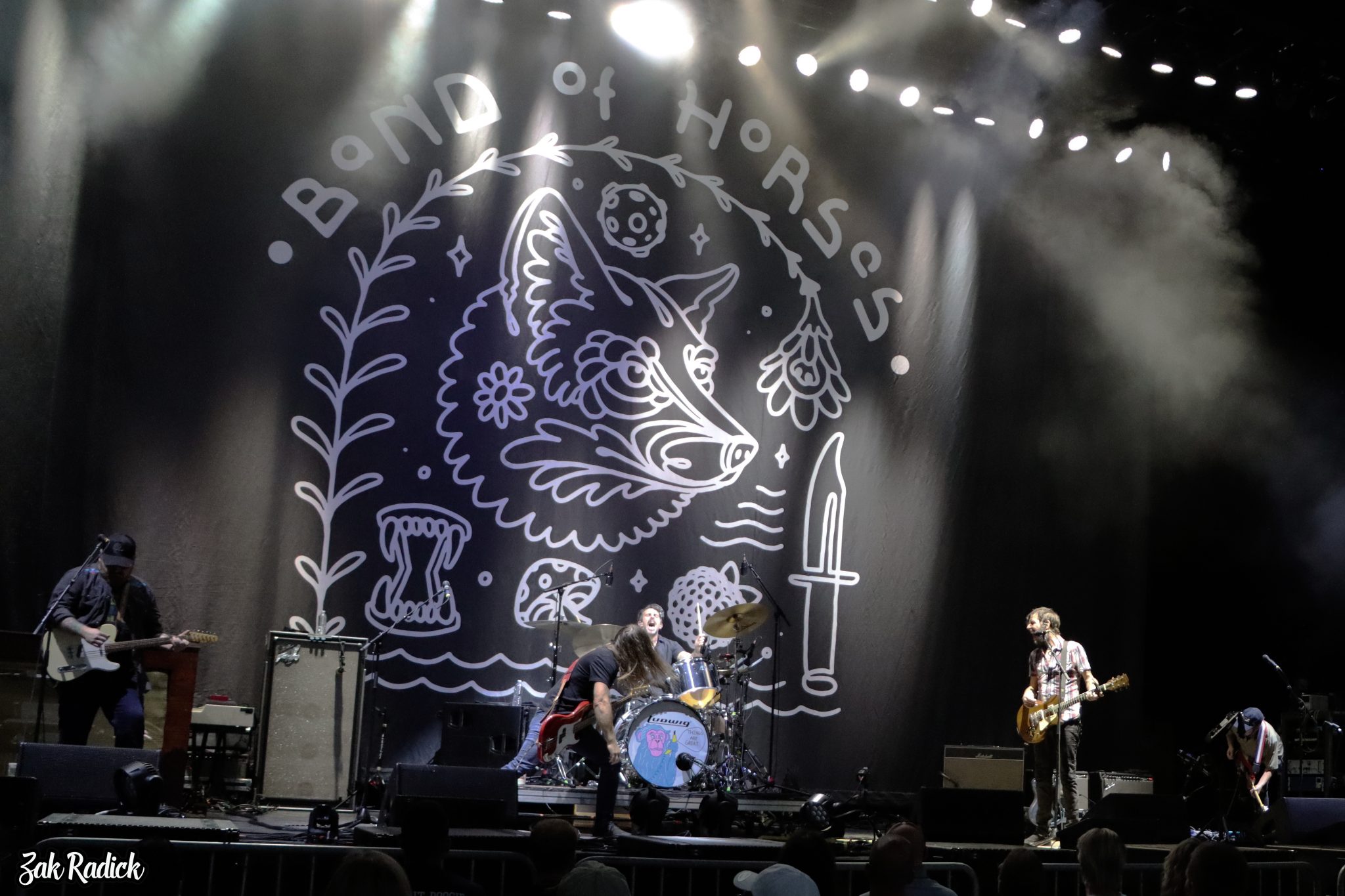 After an absolutely hilarious 'Anti-Boogie' intro video starring comedian David Cross urged Dads Interested in Choosing Our Kids Songs(D.I.C.K.S) to avoid this tour at all costs, it was finally time for the main event.  Making their first ever Capital Region appearance and taking the stage around 9:15pm to a rabid applause, The Black Keys came out swinging for the fences with one of their hardest hitting songs, "I got Mine." Often regarded as one of rock's most prolific two piece, Dan Auerbach on guitar and vocals and his longtime friend and collaborator Patrick Carney on drums, some first timers in the audience seemed surprised to see a backing band on stage with them. Enlisting two brothers, Zach and Andy Gabbard, along with multi-instrumentalist Chris St. Hilaire to help fill in their live sound, The Black Keys strung together hit after hit. Sing-along songs like "Howlin' For You," "Tighten Up," and "Your Touch" won the crowd over early before the band would really settle in with their signature bread-and butter, groove and blues-based sound. Like following a road map of their musical inspirations, The Keys would go on to pay homage to a number of Blues legends like John Lee Hooker, Junior Kimbrough and RL Burnside and cover songs like "Stay All Night," "Coal Black Mattie", "Going' Down South" and "Crawlin' Kingsnake" to name a few.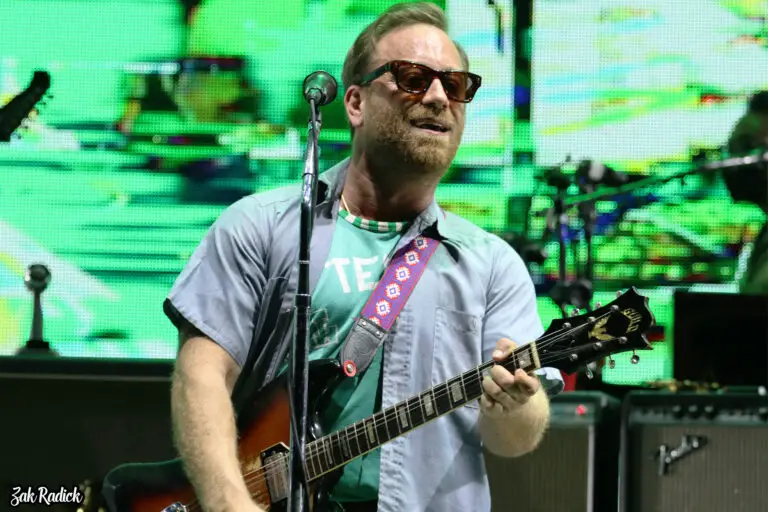 Armed with a bevy of beautiful guitars and his signature fuzz-heavy pedal effects pallet, Auerbach would get a little extra help from ultra-talented guest guitar player Kenny Brown, who joined in on the fun to play a little slide. All frills and showmanship aside, The Black Keys were mostly all business on this night, only asking the crowd to "sing along if they know they words" once before launching into one of their biggest hits "Gold on the Ceiling." As one of modern rocks most mimicked voices, Auerbach's distinct singing was on point all evening, but one song that particularly stood out was a slowed down rendition of "Everlasting Light" in which he absolutely nailed the challenging falsetto parts.  Recent 'Keys songs like "Your Team is Looking Good" and "Wild Child" were met with favorable reactions, but the true highlight for long time TBK fans had to have been the set closing combo of "Ten Cent Pistol" and "She's Long Gone" from the bands most popular album, 2010's Brothers. Exiting the stage to a deafening applause, the crowd of about 15,000 simply would not stop cheering until the band came back out for an encore. Happy to oblige, instead of one they got two.  First up was the sentimental 'hold your lighter in the air' type anthem "Little Black Submarines" which had nearly the entire lawn singing along in unison, a special moment that had all the feels. With the venue curfew now rapidly approaching, The Black Keys brought the show to a close with one final barn burner, the riff heavy stomper now commonly heard at sporting events everywhere, "Lonely Boy."      
With a successful Capital Region debut now in the books, the only real complaint fans may have is the lack of "old school" material played. With a back catalog that currently includes 11 studio albums, The Keys only performed one song that predated their 2008 breakthrough, Attack & Release. That being said, it's doubtful anyone left the Dropout Boogie Tour feeling cheated. If anything, it's a testament to the bands uncanny and continued ability to write catchy songs that appeal to a wide range of people of all ages; almost as if they have "too many" good songs to fit into one show.  "Always keep them wanting more" they say, well on this hot and humid July night in Saratoga Springs, The Black Keys did exactly that.  With this untapped market now fresh on their radar, hopefully it won't take nearly as long for this dynamic, influential and charismatic duo to find their way back.
The Black Keys | July 20, 2022 | SPAC | Saratoga Springs, NY | Dropout Boogie Tour
Setlist: I Got Mine, Howlin' For You, Fever, Tighen Up, Your Touch, It Ain't Over, Gold On The Ceiling, Stay All Night, Coal Black Mattie, Goin' Down South, Busted, Crawlin' Kingsnake, Have Love Will Travel, Lo/Hi, Everlasting Light, Next Girl, Your Team Is Looking Good, Wild Child, Ten Cent Pistol, She's Long Gone
Encore: Little Black Submarines, Lonely Boy