Live After 5 is the local Friday night Summer music series in the Finger Lakes town of Geneva. On select Fridays, listen to music while sitting in a lawn chair on the beautiful waterfront at the Geneva Wyndham.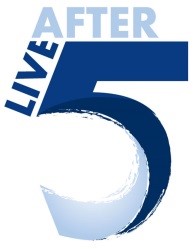 Geneva has been settled by Americans since the late 18th century, being inhabited previously by the Algonquin, Senaca Nation who were members of the Haudenosaunee Confederacy. The shores of Seneca Lake served as a military outpost for British Loyalists, with settlers moving in after 1792, bringing in others from New England, Maryland, Virginia, eastern New York and Pennsylvania for farming. Geneva itself was incorporated as a village in 1806 and a city in 1897.
One of the largest music events in the Finger Lakes, music for Live After 5 begins at 5:30pm and ends at 9:30pm, with performances held rain or shine.
Live After 5 Lineup
July 8th Ruby Shooz
July 22nd Jon Lamanna
August 12th Flint Creek
August 26th Prime Time Funk