Each week through mid-September, The Shirt Factory in Glens Falls hosts the Thursday Market and Food Truck Corral, bringing together local bands and the largest collection of food trucks between NYC and Montreal.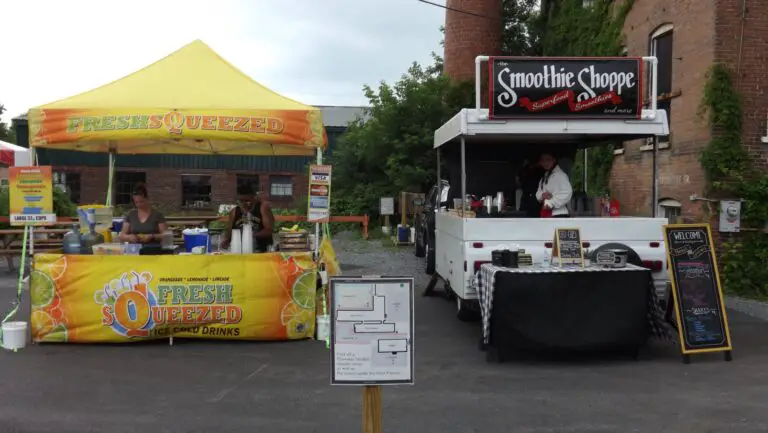 The Shirt Factory is located between Lawrence and Cooper Streets and is a cornerstone of the Glens Falls arts and health communities. In the 1930's after purchasing the Troy Shirt Makers Guild label, they separated the shirt making from dressmaking side of the business; thus, The Shirt Factory is the name given to the property, within which numerous small businesses are housed.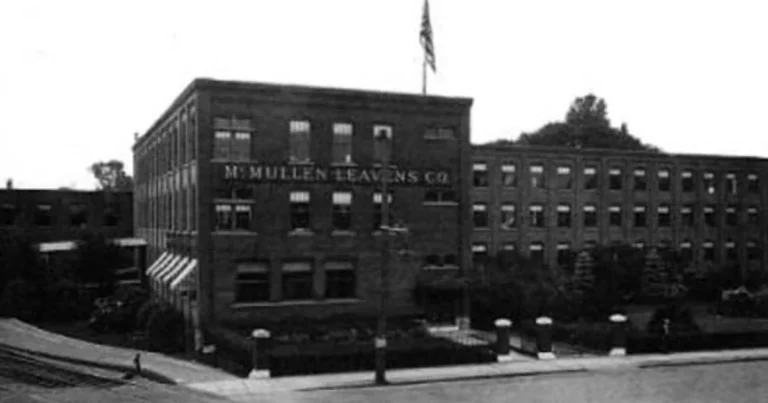 Inside this more than century-old historic building you'll find signage, posters, and items including old sewing machines throughout the hallways, as the building pays homage to its own rich history of dress-making that dates to the late 1890s. This effort by the owners preserves the building's history and honors the local community where the shirt manufacturing business found great success in the early 20th century.
In 1902, a fire devastated the Joseph-Fowler Shirt Makers building on Glen Street in downtown Glens Falls. Owners Walter and JR each owned part of that business and after the fire they took their portion of the insurance and the shirt making side of the business, while their partner kept the detachable collar portion of the business. They purchased the empty lot where the current building stands in part because the railroad depot that just across the street and were able to get a dedicated railroad spur for deliveries.
The building was built in 1902, at that time the tavern across the street was a boarding house that was in the Shirt Factory yard, before moving across the street several years later. Consisting of two buildings, one was built in 1902 and the second added on in 1910, with two short hallways on each floor connecting the buildings. In addition, there is an annex that includes Rock Hill Bakehouse, Sweet Side Records, KFancillo Photography, Dakine Cuisine, Freedom Machines and Glens Falls Distilling.
Purchased in 1999 by the current owner, The Shirt Factory is now nearly 100 creative, talented, and passionate individuals call this building their second home. Among these are a variety of classes, shops offering a wide range of products, professional services, working artists, galleries, three bookstores, and other hidden gems you can find among the three floors. There is a wide range of goods in each shop, including salt lamps, loose leaf tea, pottery, trading cards, locally made food, reclaimed furniture and more.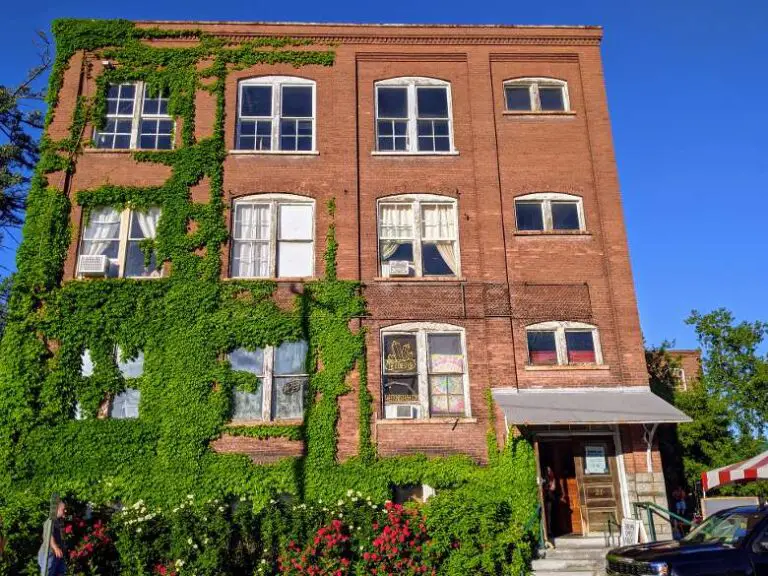 The Shirt Factory hosts a number of events throughout the year, and summer 2022 sees the return of the Thursday Market & Food Truck Corral, taking place weekly each Thursday from May through September. The spacious property allows plenty of space for food trucks, picnic tables, seating areas, vendors, farmers, and kids activities.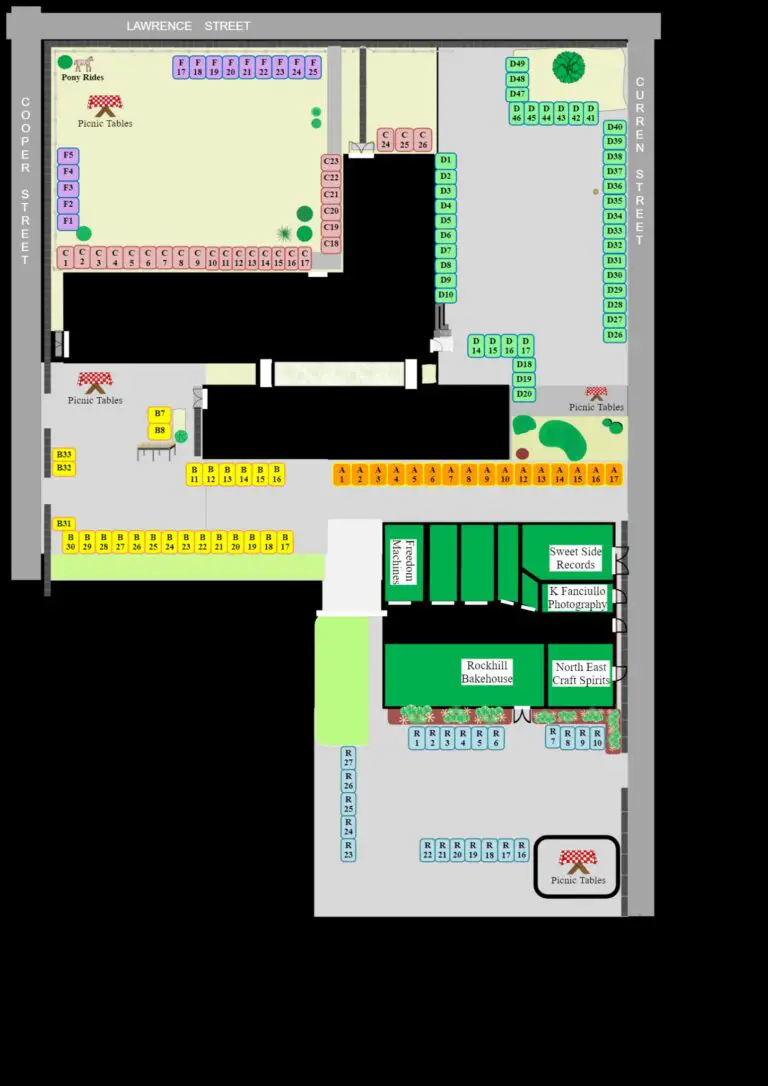 A sampling of the various food trucks that have attended Thursdays at The Shirt Factory include:
Coach's Corner: Sausage, Philly cheese steak, taco fries, quesadilla burger
Glens Falls Distilling: Samples and sales, bourbon, whiskey, moonshine
Bella Lynn's Bakery : Cupcakes and baked goods
Farmacy: Smoked/BBQ, sides, handmade ice cream
Pies on Wheels: Wood-fired personal pizza made to order
The Wrap Shak: Wraps, salads, quesadillas, fries, tots
Koko's Chariot: Frozen drinks, funnel cake, key lime pie or cheesecake on a stick
Hungry Traveler: Gourmet burgers and fries
Mac Factor: Gourmet mac & cheese
Cooley's Ice Cream: Novelty ice creams
Vashti's Kitchen Delights: Caribbean American food, also new items
Mean Max: Craft beer
Grandma Apple's Cheesecakes: Mini cheesecakes
Alaturco Gyro: Gyros, baklava, more
Alchemy Bagel: Macrons
Girl Scout Troop 3611: Girl Scout cookies
Slavonian European Café: Pierogies, stuffed cabbage, moussaka, more
Daily Fresh: Indian food, palak paneer, kadai mushroom, mutter paneer, aloo gobi, chole and more
Adirondack Concessions: Kettle corn
Yum Yumz: Italian ice and ice cream
Smoothie Shoppe: Fresh fruit smoothies
Creative Caterers: Hot dogs, sausage, taco salad, more
Ty's Tacoria: Tacos, chips with guac & salsa, iced tea
Slyboro Cider (Hicks Orchard): Samples and sales of hard ciders
Adirondack Olykoeks: Fresh hot mini-donuts
Millers Backyard BBQ: Ribs, brisket, pulled pork, sides
Screaming Eagle Concessions: Hot dogs, pulled pork, mac & cheese, lemonade
Adirondack Mobile Hibachi: Hibachi, noodles, rice, chicken, shrimp, steak
Euro Delicacies: Greek/Mediterranean, spanakopita, stuffed peppers, more
Tres Mijas: Enchiladas, tacos, taquitos, burritos, tostadas
Say Cheez: Grilled Sandwiches, tater tots, lemonade
The Shirt Factory is open to the public from 8am to 5pm daily. You can find a full list of events here and learn even more about the history of The Shirt Factory here.
Thursday Market and Food Truck Corral Music Lineup:
June 23
Lawrence Street Stage – Pete Moss
Rockhill Stage – Keanen Stark & Orion Kribs
Cooper Street Stage – Dan Mellon
June 30
Lawrence Street Stage – Tom Keller
Rockhill Stage – Drew Wardle & Brian Fitzgerald
Cooper Street Stage – Mark Rabin
July 7
Lawrence Street Stage – Jim Brown
Rockhill Stage – Terrallite
Cooper Street Stage – 42nd Draft
July 14
Lawrence Street Stage – Jason Irwin
Rockhill Stage – Chatterbox
Cooper Street Stage – Chris Cronin
July 21
Lawrence Street Stage – iRod+Aux
Rockhill Stage – Across the Pond
Cooper Street Stage – Zack Ryan
July 28
Lawrence Street Stage – Thom Powers
Rockhill Stage – Curious Comet
Cooper Street Stage – SoulSky Duo
August 4
Lawrence Street Stage – James Mullen
Rockhill Stage – Up the River
Cooper Street Stage – Kelly Rock
August 11
Lawrence Street Stage – Drew Wardle
Rockhill Stage – Kenny T & DC Steve
Cooper Street Stage – Mikki Bakken
August 18
Lawrence Street Stage – PR Project
Rockhill Stage – The Musicats Duo
Cooper Street Stage – Brian Fitzgerald
August 25
Lawrence Street Stage – Jim McArdle
Rockhill Stage – The Schmooze
Cooper Street Stage – Jason Irwin
September 1
Lawrence Street Stage – James Mullen
Rockhill Stage – Margo Macero Band
Cooper Street Stage – Alan Dunham & Elizabeth Winge
September 8
Lawrence Street Stage – Matthew Ames
Rockhill Stage – The Tradition
Cooper Street Stage – Mike Grosshander