New York jam icons moe. continued their recent revival on Thursday, July 7 with a headlining gig in their old hometown of Buffalo. As part of the Seneca Casinos Outer Harbor Concert Series, moe. played at the Lakeside Event Lawn in the outer harbor. With founding member Chuck Garvey still on the sidelines, Suke Cerulo filled in on guitar while Nate Wilson was also added on keys for this tour.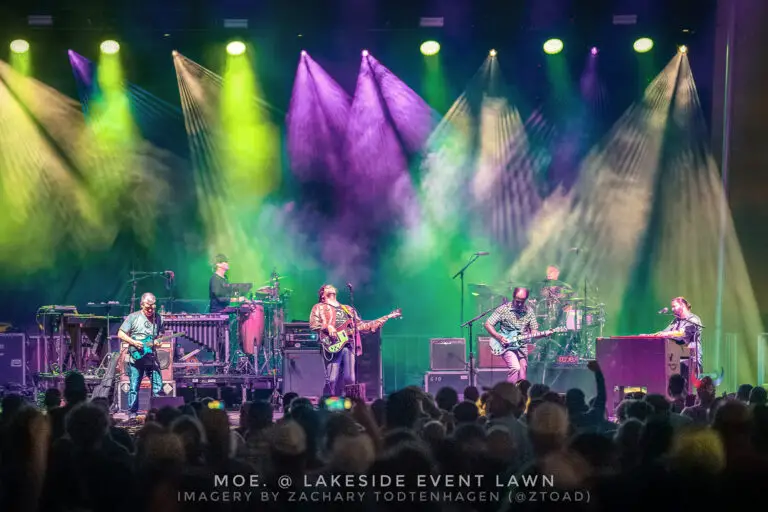 moe. kept it fairly old school this evening, in the community in which it grew up as a band. A "Kyle's Song" > "Seat Of My Pants" got the evening started off right. The first set also offered up the newer composition "Prestige Worldwide" before "Time Ed" later closed out the set.
An even older tune "Johnny Lineup" opened up the second set, followed close behind by other legendary moe. tunes like "Timmy Tucker" and "Sensory Depravation Bank." A powerhouse combination of "Recreational Chemistry" > "Meat" to close out the set preceded the all too fitting "Skitchin' Buffalo" encore.
moe. Outer Harbor Drive – Buffalo, NY 7/7/22
Set 1: Kyle's Song > Seat Of My Pants, Haze, Prestige Worldwide > Rickey Marten > Time Ed
Set 2: Johnny Lineup > Timmy Tucker, Sensory Depravation Bank, Meat > Recreational Chemistry > Meat
E: Skitchin' Buffalo