On July 21, in Newport, RI, the United States Postal Service will honor folk musician Pete Seeger with a unique stamp as part of their Music Icon Series.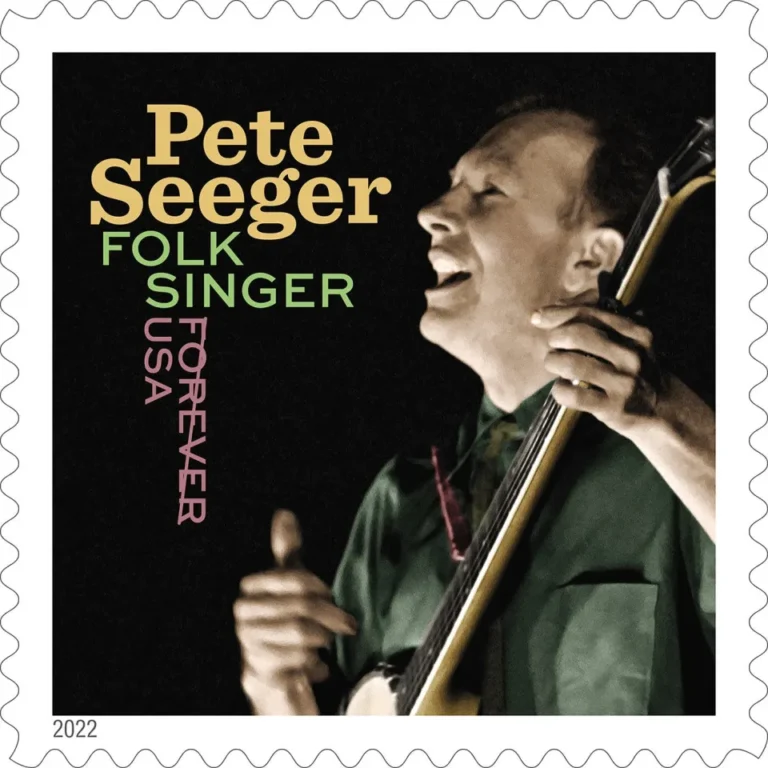 Pete Seeger, known for his American folk music and social activism, was born in Manhattan in 1919.  Over the course of his long career, one of his most famous songs includes "Where Have All the Flowers Gone?" which became a hit for its anti-war stance. Other songs of Seeger's rose to popularity in the '60s, such as "If I Had a Hammer" and "Turn! Turn! Turn!"
Seeger's work as a musician and activist inspired many – including artists Bob Dylan and Tom Morello. His adaptation of the spiritual, "We Shall Overcome," became an anthem for the Civil Rights Movement. The folk singer truly believed the power of song could transform and spur people into action for good and he continues to be a huge influence in music to this day.
The Pete Seeger stamp will be the newest and 10th stamp in the U.S. Postal Service's Music Icon series which began in 2013. Other musicians who have been honored include, in order, Lydia Mendoza, Johnny Cash, Ray Charles, Jimi Hendrix, Janis Joplin, Elvis Presley, Sarah Vaughan, John Lennon, and Marvin Gaye.
The stamp is based on a photograph of Seeger taken in the early 1960s by his son, Dan Seeger. With his iconic banjo in hand, Seeger performs in the picture as he did for much of his life. Art director Antonio Alcalá designed this latest stamp issue and the black-and-white original photo was color-tinted by Kristen Monthei. 
A recipient of multiple Grammy Awards, including a Lifetime Achievement Award in 1993, Seeger will long be remembered for his music and his contribution to American political activism.
Customers may purchase stamps and other philatelic products through the Postal Store at usps.com/shopstamps, by calling 844-737-7826, by mail through USA Philatelic, or at Post Office locations nationwide.