photos by Bettina Cataldi
Acclaimed jazz sax titan Kamasi Washington and his eight-piece band delivered a ferocious performance to herald the return of BRIC's Celebrate Brooklyn!,  New York City's longest running, free music festival at the Lena Horne Bandshell in Prospect Park.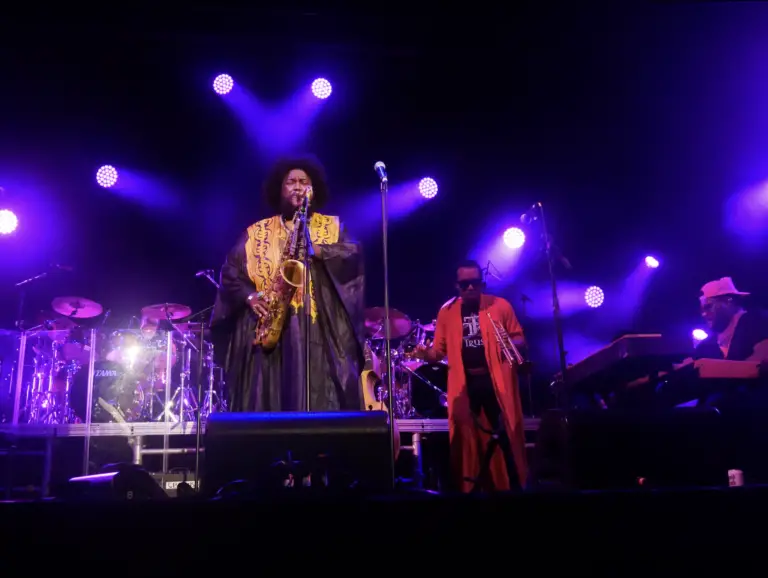 Like many good things, this world-class event was sidelined by COVID-19, with no performances in 2020 and a greatly scaled back schedule in 2021. 
Now in its 44th year, the 2022 BRIC season will boast a lineup of heavy-hitting musical artists from Brooklyn and around the world. The roster includes: rapper Vic Mensa; Brooklynite, contemporary poet, writer, lyricist and activist aja monet; Nigerian Afropop phenom Yemi Alade; British reggae vocalist, Maxi Priest; genre-defying rock band, Chicano Batman; Grammy-winning contemporary blues artist Fantastic Negrito; Grammy-winning latin pop singer Fonseca;  San Francisco-based Kronos Quartet and filmmaker Sam Green, performing in tandem with "A Thousand Thoughts" documentary; indie-pop band, The Beths; American soul rock band Seratones and many more.  The season will also include ticketed benefit concerts featuring Indie-Rock singer-songwriter Phoebe Bridgers; American-born Nigerian singer, songwriter, and record producer Davido; Texas-based psych rock band Khruangbin and multi-Grammy-winning "Queen of Neo Soul" artist Erykah Badu. 
The June 8 season opener drew a packed house to Brooklyn that reveled in the sounds of Kamasi Washington and show opener Ravyn Lenae, the alt.R&B newbie riding high of the release of her massive 20-track Atlantic Records' debut, Hypnos.  The classical-trained Chicagoite has been around since 2015, as a part of Zero Fatigue, a collective comprised of Smino, Jean Deaux and producer Monte Booker.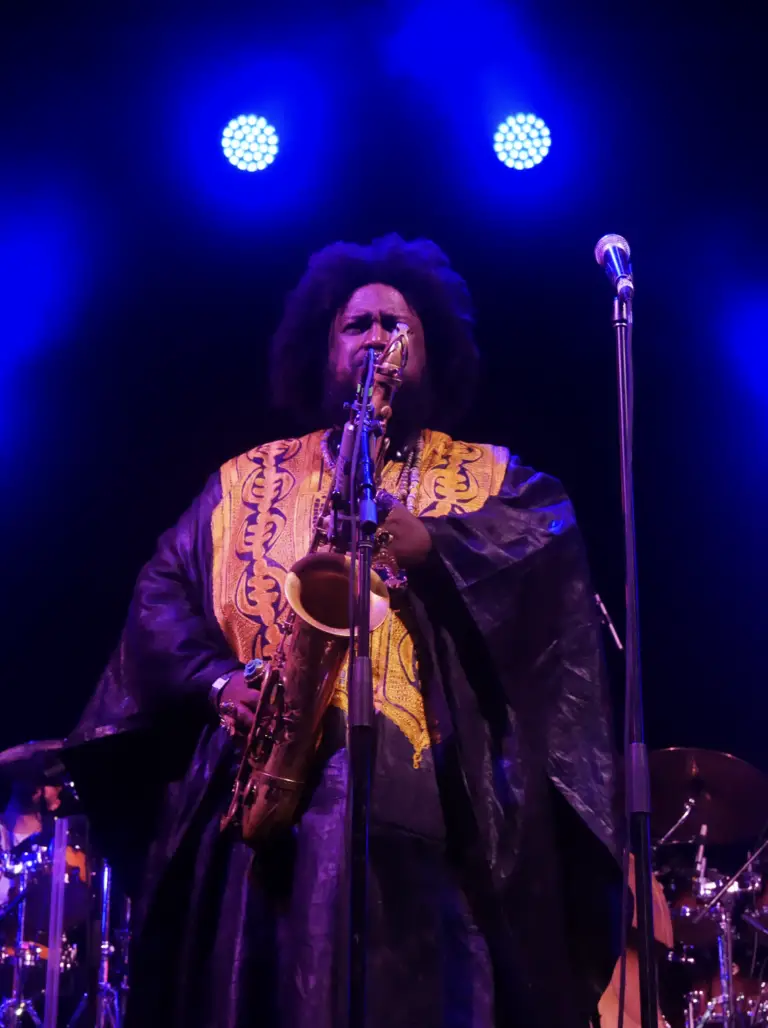 Lenae and her tight quartet of backing musicians blazed through a set of both up-tempo neo-soul and ballads including her album's standout tracks, including "Where I'm From," "Skintight," "Light Me Up," "M.I.A," the super slinky "Sticky" and the propulsive near rocker "Inside Out."  Lenae is gifted with a great stage presence and a soaring falsetto, which she uses to great effect on many tracks.  The audience was full of Lenae fans, who pressed to the stage with cellphones drawn to capture the performance of this rising star.  My one complaint is that she did not introduce her tight backing musicians, an array which included a powerful female drummer who may or may not have been Nikki Glaspie of Beyonce and the great jam bands, Nth Power and Dumpstaphunk.
Before Lenae and Washington's sets, the crowd was fired up by the well curated spins from DJ Reborn.  A vision in magenta, she swayed, and had the crowd doing likewise, to selections including Samankwe's "Happysong" and Leikeli 47's "Money."
The energy hit a new level in Brooklyn when Kamasi Washington and his double-drummer ensemble hit the stage.  Unlike many of his album tracks, which heavily feature masses of strings and vocal choruses, Washington's performance at Celebrate Brooklyn! had a fierce howling edge driven by his tight interplay of his all-virtuoso ensemble.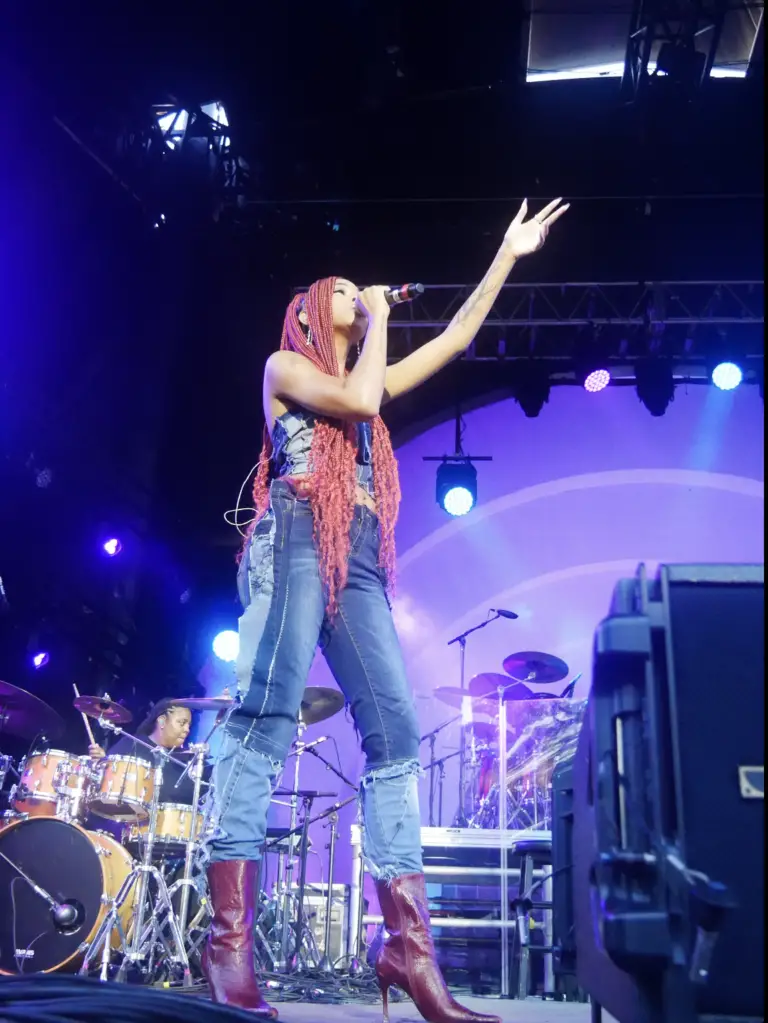 The band kicked off its performance with an extended version of "The Garden Path," Washington's latest single.  The stage was set with an intro solo by keyboardist Brandon Coleman, who fuses straight-ahead jazz, hard core funk and P-Funk master Bernie Worrell-esque spaceisms in a wholly unique style.  Trumpeter Dontae Winslow followed, with the first of many searing solos that matched the mighty Washington in melodic architecture and excitement.  Likewise for flautist and soprano saxman Rickey Washington, Kamasi's father. The elder Washington not only helped mold his son's talent but kicked up every tune he soloed on during the set.
Washington is both a superlative composer/arranger and a true titan of the art of tenor sax soloing. His extrapolation on the opening tune and all others in the performance build thoughtfully, from breathy balladeering to Tranesque sheets sound to a free jazz Pharoah Sanders scream and skronk.  Washington and his band heightened the pace with the next tune, "Street Fighter Mas," a majestic-themed, funkified selection from his acclaimed 2018 disc, Heaven and Hell, with 12 million streams, his biggest hit on Spotify.
The melodic "Sun Kissed Child" was one of the tunes that featured the singular soloing of bassist Miles Mosley. On this and several other tunes, Mosley clawed, sawed and thumped on his bass, giving it an otherworldly sort of post-Hendrix howl with judicious use of a harmonizer, fuzz and his bow.   Another standout band member was vocalist Patrice Quinn, who admirably recreated the vocal parts of Washington's tunes that are, on record, performed by a chorus.   Kamasi's performance also included crowd-pleasing tunes like "Blaxsploitation," "Truth" from his awesome 2017 EP "Harmony of Difference" and the final track, "Fists of Fury."
With his floor length robe, big beard and crown of locks, Washington projects a biblical/prophetic presence. This is wholly appropriate as his performances are an almost religious experience for those who love jazz, classical music, funk and everything in between.  Keyboardist Coleman's dabs of electronica and Washington and Mosley's use of effects like delay give this jazz a futuristic feel that is missing from so much of the genre today – one which seems set on reproducing a music past from the likes of Coltrane that can never be matched.
If you want to see a show that embraces all the many eras of jazz's great past but with an eye to the future, catch Kamasi Washington.
photos by Bettina Cataldi