The Great Blue Heron Music Festival in Sherman, NY, will happen once again during the first weekend of July. For nearly 30 years, the festival has drawn in thousands of fans from across the U.S. and has remained a tradition for people young and old to celebrate self-expression and music.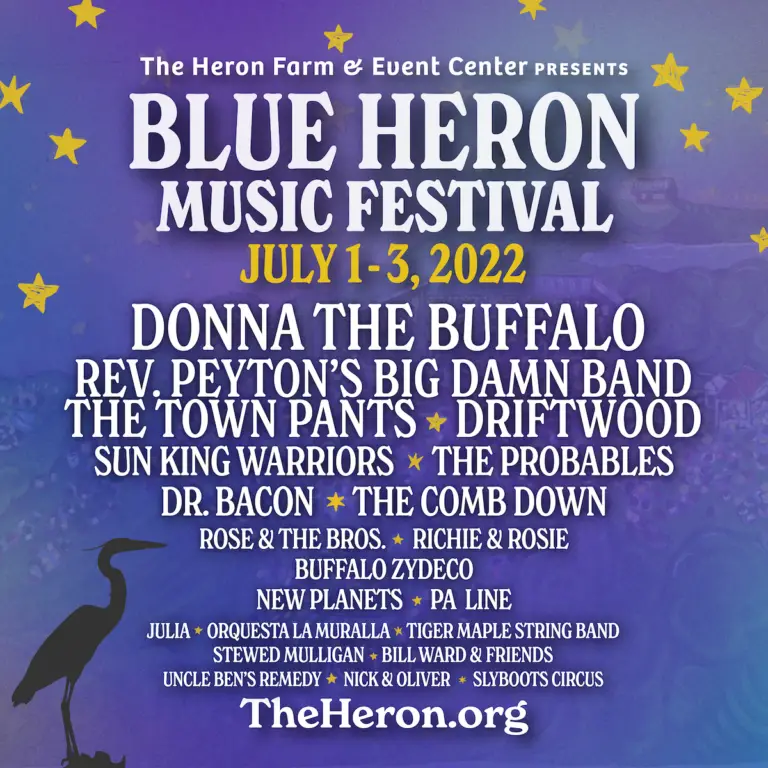 This year, the festival will expand the summer music series and implement "Beyond The Blue," which will be weekend events running from the middle of July through Labor Day Weekend. The diverse and eclectic lineup will carry over into these "Beyond The Blue" events. Julie Rockcastle, festival's co-founder, spoke about this new addition to the festival.
Our goal of this season, and the future, is to create a vibrant Great Blue Heron experience that honors both the traditions of the past and the land, by operating at a scale that doesn't over-stress the natural and human resources we are entrusted to care for. The genre-focused Beyond the Blue mini-festivals present diverse and family-friendly experiences all summer long that enable us to welcome more people who share our passions for music, the outdoors, and sustainability.
Beyond the Blue I starts July 16 and is full of funky bluegrass, soulful rhythms, and sweet harmonies with artists like Dirty Blanket, Folkfaces, and Bella's Bartok. Beyond The Blue II starts July 30 and it will be a full day of progressive Reggae beats, island music, and Native American sounds. The event headliner Giant Panda Guerrilla Dub Squad, will play on the main stage, along with Keith Secola, Root Shock, and Mosaic Foundation.

On August 20, Beyond the Blue III will have electrifying funk and electro-rock jams with headliner Jimkata. They are based in Ithaca, and Los Angeles that use bold arrangements and synthesizers to create their music.
To end the season, Beyond The Blue IV will happen on Labor Day weekend with more than 20 artists, including old-time country blues band Pokey Lafarage. Also headlining is acclaimed singer/songwriter Ryan Montbleau, who has spent much of his life going across the globe on a search for meaning and purpose, shown through his music.

The Great Blue Heron Music Festival sits on top of an award-winning campground. Voted the #1 campsite in the U.S. by HipCamp, The Heron is open daily for seasonal camping from May through October along with the Green Heron Growers Farm Store. For more information on the festival, go here.