Primus brought their "A Tribute To Kings" US Tour to Beak & Skiff Apple Orchards in Lafayette, Saturday, May 29th. This tour is especially fun because it is two separate sets, with the first one being strictly Primus and the second being Rush's hit album A Fairwell to Kings.
Les Claypool is one of the greatest bass players and man did he slap at this concert. With smooth transitions and build ups, Primus performed 10 of some of their most fun and groovy songs on their first set. Starting off with a packed crowd chanting "Primus Sucks!", Primus takes to the stage with the bassline of "Those Damned Blue-Collar Tweekers" which set the mood for the rest of the evening.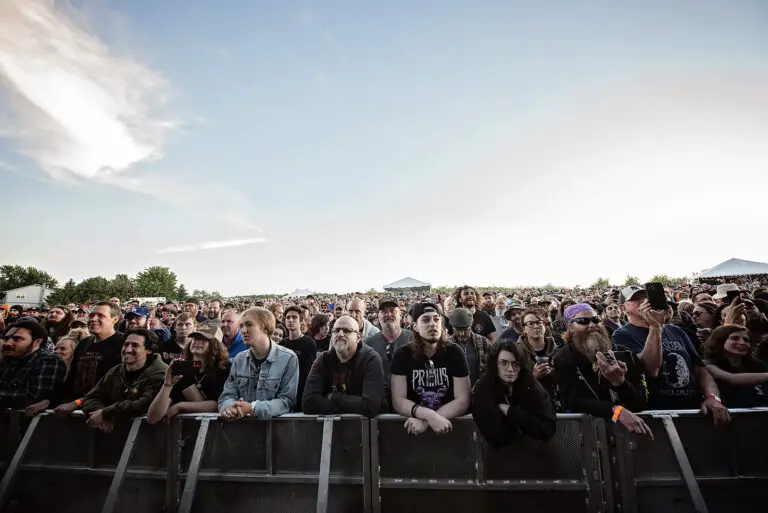 Primus flawlessly played through the first set, stopping a few times to talk to the audience as well as doing a quick costume change to wear a pig mask for the performance of "Lacquer Head". Primus played fan favorites such as "Seas of Cheese", "Spegetti Western", and "Professor Nutbutter's House of Treats" before closing out the first set with "Shake Hands With Beef", leaving everyone wanting more.
The band took a 20-minute intermission before beginning their second set of Rush. Opening with "A Farewell to Kings" into "Xanadu" showcased Les Claypool's guitar playing as well as his vocal range. Hearing him perform songs other than Primus was really interesting and put a different spin on the band which was fun to watch. Following up with "Closer to the Heart", Les Claypool mentioned how difficult the vocals are to perform, and that Rush fans are typically very critical while bringing up his own admiration for Rush, and how they were his first concert. The crowd applauded and cheered showing their support and satisfaction of the performance. Closing out the Rush set with "Cinderella Man" into "Madrigal" and ending with "Cygnus X-1" the crowd was roaring in applause.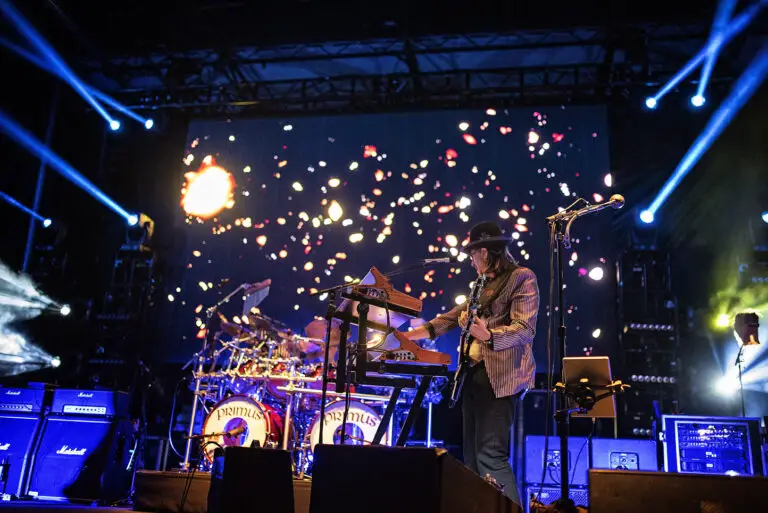 Primus wasn't done yet though, and with an epic 4 song encore of "Wynona's Big Brown Beaver" > "Welcome to This World" > "My Name is Mud" > "Jerry Was a Race Car Driver" the band closed out their show with the best possible songs they could have played. Seeing Primus is always an absolute treat, and this was no different here. The atmosphere at Beak & Skiff was incredible, the drinks were delicious, and the view was beautiful. Having Primus perform for over 2 hours was a fantastic experience, and one that will make me want to come back for more shows at Beak & Skiff.
Setlist: Those Damned Blue-Collar Tweekers > Lacquer Head > Seas of Cheese > Mr. Krinkle > Spegetti Western > Groundhog's Day > Conspiranoia > Professor Nutterbutter's House of Treats > Del Davis Tree Farm > Shake Hands With Beef.
Setlist 2(Rush A Tribute To Kings): A Farewell to Kings > Xanadu > Closer to the Heart > Cinderella Man > Madrigal > Cygnus X-1
Encore: Wynona's Big Brown Beaver > Welcome to This World > My Name is Mud > Jerry Was a Race Car Driver