Albany pop-punk veterans State Champs have returned with their fourth studio album Kings of the New Age, a 35-minute montage of guitar-driven angst and lust that rarely slows down.
Kings of the New Age is the first release by the band to feature only one guitarist, after Tony Diaz stepped away in 2020. Nevertheless, the group's sound isn't any smaller, with the other four members nicely filling in the gaps. This is aided by some tight production from California based Drew Fulk a.k.a. WZRD BLD, whose collaborations include Lil Wayne, A Day To Remember, and Ice Nine Kills. Cleanly mixed, the band's full arrangement shines through on Kings of the New Age, with no instrument or vocal sounding unclear, choppy or overshadowed.
While production does play a significant role in the band's presence standing tall with a smaller lineup, credit has to be given to Tyler Szalkowski for his increased duties as both lead and rhythm guitarist. Songs like "Here to Stay" and "Just Sound" showcase guitar work that both maintains a loud presence while enhancing the song melodically.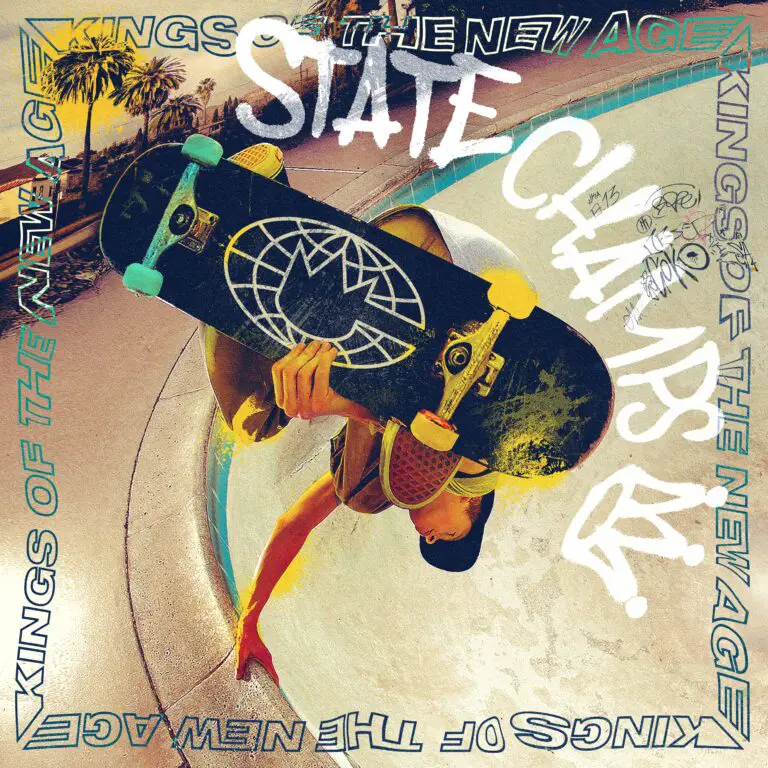 Lyrically the album generally focuses on topics of romantic lust and strife. "Being with you is like working on the weekend," sings lead vocalist Derek DiScanio on the chorus of "Everybody But You," the album's lead single. Even though romance is a major focus of the record, songs like "Here to Stay," which begins the album, reinforce the idea behind the album's title. "The kings of the new age, the wrong time, the right place," sings Discanio in the track's opening lines.
With State Champs entering the scene of pop-punk after the genre's boom in the late '90s and early 2000s and before its recent renewal with Machine Gun Kelly's pivot towards the genre hatching new commercial attention, the optics of this timing might not be great, but they don't mind. "On our own it's safe to say, we're here to stay," DiScanio sings at the end of the opener's chorus.
State Champs attempt to reinforce this footprint on Kings of the New Age with four features scattered across the album, with appearances from Neck Deep's Ben Barlow, Against The Current's Chrissy Costanza, Nashville country pop singer Mitchell Tenpenny, and Four Year Strong's Alan Day & Dan O'Connor.
Each artist is given a bridge to sing or maybe a little more on the tracks which they have feature duties, which is something that holds back the effort and impact of these guest contributions. Chrissy Costanza's contribution on "Half Empty" slightly stands apart in this regard however, with her bridge and chorus near the song's ending adding another perspective to this track about a struggling relationship.
And even though part of this album's mission is clearly dedicated to not changing up the band's formula, this leads to Kings of the New Age sounding repetitive at points. This is why slight deviations on songs such as "Act Like That," which functions more as a straightforward pop rock track, and closer "Some Minds Don't Change" with its loud, waltzy chorus are easily appreciable moments.
Nevertheless, State Champs' classic pop-punk formula works out well overall, with loud anthemic choruses and relatable melancholy lyrics shaping a strong album for the seasoned band. Kings of the New Age doesn't reshape the punk genre or push too hard on any boundaries, but it's good enough on its own to prove that State Champs deserve to hang around.
Key Tracks: Here To Stay, Just Sound, Act Like That" (featuring Mitchell Tenpenny)