On the heels of an upcoming and ambitious new 4-album studio and film project, I Am The Moon, Tedeschi Trucks Band has just unveiled dates for their highly-anticipated annual return to the Beacon Theatre this fall.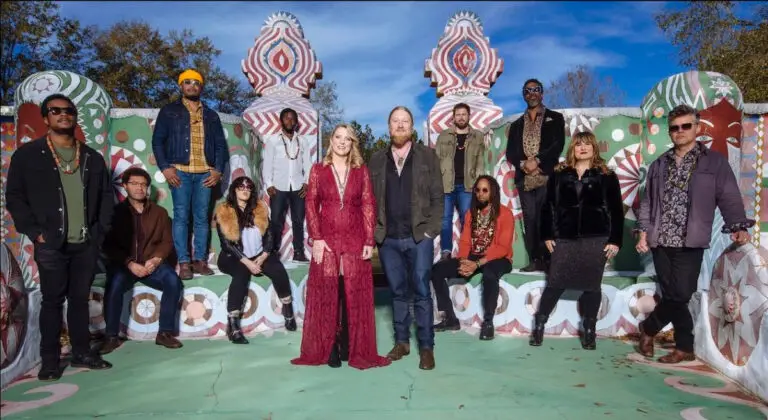 The 12-piece rock and soul collective led by singer-guitarist Susan Tedeschi and guitarist Derek Trucks will play seven nights in New York City – September 29 & 30 and October 1, 3, 6, 7, and 8 – as part of their multi-year, dual city residency with MSG Entertainment, which also includes annual shows at The Chicago Theatre.  
The 2022 Beacon Theatre shows mark the group's 11th multi-night Beacon run, and will include their 50th lifetime show at the famed New York theatre on October 3.  Tedeschi Trucks Band's annual tenure in the Big Apple is a destination event, featuring surprise sit-ins, special guests, and set lists that go deep in the band's catalog, becoming a can't-miss concert experience.
The Beacon is always a place for us to stretch out and explore musical territory. We have an incredible amount of new material coming out this year with I Am The Moon and the Beacon shows will be some of the first where we'll be able to draw from all of it and have the space to really dig in.

Derek Trucks
The 2022 residency will feature support from Amy Helm on Thursday, September 29 and Ruthie Foster on Thursday, October 6.  Friday and Saturday nights will feature two sets of Tedeschi Trucks Band. This year will also be one of the few opportunities in the U.S. to catch the band live after all four albums of I Am The Moon, are released. 
I Am The Moon is a creative milestone for us – and we've got our 50th show at The Beacon, another milestone. We're looking forward to celebrating both and all the hard work that went into getting here – it's not something that just happens.

Susan Tedeschi
I Am The Moon is the most ambitious studio project of Tedeschi Trucks Band's storied career – comprised of four albums and four companion films to be released throughout the summer. Inspired by a mythic Persian tale of star-crossed lovers, and emotionally driven by the isolation and disconnection of the pandemic era, the thematic I Am The Moon totals more than two hours of music unfolding across a robust tapestry of genre-defying explorations that propel the treasured American ensemble into new and thrilling creative territory. Watch the project trailer below.
The four albums that comprise I Am The Moon — I. Crescent, II. Ascension, III. The Fall, and IV. Farewell— will be released in successive months beginning with I. Crescent.  The corresponding films which combine studio and performance footage with atmospheric photography and imagery will debut three days prior to each audio release offering fans an early opportunity to digest each album in its entirety via the band's YouTube channel. 
The first film debuts Tuesday, May 31 followed by the first album release available digitally and on CD, Friday, June 3.
Tedeschi Trucks Band is Susan Tedeschi (guitar, vocals), Derek Trucks (guitar), Gabe Dixon (keyboards, vocals), Brandon Boone (bass), Tyler "Falcon" Greenwell (drums, percussion) Isaac Eady (drums, percussion) Mike Mattison (vocals, guitar), Mark Rivers (harmony vocals), Alecia Chakour (harmony vocals), Kebbi Williams (saxophone), Ephraim Owens (trumpet) and Elizabeth Lea (trombone). 
Tickets for all seven Beacon Theatre shows will be available for purchase by the general public beginning at 11:00AM (ET) on Friday, May 13 via ticketmaster.com. Tickets will also be available at the Madison Square Garden, Radio City Music Hall and Beacon Theatre box offices on Saturday, May 14. Prices range from $29.50 to $135.00.