Brooklyn-based leading arts and media institution, BRIC, announced its festival lineup for this summer's BRIC Celebrate Brooklyn! 2022, taking place from Wednesday, June 8th through Saturday, August 6th.
This year's lineup features artists including Phoebe Bridgers, Erykah Badu, Kamasi Washington, Vic Mensa, and more to who will perform at the Lena Horne Bandshell at Prospect Park.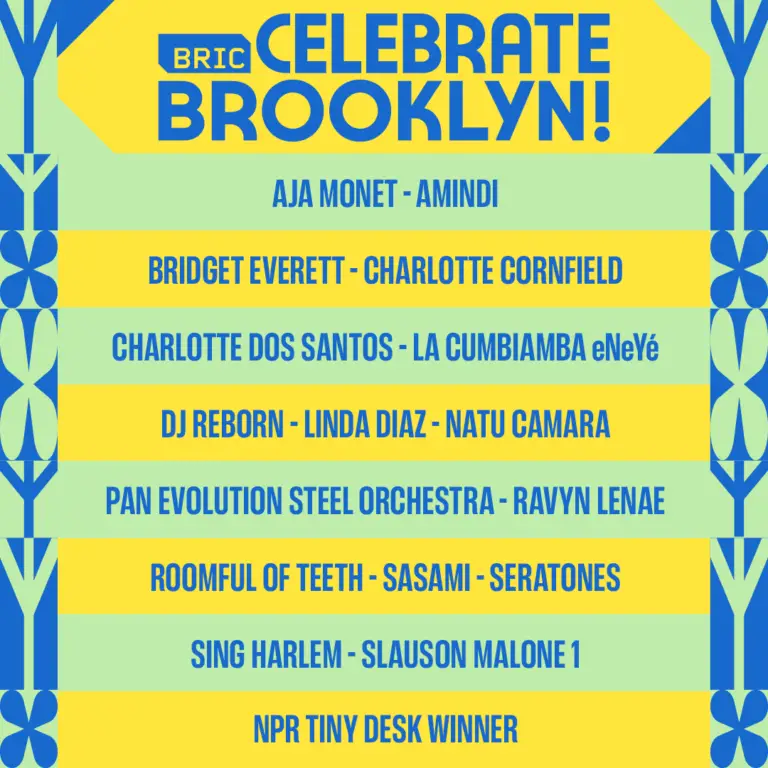 For the past 44 years, this festival presented in partnership with Prospect Park Alliance and NYC Parks has been the summer-long outdoor concert. BRIC celebrates talent spanning global music icons to chart-topping indie bands, including benefit concerts, family days, and movie nights.  
"This summer is about being together – the power of gathering in this moment of human history," said Diane Eber, Executive Producer of BRIC Celebrate Brooklyn! "Artists can show us the way to heal through creative expression and there's no better place to experience that than the Bandshell. We are so honored to bring another season of magic to our communities at BRIC Celebrate Brooklyn!" 
It wouldn't be summer in Prospect Park without the BRIC Celebrate Brooklyn! Festival at the Lena Horne Bandshell. This festival brings a wide range of free music and family programming to Prospect Park, and gives Brooklyn's diverse community a chance to come together—we're excited for the season to begin.

James Snow, Prospect Park Alliance Interim President
BRIC Celebrate Brooklyn! 2022 will also offer a movie night featuring the iconic 1980 musical film Fame, which follows the lives and hardships of the faculty and staff at the (fictitious) New York City High School for the Performing Arts. This season will also feature an evening dedicated to dance with Ragamala Dance Company, showcasing a performance of Sacred Earth. This iconic group draws their inspiration from South Indian American artists and uses multi-disciplinary dance works to epitomize intercultural and immigrant narratives that evoke a shared sense of humanity.  
BRIC celebrate Brooklyn! 2022 Season Lineup 
Opening Night: Kamasi Washington | Ravyn Lenae | DJ Reborn 
Wednesday, June 8, 2022 
Maxi Priest | Pan Evolution Steel Orchestra 
Saturday, June 11, 2022 
Benefit Concert: Phoebe Bridgers 
Tuesday, June 14, 2022 
Benefit Concert: Phoebe Bridgers 
Wednesday, June 15, 2022 
Benefit Concert: Davido 
Thursday, June 16, 2022 
BRIC Celebrate Brooklyn! meets NPR Tiny Desk Contest On The Road 
Saturday, June 18, 2022 
Juneteenth UNITYFEST 2022 
Sunday, June 19, 2022 
Fonseca | La Cumbiamba eNeYé 
Friday, June 24, 2022 
Family Show: Cirque Kalabanté: Afrique En Cirque | Natu Camara 
Saturday, June 25, 2022 
Vic Mensa | aja monet 
Friday, July 8, 2022 
Crumb | Slauson Malone 1 
Saturday, July 9, 2022 
Kronos Quartet & Sam Green: A Thousand Thoughts | Roomful of Teeth 
Thursday, July 14, 2022 
Chicano Batman | Charlotte Dos Santos 
Saturday, July 16, 2022 
Ragamala Dance Company: Sacred Earth 
Friday, July 22, 2022 
John Cameron Mitchell & Amber Martin | Bridget Everett & The Tender Moments | Special Guests 
Saturday, July 23, 2022 
The Beths | SASAMI | Charlotte Cornfield 
Friday, July 29, 2022 
Film Night: Fame | Sing Harlem 
Saturday, July 30, 2022 
Benefit Concert: Khruangbin 
Thursday, August 4, 2022 
Benefit Concert: Erykah Badu 
Friday, August 5, 2022 
Closing Night: Yemi Alade | Amindi 
Saturday, August 6, 2022 
To RSVP, click the link here.  For more information, visit the link here.