Before Covid-19 closed down NYC in March 2020, Sam Pritchard had spent nearly 30 years running a successful bike messenger company. But when the pandemic shuttered every business that might need his service, Pritchard decided to close up shop. But he didn't leave the streets; he just took to them with a new name and a new passion.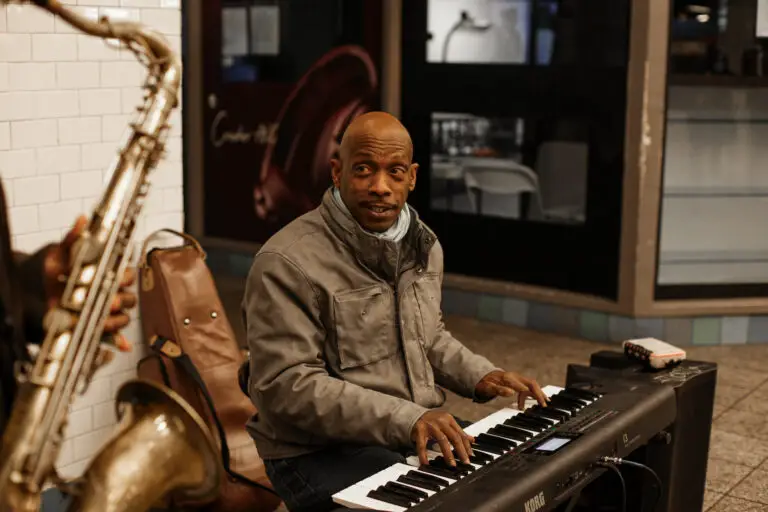 Sam Pritchard pivoted and became Sammy Buttons – New York's funkiest, keyboard-wielding pop-up jam session/dance party host.  Together with a wide array of guesting singers, drummers, horn and guitar players, The Sammy Buttons Experience has been spreading the gift of groove heavy funk music to this shutdown weary city of 8 million for over two years, and often seven days a week. Sam and his rotating cast of collaborators have been serving it up on street corners, in parks and transit stations – attracting large, happy crowds from Wall Street to Harlem. And he's been making a pretty good living at it too, one he says is far better than many musicians playing in NYC 's clubs.
I have known Sam since the early 1990s, when his messenger company began serving my Manhattan-based PR firm. I knew his Covid career reinvention was an interesting one, something I had the chance to relate in a story I wrote for the New York Times. But it was not Covid alone that drove him to music. Like many of us, Sam had been a lifelong player in his off-hours, someone who always dreamed of playing music fulltime, just like his idols Sly Stone and Stevie Wonder.  He finally took to the street with his music, not only because Covid interrupted his business, but because of a promise made to one of his closest musician friends, the late bass player Tony Russell.  Russell was someone with whom he played with briefly on the streets who passed tragically at the beginning of the pandemic. You can find out more about this and Sam's life story by reading the New York Times profile here.
There's a saying in the world of PR that "publicity begats publicity." And that has certainly been the case for Sammy Buttons. 
As a result of his newfound fame,  Sammy has received some great opportunities to be a part of events that take place indoors.  He and his most frequent collaborator, saxman Bernell Jones II, enjoyed a two-week residency performing at the luxurious Soundview Inn in Greenport in February, one they will reprise this coming summer. This past month, Sammy was invited to begin hosting periodic Sunday Jam sessions at Sid Gold's Request Room, the popular piano and karaoke bar co-founded by Loser's Lounge piano man Joe McGinty.  Sam's legend will soon spread to Australia when a segment shot this past month airs on SBS Television, that country's equivalent of PBS.
On March 3rd, New York's new street music star made his national TV debut on the much-watched Rachael Ray Show.  Though host Ray was out on a Covid quarantine and not in the studio during the taping, she and her 2 million viewers across America got to hear Sammy's story and experience his uniquely uplifting music and personality.  Check it out here.
To keep up on the latest, follow The Sammy Buttons Experience on Instagram.