In the Court of the Crimson King, Toby Amies' fantastic new film about prog rock pioneers King Crimson, is like no other rock documentary that has come before it. 
And that, Music Lovers, is a very good thing. 
It's as far from the tiresome VH-1 Behind the Music cliche of rise/drug-fueled fall/redemption as a music doc could be. At times, it's something curiously akin to The Office (the U.K./Ricky Gervias edition, of course). Like this hilariously dry TV sitcom, it's the study of the personalities, pressures and pleasures in a workplace. In this case, it's the most profoundly creative and frequently reinvented band in art rock for 53 years and counting.  Also like The Office, it hinges on the whims of a prickly but impossible not to love leader – the superlatively serious and accidentally humorous god of guitar and ensemble discipline, Robert Fripp.
Amies' film follows Fripp and his latest incarnation of Crimson, a seven-man virtuoso ensemble including three drummers, on their 50th anniversary tour right before COVID-19 descended.  The director complements this fly-on-the-wall vantage of the present with a wonderful survey of the dozen or so incarnations of the band past.  This begins with the fiery five-man ensemble that set the template for progressive rock with their earthquaking 1969 debut album, from which this film takes its name. It was a group that lasted for only 13 months and included ELP front man-to-be Greg Lake and Foreigner co-founder Ian McDonald.      
More than anything, this is a study of the social environment and unique creative methodology through which Fripp and his many collaborators have crafted some of most transcendent moments in 20th and now 21st Century music.  These are always evolving sounds that lurch between heavenly harmonic beauty and unsettling noisy dissonance. It's a formula that has forged an almost spiritual hold upon Crimson's cultish, cross-generational fanbase and the music makers themselves, for whom their time with Fripp, no matter how fleeting or difficult, was the apex of their creative lives.
For fans like myself who have been enthralled since confronting the shrieking red-faced man on the cover of their debut disc, the uncensored interviews with past members of different era of Crimson is what makes Amies' take so meaningful.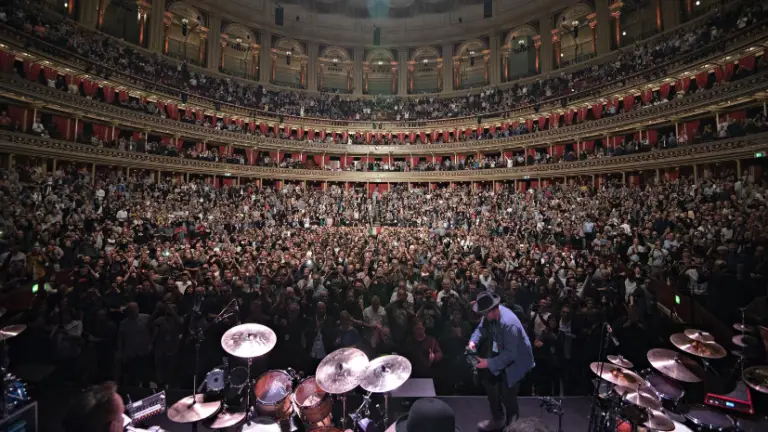 Fripp himself begins by calling the whole experience an exercise in "joy with acute suffering," saying he was "incredibly unhappy, in a word, wretched from 1969 – 2013."  This is a man who confesses he starts his day with a cold shower because it's good for "telling the body to do as it's told."  He claims his 2013 and post ensemble is the only band "where not one member actively resents my presence."
In the film, Fripp calls Amies on the carpet for interrupting his 4-hour daily rehearsal routine for an interview, something that he claims has ruined the prior evening's concert. Discipline is the keyword in Fripp's lexicon. In fact, it was the initial name of the band (replaced by once again utilizing King Crimson) and debut album of his classic Gamelan-inspired guitar synth quartet of the 1980s. This much-beloved aggregation featured Adrian Belew, Fripp's still-current bassist/Chapman Stick player, Woodstock's own Tony Levin, and monster percussionist Bill Bruford.
Bruford, who left Yes at the height of their fame in 1972 and continued with Crimson incarnations through 1984, launches some of the most quotable moments in the film.  He joined because King Crimson was "the dream band viewed from the outside, the band that could do anything." He continues: "Like Miles Davis, you find the most interesting people you can find, throw them in the recording studio and throw away the key.  You might get something interesting… if they haven't killed each other!" Bruford adds that when it comes to being in Crimson "without a sense of absurdity, you are lost."  Longtime collaborator Trey Gunn puts the experience this way: "It's like having a low-grade infection, you're not really sick, but you don't really feel well either."
Jamie Muir, the madcap percussionist of the highly improvisatory Lark's Tongue and Aspic era band says of performance: "It was a maelstrom of electricity.  You'd have to stand in the middle of this storm and play music."  Of the compositions: "It was like a regal animal trying to emerge out of something, like an unfinished Michelangelo sculpture." Muir left the band within a year, just as the critically-acclaimed Lark's Tongue was released. To wind down from the creative chaos, he headed straight to a monastery in Scotland to become a Buddhist monk!
Ian McDonald, the keyboardist, reed man and co-composer of some of the classic tracks on their debut disc, left shortly after the album's release, at the end of their first U.S. tour, along with drummer Michael Giles.  "I hated the dark music we inflicted upon the audience," he says.  But he ultimately came to regret his sudden decision to leave the band, one that was just taking flight. "I used to beat myself up about it, used to regret it, but I don't anymore." Giles for his part reminisces about his love of the band's "spontaneous music, the ability to enter into the unknown." In his efforts to keep this first iteration of the band together, Fripp offered to leave the band he founded to let McDonald, Giles and company continue on. But it was something his partners rejected. Of McDonald, who passed in February 2022, Fripp says "his only decision was the wrong one."
Saxophonist Mel Collins, who joined Crimson for a three-year, three-album run in 1970 and returning around the time of the documentary tour, speaks to the changes in the band, then to now. "It's better to be in this edition of King Crimson, there's more freedom," he says.  "In the 1970s, there was a lot of trauma.  I had problems with Robert; he was so serious. If you made a mistake, it was the end of the world. Some of us went through hell." On fearless leader Fripp, he concludes: "Robert went through some traumas himself… He's mellowed, he's a nice person."
Speaking of hell, with a lot of heaven, the most seemingly still wounded feelings come from Adrian Belew, guitarist/singer/songwriter in Crimson iterations from 1981 – 2013.
"Ninety-percent of it was this beautiful and unique partnership, as writers and guitar partners… it was a lot of fun," says Belew.  "But it was so stressful, my hair had fallen out."  Of his removal from King Crimson, Belew recalls: "I thought it was a partnership, but he let me go. I thought it was 'our band,' but he wants it all his way." If things aren't going to his satisfaction, Belew says Fripp "will take his guitar and go home."
But the heart of this documentary is the current edition of King Crimson, the backstory on the members, their fans and majestic music they are still conjuring, plenty of which is captured in this film.
One fan who gets prominent play is Sister Dana Benedicta, the so-called Prog Rock Nun, who compares their music-making to the liturgy, a religious experience like a Catholic mass.  Another fan comments on the two-way relationship "where the musicians and the audience have to be present for the music to happen." It's compared by another fan to Scientology, an arcane cult experience, where "the music is making itself, flying, possessed by something other than (the musicians) themselves."
What the musicians and audiences are after is a "peak experience" says Trey Gunn.  And the pressures, within Fripp, the band and with audiences come from "wanting to reach that peak experience again and again."
The most poignant character in the documentary is the late Bill Rieflin, the drummer/keyboardist who worked with industrial music icons Ministry, The Revolting Cocks, The Swans and Nine Inch Nails among others before join King Crimson in 2013. 
Amies then catches up with Rieflin at home after the tour, shortly before his passing in March 2020. Here he states he "has no fear of death because consciousness is a continuum."
In a band where Fripp seems to keep the "process" fresh by changing partners again and again, he says of Rieflin. "Bill is irreplaceable."  He concludes that he will be an on-going member of the band, in spirit perhaps, for as long as there is a Crimson King forever reaching for another peak musical experience.
The film, which premiered at SXSW in March 2022, is expected to premiere in theaters and streaming services in fall 2022.