Holler stompin' their way back through the Northeast, The Ghost of Paul Revere made a spirited stop at the historic Bearsville Theater in Woodstock on Friday, April 15. It may also have been their last.
Joined by longtime friend and frequent collaborator, Jackson Kincheloe (of Sister Sparrow and the Dirty Birds) on harmonica for the evening, the band displayed all the hallmarks and charisma that once made mainstream success seem like a "sure thing." Playing with passion and purpose and like their lives depended on it, you could almost feel there was something more to this performance; something bubbling under the surface that the band already knew but wasn't ready talk about yet.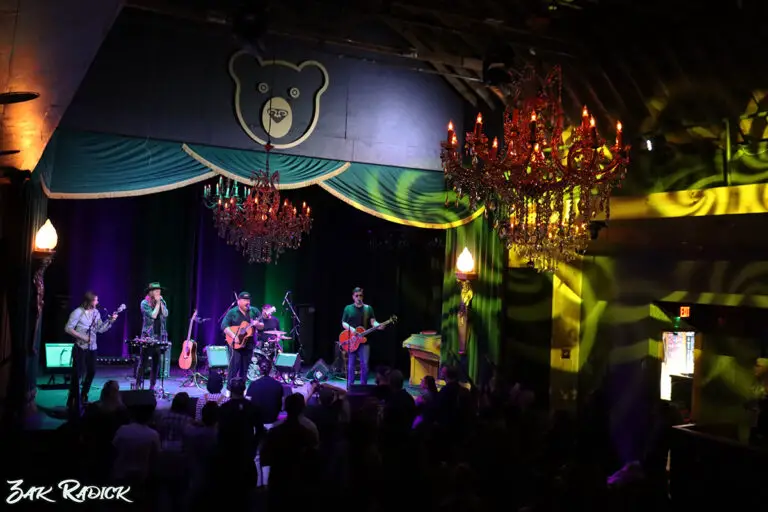 They say what doesn't kill you makes you stronger, and if that's really true, The Ghost of Paul Revere should be ready for WrestleMania.  Indeed, things have never been "easy" for the hard working alt-Americana folk rockers based out of Portland, Maine.  Seemingly faced with one set back after another, things came to a literal crossroads this past Februrary in Colorado when their tour van — along with all their instruments, sound gear, swag and merch — was stolen from a hotel parking lot.  With everything necessary to make a livelihood suddenly ripped away, the guys had two choices: either head back east with their tails between their legs, or take a chance and travel on into the unknown while relying on the kindness of strangers and fans.  With an overwhelming show of support via a GoFundMe page set up for the band, they choose to travel on and were miraculously able to complete the tour without missing a single date.  Even more inspiring, after reaching their estimated GoFundMe goal of $20,000 in just two days, GOPR gave back all extra donations, paying them forward to a charity of each band members choosing.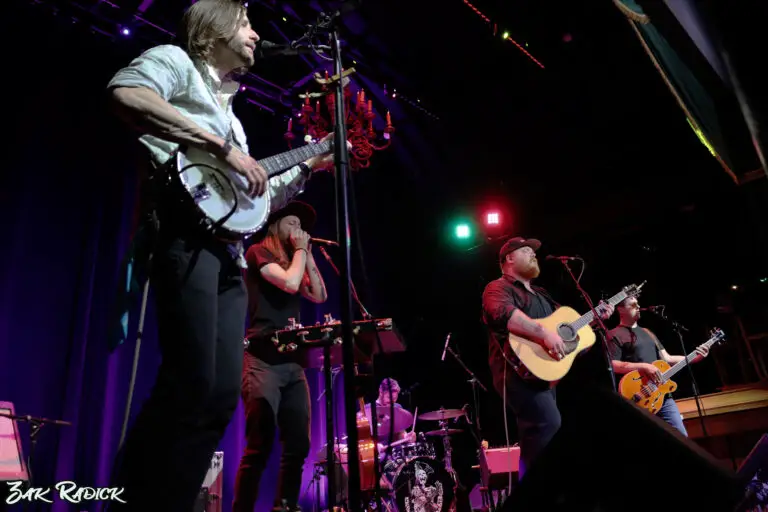 Riding into Bearsville on Friday, it was the first time many fans in attendance were seeing The Ghost of Paul Revere. After being treated to an intimate opening set from singer/songwriter Daniel Rodriguez, one of the founding members of critically acclaimed folk act Elephant Revival, the 'boys from Buxton' took the stage shortly after 9pm.  Comprised of Griffin Sherry on guitar and vocals, Max Davis on banjo and vocals, Sean McCarthy on bass and vocals and drummer Chuck Gagne, GOPR wasted no time in planting foreshadowing seeds, opening the set with "Love at Your Connivence," a song about reckoning with the emotions of walking away from someone you love.  Up next came the Davis sung "Two Hundred and Twenty-Six Days" before the band welcomed an old friend to the stage, multi-instrumentalist and New York native Jackson Kincheloe. A lanky long-haired cowboy, covered in tattoos and armed with a harmonica, Kincheloe allegedly "just showed up looking like this, knowing all the songs and was ready to go," immediately making his presence felt on the rocking, up-tempo rendition of the seldom played "Fire in the Sky."
I lost my will to carry on the day you walked away
Now I'm chained to a bottle of whiskey praying the levees goin' break
Just burn my home and take all my things, send me to the lord above
Because I know on the day that the judgement comes sure as hell not going up

Lyrics from "Fire in the Sky"
A few songs in and guitar player Griffin Sherry couldn't help but comment on how well behaved the crowd was, almost daring them to cut loose a little. It was easy for fans to do just that on one of the stand out songs of the night, an extended take on the 2015's "Two Weeks," which easily doubled the length of the studio recording and featured the entire band locking in on a groove lead by drummer Chuck Gagne, who appeared to be having an absolute blast playing behind the kit.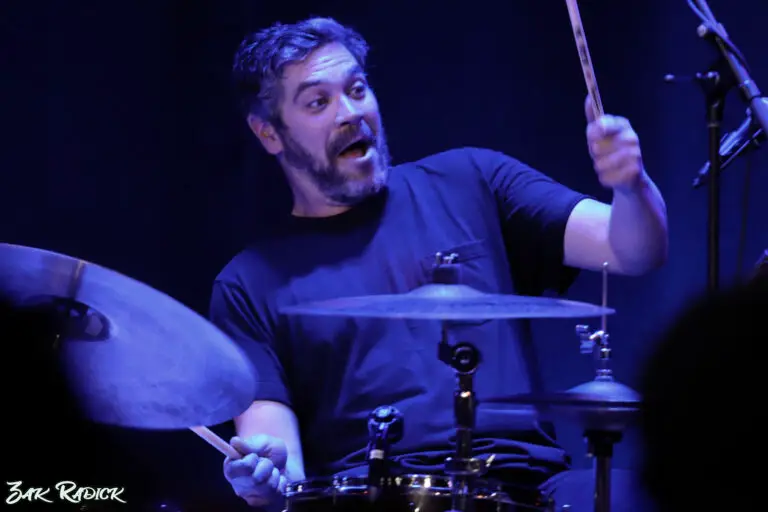 After working their way through career spanning staples like "Good at Losing Everything," "Little Bird," "San Antone" and "Wild Child,"  Ghost of Paul Revere would introduce one of the songs they are most proud of, "Ballad of the 20th Maine" which earned them national attention in 2019 when it was named Maine's official ballad. 
Between songs, banjo player Max Davis took the opportunity to talk about what it felt like playing there that night.   That there are certain rooms that have a magic about them, a rich musical history, and that this is one of them and he could feel it, stating "There's just certain feelings and there's no lying about it. The people that have been in this space have charted in unknowns and you just hope that you're also charting in one of those unknowns." He would then introduce one of his favorite songs to play, "Montreal."
Well the grass may be greener and the scenery cleaner, but your heart never found a home; Are we growing apart or are we growing up? Are we stuck in a dream or are we waking up?

Lyrics to "Montreal"
One of the things that has helped GOPR gain so many new followers since forming in 2011 has been their tasteful selection of cover choices.  Known for putting their unique Holler-folk twist on classics like "Baba O'Riley," "War Pigs ,"Nothing From Nothing" and even newer songs like Dr. Dogs "Shadow People," considering we were in Levon Country, a betting man would have probably placed his chips on them doing something like "I Shall Be Released," a song GOPR has played rather frequently over the years.  However, on this night, the band upped the ante and took things in a meta direction, opting to play a cover-of-a- cover in the form of "Atlantic City," which received one of the biggest ovation of the evening.
Ghost of Paul Revere would also play "Travel On," a "yet to be named" new song that featured Sean McCarthy handling the bulk of singing duties before closing out the performance with one final bit of foreshadowing, a powerful and thought provoking song called "This is the End."     
Tell my father it was worth it; Tell my sister not to wait for me

Just don't ask me if I'm doin' okay ('cause I'm not okay)

Tell my friends that I love them
Oh, my friends, this is the end, this is the end"

Lyrics to "This is the End"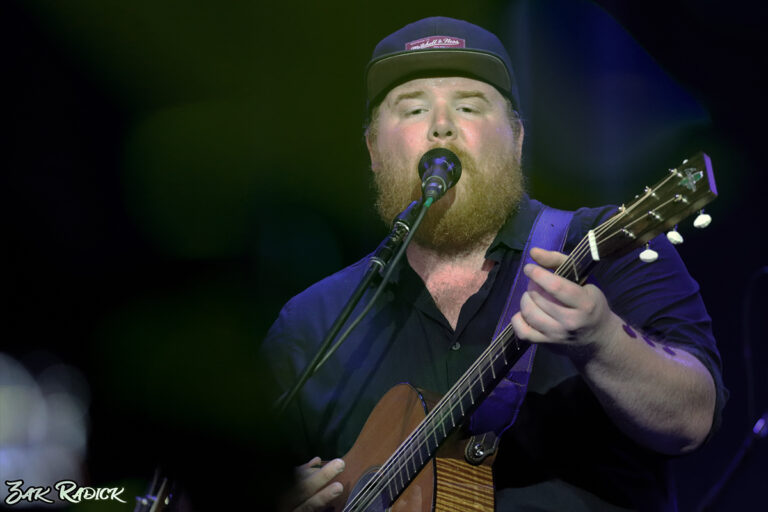 The following day, Ghost of Paul Revere would play a show in Jersey City, NJ before making an announcement on social media Monday that nobody saw coming.    "It has been a wild ride filled with an abundance of trials, tribulations and joy. When we first got together eleven years ago, we never could have imagined that we would be given the incredible opportunity to share our music with all of you for this long. Over 1200 shows, 400,000 miles, 46 states, 6 countries and (soon to be) 9 albums later, our journey has finally brought us to the here and now," the band wrote.  "Change is hard, it can be a subtle breeze that pushes you in a specific direction, or a rogue wave appearing without warning from the darkness. For the sake of our own health, our families and you, our fans, we have decided that this year's Ghostland festival will be our last show – the end to a fantastic journey performing together – as The Ghost of Paul Revere," the post continued, describing a mix of sadness and gratitude that comes with the decision, and encouraged fans to join them for shows as they finish their final last ride together.
"Although it may seem like it, we want you to know that "This is [not] the end." The songs and music will always be there to share and enjoy with one another. We are excited to journey into the next chapter of our lives and will continue to keep everyone posted about our future, individual endeavors. We hope to see each and every one of you throughout spring and summer for "The Last Ride," our final tour, which will include a number of new and exciting announcements and show additions coming soon! We hope to see you there so we can sing the songs we all love and share these final moments with you at least once more.
Love you all and thank you for believing,
Griffin, Sean, Max, & Chuck"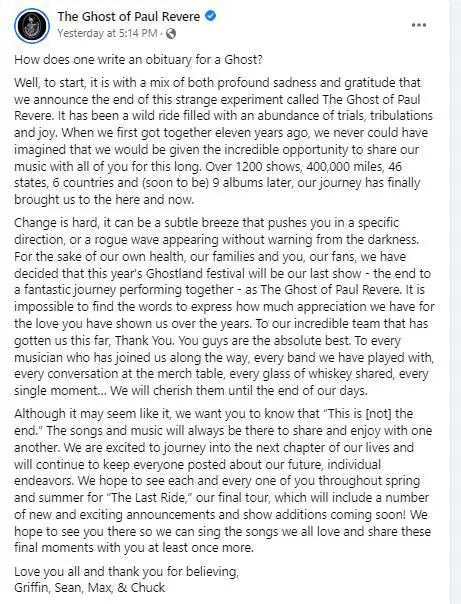 Following the announcement, long time fans flooded the internet with photos and personal memories they've shared with the band. Coming from a small town in Maine, it's clear the Ghost had a far greater reach and meant more to people than they probably realize. Honest songs with beautiful harmonies, the universal appeal of the hard-working everyman and full of untapped potential.  With a handful of new dates already announced before their final show in September, you're encouraged to go see this band while you still can. 
NYS Music would like to thank The Ghost of Paul Revere for the music, memories, good times, and for always making time for us over the years.  We wish each member the best of luck and success in all their future endeavors.     
4/15/22 | Bearsville Theatre | Woodstock, NY
One Set (partial): Love at Your Connivence, Annabelle, Fire in the Sky, Two Weeks, Little Bird, Good at Losing Everything, Travel On, New Song, Ballad of the 20th Maine, Atlantic City, Wild Child, San Antone
Encore: This is the End
For more photos from their final performance in Bearsville, NY, check out the galley below, courtesy of Rock Journalist and NYS Music contributor Zak Radick.