WRAPS, a new tradeshow and art exhibition dedicated specifically to rock posters is coming to the Bearsville Center in Woodstock on May 14-15.
The popular San Francisco event, The Rock Poster Show (TRPS) is the model for WRAPS, which stands for Woodstock Rock Art and Poster Show. The event will feature exhibitors displaying their work, multi-media productions, art and design workshops, and live music.
The musical acts include Stella Blue's Band, Soule Monde (members of the Trey Anastasio Band), and Woodstock's own Misty Mountain Ramblers.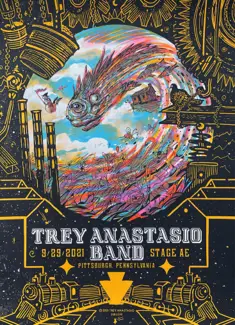 Since the 1990s interest in rock posters has increased. Vintage posters from the classic rock era are considered collectibles. While more recently it has become an art form in its own right, with artists and designers dedicating their talents to creating original works. The event is open to both collectors and artists who would like to display their work.
Mike DuBois, one of the pioneers of rock poster art and Syracuse native, will produce WRAPS. His surrealist, psychedelic art has become a staple of rock music. More than likely, you've seen his work without knowing you have. In the past, high profile bands including the Grateful Dead, The Rolling Stones, and Pink Floyd have commissioned his work. Currently, he runs HappyLife Productions a design firm in Woodstock.
The Bearsville Theater was the brainchild of the famed music manager, Albert Grossman. He had the idea to build a creative oasis for his clients—which included Bob Dylan, Janis Joplin, and the Band—in the Catskills. Unfortunately, due to his untimely death in 1986 Grossman never saw the theater open in 1989. The Bearsville Theater is considered "acoustically perfect". It was designed by music producer Todd Lundgren along with the Utopia Sound Stage.
With all the rock history at Bearsville Theater it would make a fitting location for a tradeshow meant to celebrate rock music's legacy.
Tickets and registration information are on the WRAPS website.