Saturday Night Live returned on April 2 to address the Oscars slap and more, with host Jerrod Carmichael and musical guest, Gunna.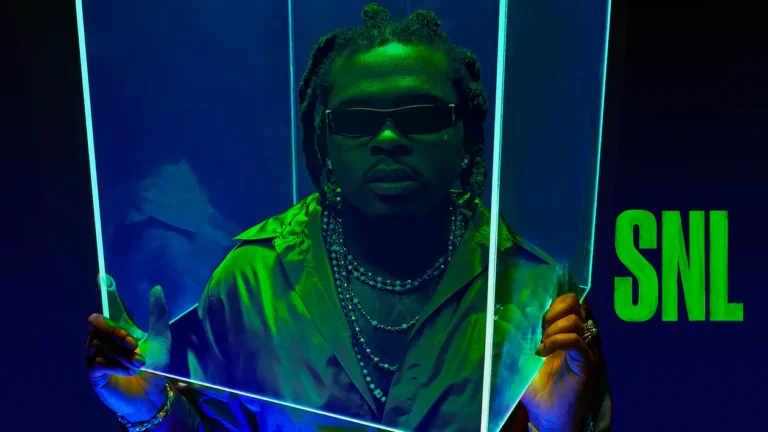 Weekend Update focused on 'the slap', noting it as a defining moment of television for the current generation, a mark in pop-culture time.
Pete Davidson returned for the first time in three episodes with the music video "Short Ass Movie," where he cited the need for movies with a runtime under 1 hour, 40 minutes. Joined by fellow cast member Chris Redd, Dirt Nasty (Simon Rex) and musical guest Gunna, the group explored the myraid of movies considered a quick watch.
Gunna rapped "I'm not pushin P unless it's under two hours/ Like Lion King or Bad Moms or all three Austin Powers." Davidson took on A Beautiful Mind-style observation on the run times of Jurassic Park (2 hours, 7 minutes) and Sex and the City 2 (2 hours, 26 minutes), and even referencing a recent Instagram post from Davidson where friend Scott Diseck fell asleep during boys night.
Gunna's first song, "Banking on Me," was released as a single on Valentine's Day, originally planned to be on the deluxe edition of his third studio album, DS4Ever, his second consecutive number one album, released in January and featuring guest appearances from 21 Savage, Drake, Kodak Black and more.
For his second performance, Gunna was joined by Future for "pushin P," a phrase meaning to 'push positivity.' On DSM4Ever, the pair are joined by Young Thug for the brief (2:12) yet hypnotic track.
Next week Saturday Night Live welcomes host Jake Gyllenhaal with Musical Guest Camila Cabello.