The Cobblestone Live Music & Arts Festival is preparing for its 4th annual event with over 16 artists in Buffalo's Historic Cobblestone District on July 15 and 16.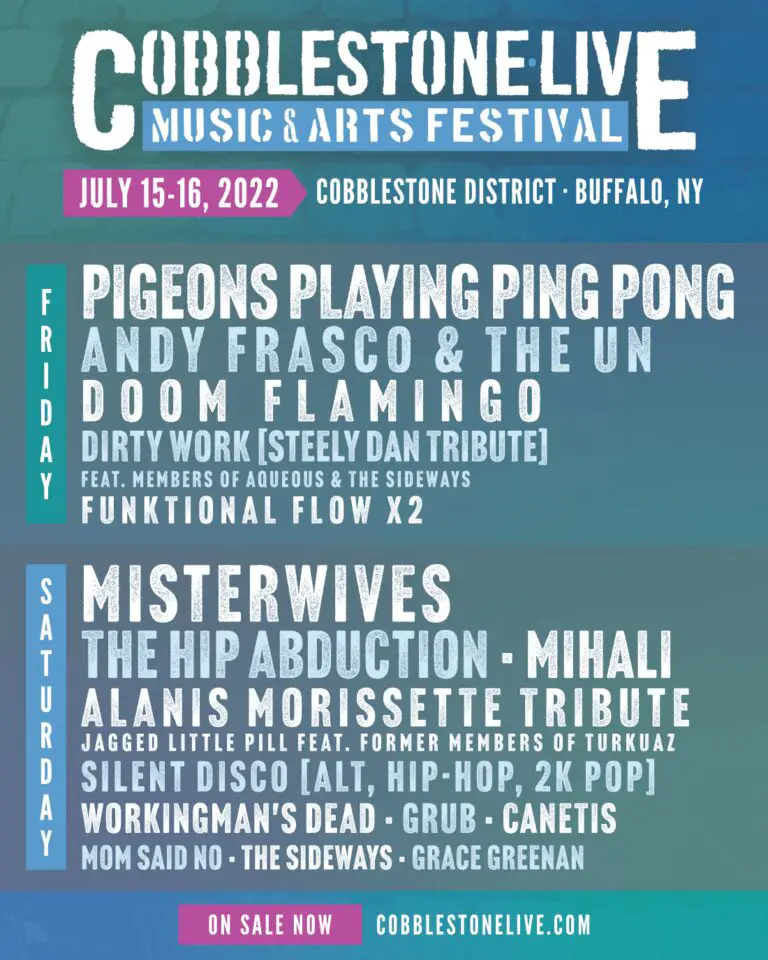 For this event there will be four stages: the main outdoor stage will be located on the corner of South Park Ave & Illinois Street, the second will be on Columbia Street, the third is located inside of Buffalo Iron Works, and the fourth stage is inside Lockhouse Distillery & Bar.
For the past 10 years the Historic Cobblestone District has been a neighborhood full of live music, entertainment and has paved the foundation of Cobblestone Live bars, restaurants and venues; with the goal being to grow each year until this festival is national-sized.
Following the events of the last two years, we are thrilled to announce that we are coming back bigger and better than ever this year. With the birth of Twenty6 Productions in 2020, we have resources that we haven't had in previous years – which shows in the lineup and will certainly be evident at the festival itself for years to come.

Festival Director and Twenty6 Productions CEO Josh Holtzman
Advanced tickets are discounted: the two-day general access is $40, while the single-day general access is $25. There are also VIP tickets: the two-day access is $175 and the single-day access is $100. However, the day of the festival tickets are $50 for both days and $30 for one. Additionally, the VIP ticket for both days is $200 while the single-day ticket is $125. VIP passes consist of extra amenities such as private areas, front-of-stage viewing, a premium bar with craft beverages, lounge area and more.
For more information and to acquire tickets visit the Cobblestone Live website.
THE COBBLESTONE LIVE 2022 LINEUP
Misterwives
Pigeons Playing Ping Pong
Andy Frasco & The UN
The Hip Abduction
Doom Flamingo
Mihali of Twiddle
Alanis Morissette Tribute ft. former members of Turkuaz
Dirty Work [Steely Dan Tribute] ft. members of Aqueous & The Sideways
Funktional Flow
SE2 Silent Disco [Alt, Hip Hop, 2K Pop]
Workingman's Dead
Grub
Canetis
Mom Said No
The Sideways
Grace Greenan