The fourth annual Eddies Music Awards nominees have been announced, with an in-person ceremony scheduled for April 24, 2022 at Proctors Theatre in Schenectady.
There are over 210 finalists in 36 categories honoring the work of 2021. Nominations and voting are determined by a group of judges that represent the local community.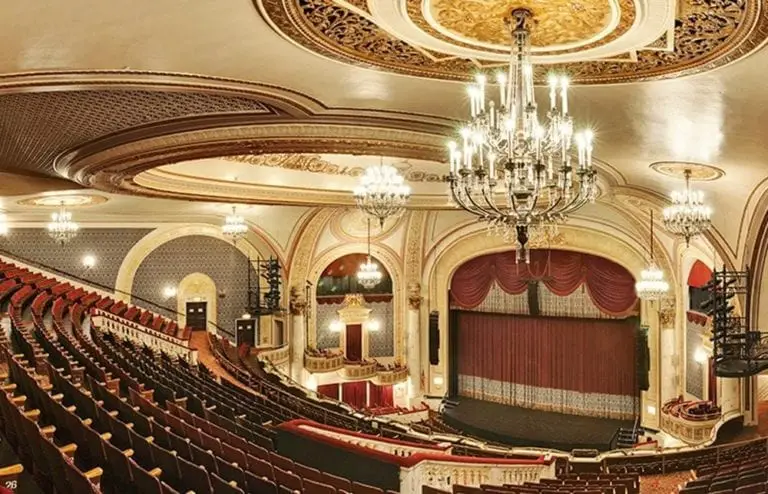 The Eddie Music Awards ceremony will return to the theatre after a two-year absence, as it was postponed twice due to the pandemic. It eventually was live-streamed and last year's show was able to have a small audience. Co-founder and producer Jim Murphy is excited to be back:
It was important we continue to shine a light on the local music scene, even if it was scaled back. This year is a return to a full-scale celebration. We hope the whole music community comes together.
NYS Music is proudly nominated for Arts Publication of the Year, with Zach Culver nominated for Best Photographer of the Year and Alain Clerine nominated for Best Writer of the Year.
At the ceremony, there will be performances by Erin Harkes, Buggy Jive, Nite Train w/ Thomasina Winslow, Hot Club of Saratoga, Rich Ortiz, and Super 400. Erin Harkes will be continuing her past role as emcee. She also hosted the first Eddies Music Awards in 2019 and was a musical performer at the 2020 Eddies Music Hall of Fame induction ceremony.
Buggy Jive is a soul rock song-writer who takes influence from Led Zeppelin and Prince. He has been nominated each year of the Eddies Music Awards including a record five nominations this year, and was a winner of Video of the Year in 2021.
Nite Train w/ Thomasina Winslow is a seven-piece blues group who has been around in the Capital Region for almost 20 years. In 2019, they were an Eddies Music Award nominee for Best Blues Act. They released their newest album titled  "Cat on A Mission" in late 2020.
Hot Club of Saratoga are a swing collective that play music that reflects the style of The Quintet of the Hot Club of France that were prominent in the 1930s. They are nominated this year for Best Jazz Artist.
Rich Ortiz is a singer-songwriter who has opened for Chicago, REO Speedwagon, Styx and many other touring artists. He is a three-time Eddie nominee for Solo or Duo Performer of the Year, with a win in 2019.
Super 400 are a rock trio who have been together 26 years, and have one live and four studio albums. They are 2022 Eddies nominees in the Rock/Pop Artist of the Year category.
The Eddies Music Awards' tickets are on sale now.
Solo or Duo Artist of the Year
Buggy Jive
Girl Blue
Dave Maswick & Joel Brown
Om Quillio
Sean Rowe
Sirsy

Solo or Duo Performer of the Year (Covers)
Rick Bolton & Jackie Dugas
Jeff Brisbin
Steve Candlen
Sten Isachsen & Maria Zemantauski
Rich Ortiz
Maurizio Russomanno

Party Cover Band of the Year
Diva & The Dirty Boys
Legend
Mixed Roots
Off The Record
The Refrigerators
Soul Session

DJ of the Year
DJ AyO
DJ Ketchup
DJ RVMBA
DJ ShOw
DJ T.G.I.F.
Intell Hayesfield

Country/Bluegrass Artist of the Year
Brule County Bad Boys
Jim Gaudet and The Railroad Boys
The Insolent Willies
Red Haired Strangers
Three Quarter North
Marty Wendell

Country Cover Band of the Year
Beatin' the Odds
Courtney Shayne: A Patsy Cline Experience
E.B. Jeb
Skeeter Creek
Stony Creek Band
Whiskey Highway
Americana Artist of the Year
Annie & the Hedonists
The Lazy Suns
Lost Radio Rounders
Sara Milonovich & Daisycutter
The Nocturne Troubadours
Rusticator

Rock/Pop Artist of the Year
Dark Honey
Jocelyn & Chris
Joe Mansman and The Midnight Revival Band
Super 400
Under the Den
Warden & Co.

Alt/Indie Artist of the Year
Architrave
Curious Comet
E.R.I.E.
joetaurone
Sean Rowe
The Sea The Sea

Folk/Traditional Artist of the Year
Dan Berggren
Drank The Gold
Reese Fulmer
John Kirk and Trish Miller
Michael Jerling
Carolyn Shapiro

Hip Hop/Rap Artist of the Year
B Chaps
Dezmatic
Mike Larry Draw
Sime Geezus
Emcee Graffiti
JB!! aka Dirty Moses

Jazz Artist of the Year
Joe Barna
Bright Dog Red
Hot Club of Saratoga
Chuck Lamb
Dylan Perrillo
Colleen Pratt

Punk/Hard Rock Artist of the Year
After the Fall
BattleaXXX
Candy Ambulance
Fine Grain
Prince Daddy & the Hyena
Kid Vicious

Metal/Hard Rock Artist of the Year
Bad Mothers
Bendt
Brick by Brick
The Erotics
Malefic
Psychomanteum

Jam Band of the Year
Ampevene
Annie In The Water
Glass Pony
Hilltop
Let's Be Leonard
Raisinhead

Blues Artist of the Year
Amy Ryan Band
Biscuits 'n' Gravy
George Fletcher Blues Band
Matt Mirabile & Alison Jacobs
SoulSky
Mark Tolstrup & Jill Burnham

RnB/Soul/Funk Artist of the Year
The Age
Anneice Cousin
The E-Block
Buggy Jive
Ali Sifflet
Victory Soul Orchestra
Electronica Artist of the Year
Madeline Darby
Fox Kraft
SM Ink
PJ Katz
Rambutan
soo do koo

Classical Artist/Ensemble of the Year
Albany Symphony Orchestra
Albany Pro Musica
Glens Falls Symphony Orchestra
Musicians of Ma'alwyck
Opera Saratoga
Schenectady Symphony Orchestra

World Music Artist of the Year
Taina Asili y La Banda Rebelde
Heard
Jordan Taylor Hill
Sten Isachsen & Maria Zemantauski
Mixed Roots
Alex Torres & His Latin Orchestra

Best Venue Small (up to 299 people)
Caffé Lena
The Hangar on the Hudson
The Hollow Bar + Kitchen
The Linda
Nanola
9 Maple Avenue

Best Venue Medium (300-999 people)
Cohoes Music Hall
The Egg
Lark Hall
Putnam Place
The Strand Theatre
Van Slyck's (Rivers Casino & Resort)

Best Venue Large (1,000 people and up)
Empire Live
Palace Theatre
Saratoga Performing Arts Center
Times Union Center
Troy Savings Bank Music Hall

Presenter of the Year
A Little Booking Agency LLC
DJ T.G.I.F.
Guthrie Bell Productions
Step Up Presents
Sugar Productions
Super Dark Collective

Radio Station of the Year
RadioRadioX
WAMC
WCDB
WEQX
WEXT
WVCR

Radio DJ of the Year (terrestrial or streaming)
Wanda Fischer (WAMC)
Art Fredette (RadioRadiox)
Sime Geezus (WSPN)
Andy Gregory (WEXT)
Bill McCann (WCDB)
Jeff Morad (WEQX)

Record Label of the Year
Cacophone Records
Equal Vision
Lorchestral Recording Company
Magnetic Eye Records
Paintbox Records
Upstate Records

Live Production Crew of the Year
824 Productions
Aces
Denis Entertainment Group
High Peaks Sound
Live Sound Inc
Specialized Audio-Video Inc.
Music Recording Studio of the Year
Fool's Hill Music
Jim Mastrianni Studio
Millstone Studio
NRS Recording

Arts Publication of the Year (print, TV or new media)
Nippertown
NYS Music
Preview (Times Union)
The Spot 518
The Ticket (Daily Gazette)
Xperience Monthly

Music Journalist of the Year
Alain Clerine (NYS Music)
R.J. DeLuke (Times Union)
Michael Hallisey (The Spot 518, Nippertown)
Indiana Nash (Daily Gazette)
Liam Sweeney (Xperience Monthly)
Don Wilcock (Nippertown)

Music Photographer of the Year
Stephanie Bartik
Frank Cavone
Zach Culver
Jim Gilbert
Rudy Lu
Andrzej Pilarczyk

Songwriter of the Year
Girl Blue
Reese Fulmer
Buggy Jive
Sara Milonovich
Lecco Morris & Justin K. Rivers
Sean Rowe
Russel the Leaf
Seth Warden

Music Video of the Year
As Iz – "Steve Nover is Here (Infinite Cha Cha)"
Buggy Jive – "Tiptoes"
Don Ferlazzo – "Take A Look At Me Now"
Joe Mansman and The Midnight Revival Band – "Renegade Love"
Jocelyn & Chris – "Sugar and Spice"
SIRSY – "Astronauts"
The Nocturne Troubadours – "You're Not Alone"
The Sea The Sea – "Stumbling Home: Oil on Paper"

Record of the Year
Dan Berggren – "Imagine That"
Jocelyn & Chris "- Sugar and Spice"
Erin Harkes – "New Year's Day"
Kate McDonnell – "Ballad of a Bad Girl"
Mike McMann – "True"
Prince Daddy & the Hyenas – "Curly Q"
Sean Rowe – "Squid Tattoo"
Carolyn Shapiro – "Honeydew"

Album of the Year
Bright Dog Red – "In Vivo"
Candy Ambulance – "Hard-Boiled"
Reese Fulmer – "It's All a Dream"
Sime Gezus – "Shadow of Death"
Buggy Jive – "You Won't Like the Answer"
Mike McMann – "True"
Sara Milonovich & Daisycutter – "Northeast"
Sean Rowe – "The Darkness Dressed In Colored Lights"
Marty Wendell – "Risky Business"