There once was a time when marijuana was illegal in New York State, and on March 21, 1976, David Bowie and three associates found themselves arrested for possession in Rochester. How he ended up taking the most iconic mugshot of all time unveils a deeper layer to the story.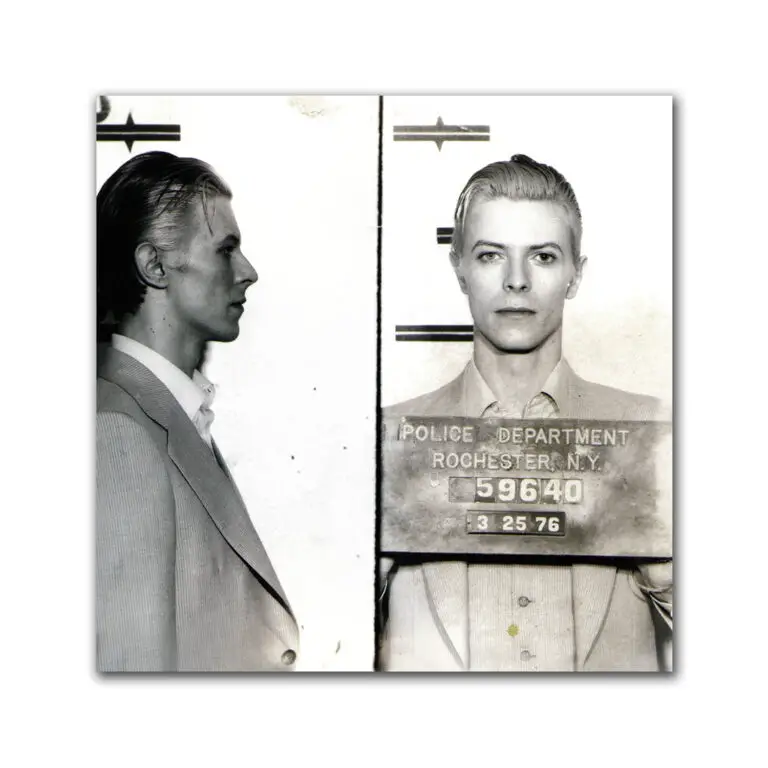 On March 20, 1976, David Bowie was in Western New York performing amid his 65 show international Isolar Tour, in support of Station to Station, having performed just once previously in Rochester on June 17, 1974. On this evening, as he was two years prior, Bowie was at the Rochester Veterans War Memorial, and began the evening as he did at each stop this tour – without introduction and showing the 1928 surrealist film Un Chien Andalou by Luis Buñuel and Salvador Dalí, which includes a famous section of a razor blade cutting into a woman's eyeball. Bowie appeared on stage immediately as the film finished, while the audience was still disoriented.
9,200 fans came out for this Saturday night performance, and although Bowie reportedly had the flu during the concert, he sang without issue. As Bowie closed the show with "Jean Genie," he said to the audience, "Thank you very much, we'll see you in about five months from now, thank you." Seeming to imply a return to Rochester that fall, tonight would be Bowie's last time ever performing in Rochester.
David Bowie – Rochester War Memorial Auditorium – March 20, 1976
Setlist: Station To Station, Suffragette City, Fame, Word On A Wing, Stay, Waiting For The Man, Queen Bitch, Life On Mars, Five Years, Panic In Detroit, Changes, TVC, Diamond Dogs
Encore: Rebel Rebel, The Jean Genie
Bandmates performing with Bowie this tour included music director Carlos Alomar (rhythm guitar, backing vocals), Stacy Heydon (lead guitar, backing vocals), George Murray (bass guitar, backing vocals), Dennis Davis (drums, percussion), and Tony Kaye (keyboards). The band became collectively known as Raw Moon.
The next week, the penultimate North American tour performance took place at Nassau Veterans Memorial Coliseum, which was recorded by RCA Records with portions broadcast by The King Biscuit Radio Network, later released as Live Nassau Coliseum '76. It is from this show that Bowie and his entourage would drive back to Rochester for their eventual arraignment on the 25th.
The Arrest of David Bowie
So how did Ziggy Stardust end up getting arrested in Rochester after the show? As detailed by the Rochester Democrat and Chronicle in 1976, and again in 2017 with a first hand account of the arrest, it seems Bowie was set up following the after-party, acting on a tip.
That first hand account comes from Chi Wah Soo, who at the time was a twenty-year-old Rochester local that had moved to Rochester from Hong Kong with her parents when she was eleven. Soo used lyrics from her favorite music to learn English, and attended the concert, catching Bowie's eye from the front row. Bowie passed a note to her through a third party, saying "Meet me at my party. David". Obliging him, Soo remarked that he had a "halo around his head" when he arrived at the party, saying "Hello, love" to her.
After the party, Bowie, his bodyguard Dwaine Vaughs, Iggy Pop and Soo went to American Rochester Hotel, at 70 State Street (now a Holiday Inn), and met two girls (undercover cops) at the hotel bar, who were looking to score cocaine. After receiving a seemingly unrelated prank call, and with police listening next door, the party was over for the night as the four were arrested for possession.
At 2:25 am on March 21, three police detectives and a state police officer searched Bowie's three-room suite, where they found 182 grams of marijuana – a little more than six ounces. It does seem that Bowie mugged for the camera before being taken to jail, with the photo below showing Bowie posing for a photo opp., with Iggy Pop to his right and the arresting officers on either side.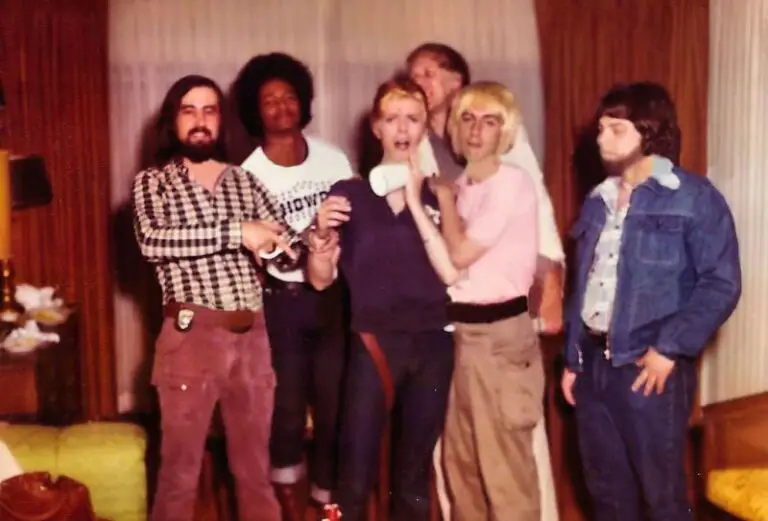 All four were booked at Monroe County Jail on fifth-degree criminal possession, which at the time was punishable by up to 15 years in prison. The four were all released around 7 a.m. on $2,000 bond each, with Bowie covering the cost for everyone.
Upon being brought to jail, Bowie used his real name, David Jones, and an address of 89 Oakley St., London, England. The others he was arrested with were identified as James Osterberg, Jr., 28 (Iggy Pop) of Ypsilanti, Michigan, and Dwaine Vaughs, 22, of Brooklyn, who was Bowie's karate instructor and bodyguard. Soo was also arrested, and while the three men moved onto the next show in Springfield, MA, it would be a few days before all four were back in court to face the charges.
The Return for Arraignment
On March 25, the first day Bowie had a break from tour to return to Rochester, the Thin White Duke was greeted by a large crowd that included a teen fan who got his autograph as he stepped off an escalator, and "a half-dozen suspected prostitutes," according to the John Stewart from Democrat and Chronicle.
Bowie wore a gray three-piece leisure suit and pale brown shirt, holding a matching hat, and was represented by Rochester lawyer Anthony F. Leonardo. He was arraigned within 10 minutes, pleading "Not guilty, sir."
Reportedly at the arraignment, Soo gave Bowie her traditional Chinese wedding blanket, and Soo believes that in the music video for Bowie's 1983 hit "China Girl," her blanket appears in the music video. The pair would not speak again after this day.
Bowie and his entourage used stairwells and elevators to avoid the crowds, using a side exit to arrive at Leonardo's office on the Times Square building's seventh floor. Although he had remained silent throughout the morning, Bowie granted a five-minute interview to newspaper reporters in Leonardo's office, although his lawyer would not allow any questions directly concerning the arrest, saying it was the first criminal charge he'd ever faced.
While complimenting the city police, Bowie noted the protection they provided him when he arrived back in Rochester. "They were very courteous and very gentle. They've been just super," said Bowie. His fans efforts were also noted, saying he felt "honored" by fans' support and insisting that the arrest would not sour him on future concerts in the city. Bowie answered most questions in the brief interview with short answers, shaking hands with reporters as they entered and left Leonardo's office.
Over the next month, all four were allowed to remain free, and Bowie, being in Europe on tour at the time, was excused from appearing at the next hearing. Perhaps having a sense of humor about the case, Judge Alphonse Cassetti set the preliminary hearing for all parties on April 20, 1976. The charges, however, were effectively dismissed in May when a grand jury declined to indict Bowie or the other three.
Another Look at the Mugshot
The mugshot photo was uncovered in 2007, when auction house employee Gary Hess was clearing out the estate of a retired police officer. Hess gave the print to his brother Todd to sell on eBay, and wanting to garner some publicity for the sale, Todd leaked the photo to The Smoking Gun, which quickly published the photos and helped the image go viral.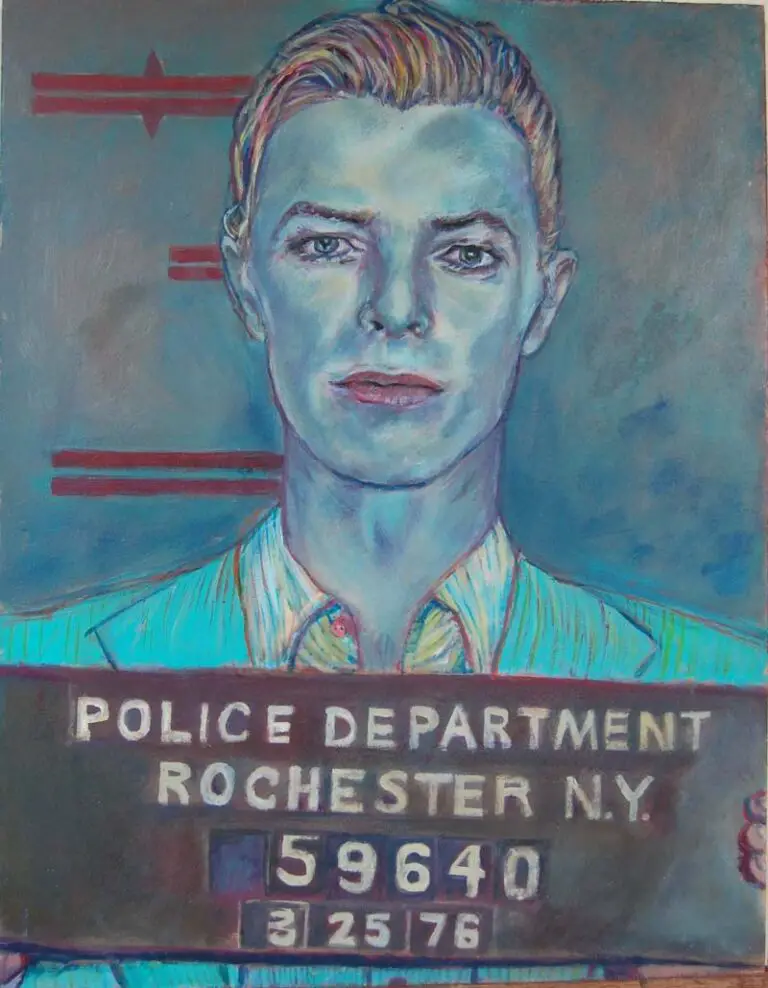 The photo ended up selling on eBay in 2007 for over $2,700 to an "uber fan" in the Midwest, who notified the singer of the special purchase; Bowie was reportedly "pleased" at the news.
As you might notice, the mugshot displays March 25 for the date, and while this is not a typo or error, the circumstances are certainly unique given that David Bowie was arrested in the early morning hours of March 21, yet the date displayed is four days later. The reason for this was that Bowie's lawyer successfully argued to delay arraignment until March 25, given that Bowie was mid-tour – with four stops left in North America – and the penalties for being forced to appear in court on March 21 would be stiff, given that he was due to perform at Springfield Civic Center in Massachusetts that night.
Bowie took the opportunity for a 'staged' mugshot photo to look as dapper as possible, posing for one of the most iconic mugshots in rock n roll history. The mugshot has even spawned a documentary, Bowie Goes to Jail, as well as merchandise.