On April 25th the Indie Collaborative (IC) will host an Earth Day Celebration, a night of blended music including jazz, rock, classical, Americana, and theatrical, at the Weill Recital Hall in Carnegie Hall.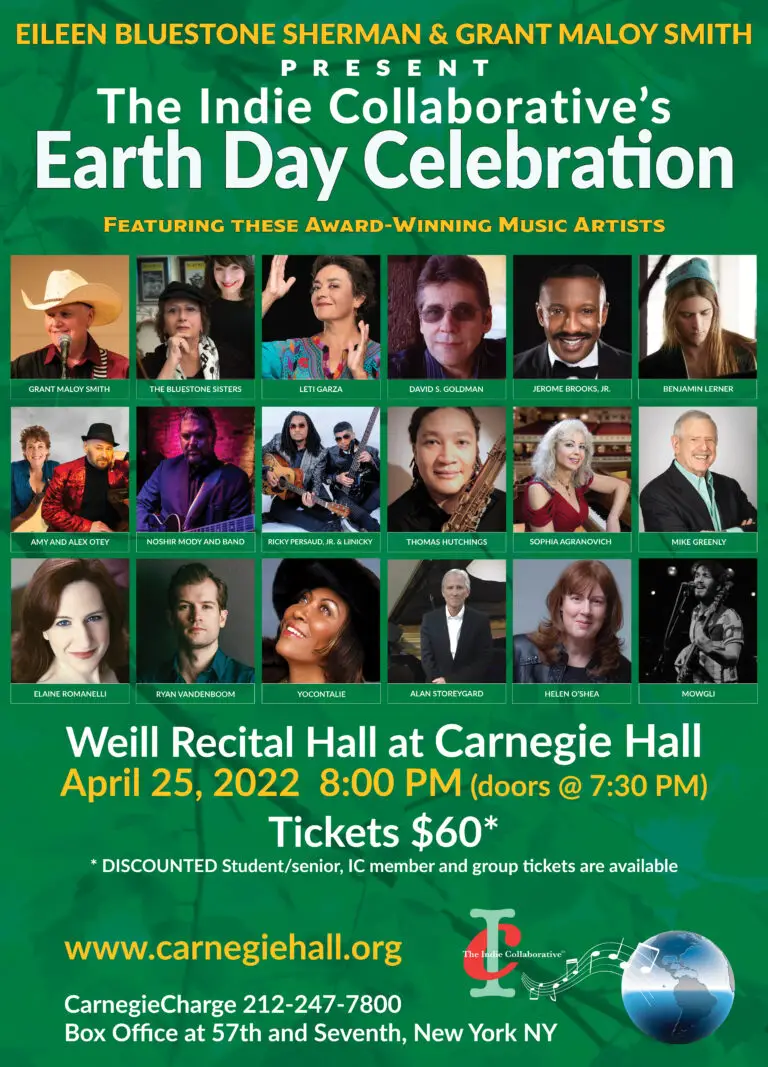 This show was to first take place in April of 2020, but unfortunately it has been rescheduled twice to accommodate the safety and health requirements during an ongoing pandemic. Therefore, the performers are truly excited to show off their talents and make this Earth Day Celebration an unforgettable one.
This performance will be broken down into two acts, the first presents the possibilities and newness of "The Beginning" and the second follows with the "Reality" of the situations. There's only one way to discover what happens in the end, which is why The Indie Collaborative have worked hard to establish such an event with amazing artists.
This show is produced by Eileen Sherman, along with emcee Grant Maloy Smith. Lastly these are the following performers: Alan Storeygard, Alex Otey, Amy Otey, The Bluestone Sisters, Benjamin Lerner, David S. Goldman, Elaine Romanelli, Helen O'Shea, Grant Maloy Smith, Jerome Brooks Jr., Leti Garza, Mike Greenly, Mowgli Giannitti, Noshir Mody (with his band, Benjamin Hankle, Campbell Charshee, Yuka Tadano, Ronen Itzik), Ricky Persaud, Jr. (with his brother, LilNicky Persaud), Ryan VanDenBoom, Sophia Agranovich, Thomas Hutchings, and Yocontalie Jackson.
The Earth Day Celebration will be at 8PM come the day of the performance, but the doors will open at 7;30PM. Standard tickets are $60, student/senior tickets are $40, and Indie Collaborative members are $36 each. The IC discount code can be found in the members chat upon request for it. Additionally, full vaccination and masking is required, including at least one booster shot. For more information and to acquire tickets visit the Carnegie Hall website.