You may not know the name Lamont Dozier, but you certainly know his music.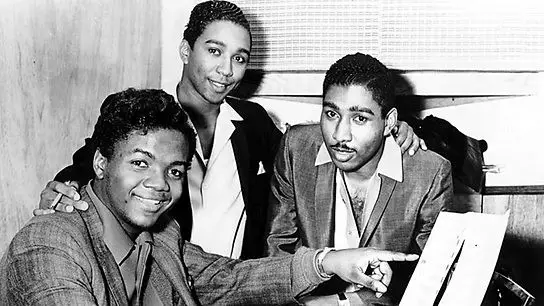 Together with Brian and Eddie Holland, Dozier was the top songwriting and producing team at the almighty Motown Records – the craftsmen behind 15 #1 hits and more than 100 Tops 40s for The Supremes, The Four Tops, Marvin Gaye, Martha and The Vandellas and more. This is a number that puts Dozier and the Hollands (aka HDH) behind only Paul McCartney, John Lennon and Barry Gibb as the writers of the most #1 singles in Billboard chart history. Even after splitting Motown in 1967, Dozier kept on creating smashes. These included Freda Payne's "Band of Gold" and the Chairmen of the Board's "Give Me Just A Little More Time" in the early 1970s through to the 1980s, when he penned hits for Brit soulsters Alison Moyet and Simply Red, Aretha Franklin, Eric Clapton and Phil Collins, who scored a #1 in with the Dozier co-write "Two Hearts."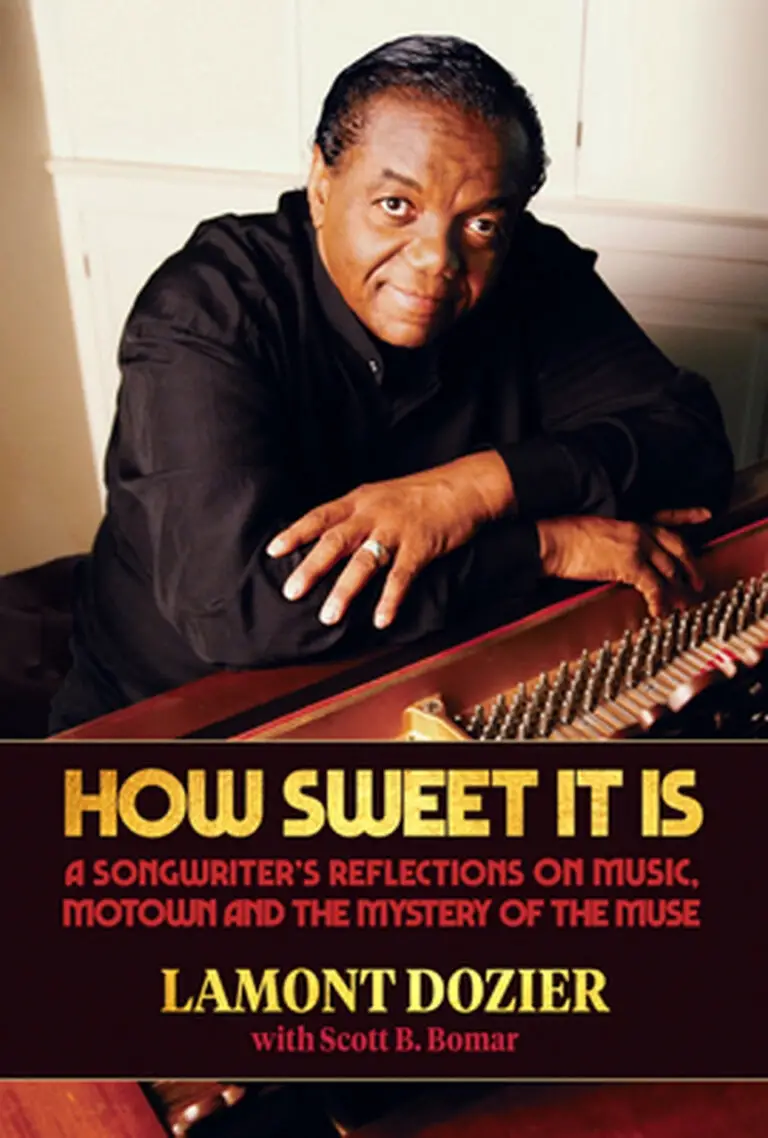 In How Sweet It Is: A Songwriter's Reflection on Music, Motown and the Mystery of the Music (BMG Books), Dozier tells the fascinating story of his climb up from poverty in Detroit's notorious "Black Bottom" neighborhood to the top of the Hit Parade. The heart of the book is Dozier's inside scoop on the inspirations for and the production of his masterful and unmatched slew of Motown classics.  Along the way, he lays out in bold type his two dozen or so principles of songwriting – insightful rules that are repeated again in the afterword.  They are simply the most cogently laid out and useful tools that a songwriter could ever ask for – perhaps the best ever extrapolation on the mysterious art of making hits that also connect with our souls. 
Dozier's book begins at a "no tell motel" close to the Motown studio during the height of his frantic career.  Here Dozier is trying to calm down a rightfully angry mistress.  To stop the onslaught of shouting and debris throwing he finally shouts: "Stop! In the name of love!"  He naturally files this away and it later becomes the inspiration for one of the 10 #1 hits he and the Hollands will write and produce for the "No Hit Supremes." This was a name they earned around Motown for the six strike out singles they released between 1961 and 1964, when they began topping the charts with the help of HDH.  The roster of HDH penned hits for The Supremes would include "Where Did Our Love Go," "Baby Love," "Come See About Me," "I Hear A Symphony," "You Keep Me Hangin' On," "You Can't Hurry Love," etc, etc…
Dozier then moves onto a bit of biographical backstory.  He is the product of grandparents who moved from the Deep South to Detroit in pursuit of good jobs and a less racially oppressive way of life.  He is given the name Lamont in honor of his father's favorite radio play character, Lamont Cranston, "The Shadow." Over time, his father becomes unemployed, alcoholic and largely absent from his life. Dozier is raised alone by his working mother then passed off, for a brief but important time, to his grandmother.  it is in her home that he is exposed to two factors that will guide his creative life. The first is the piano and the J.S. Bach played by his aunt, whose counterpoint and harmonic motion will come to flavor his music. The second is insight into the perspective and attitudes of women, something he picks up from listening to the patrons at his grandmother's home-based beauty salon.
It is his first unrequited crush at age 10 with an Italian-American classmate named Bernadette that connects him to his romantic soul and the need to express his emotions in words.  This inspires him to write a poem which wins a school contest, then to write his first song at age 12.  His skill with words is appreciated by the boys at his school who will hire him to write love and/or apology letters to their girlfriends (50 cents apiece) and even to impersonate them in phone calls ($1 each).  By high school, he is writing lyrics on his brown paper lunch bags. By 15, he has dropped out and begun to pursue a career in music, landing a small deal with Atlantic Records as a part of a vocal group called The Romeos.  There are a few other singles as a solo artist Lamont Anthony and as a part of a group, The Voice Masters, with Temptation-to-be David Ruffin, before he lands at Motown.
The inner workings of the magical Motown are the most arresting part of this book. Motown's genius founder Berry Gordy models the label on Detroit's auto assembly lines.  At a residential home at 2648 West Grand Boulevard, he creates "Hitsville" – a one-stop shop for writing, recording and promoting highly artistic yet very commercially successful music in a factory format.  The execs, studio musicians, singers and the songwriters and producers like Dozier all punch a clock just like at Detroit's auto plants. 
Though he is also signed as a singer, Gordy puts Dozier together with his ace melody man Brian Holland to write and produce tunes for his other artists. Dozier is the "idea man," the one who takes the lead with song titles and concepts, partial lyrics and also some music.  Brian is largely the man behind the bulk of the music.  To produce the tonnage of songs demanded by Gordy, they bring in Brian's older brother Eddie as "song finisher." He will sharpen these unfinished drafts and complete the all-important lyrics, refine arrangements, etc.  This enables Lamont and Brian to move on to writing other songs, as well as to producing the backing tracks with Motown's famed house band, The Funk Brothers, before deciding which artists will get to sing the songs.  And just like Ford or GM, Gordy has quality control.  This comes in the form of Friday meetings where they go over all the songs created in a week by all songwriters to see which will be released.  If a song isn't released, the writers have to foot the bill for the studio time!  So HDH intends to score and they do, more often than any other Motown writing team.
Dozier's book is also filled with trivia about the inspirations behind their hits and their recording sessions.  Motown tracks are famous for their percussion, something which was often accomplished by banging snow tire chains (The Supremes' "Nowhere to Run") or stomping on plywood (the handclaps you hear in "Where Did Our Love Go.").  As Gordy was not a fan of political statements, Dozier turned the initial inspiration for the former song, a draftee about to head off to Vietnam, into a heartbreak song.  The latter, which will become The Supremes' breakthrough, was a song rejected by Martha and The Vandellas and almost not recorded by Diana Ross and her partners, Mary Wilson and Flo Ballard.  Wilson and Ballard were so irritated that Ross, an inferior singer in their opinion, was given the lead vocal that they wouldn't sing the elaborate background vocals arranged by Dozier. They only agreed to utter "Baby, Baby" in bored unison, a simple sonic hook that somehow helped make the song a #1 in Lamont's view.  Newsman Walter Winchell was also the unlikely inspiration for the intro for "You Keep Me Hangin' On." In this much-covered tune, Dozier employed four guitarists to mimic beep-beep bulletin sound heard at the beginning of Winchell's radiocasts.
Dozier also has some funny memories of working with the mercurial and uniquely splendid Marvin Gaye who, though unprepared and very late for his session to record "How Sweet It Is To Be Loved By You," blazed through the vocal in a single take.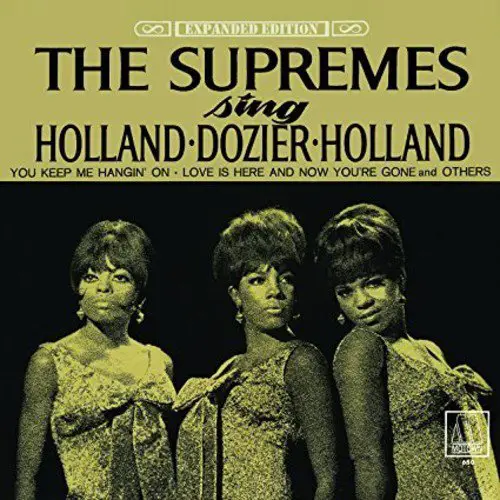 HDH would then do for The Four Tops what they did for The Supremes. 
Unlike The Supremes, The Four Tops recording sessions were like a party, with plenty of laughs, drink and food, with Dozier crediting the success of the many singles they cut together to "the barbeque sauce."  The Four Tops run of HDH hits began in June 1965 with the #1 "I Can't Help Myself (Sugar Pie, Honey Bunch) and continued with tunes including "It's The Same Old Song," "Loving You Is Sweeter Than Ever" and "Reach Out I'll Be There," another #1 whose phrasing was inspired by Bob Dylan according to Dozier.   The songwriter finally tapped into the feeling of his first crush with the brilliantly lovelorn 1966 Top Ten, "Bernadette."
By 1967 things began to sour at Motown as HDH felt overworked and underpaid, having signed 100% of their publishing over to Gordy in their initial contracts.  Ultimately, they would go on strike at Motown, then strike gold with their own labels, Invictus and Hot Wax, scoring hits with Freda Payne, Chairmen of the Board and The Honeycomb to name a few.  Dozier would split with these labels and the Hollands when they passed on two artists he was very hot on, ones who would go on to platinum status – Al Green and The Ohio Players.  He would finally go on to enjoy some success in a signing career, making a number of well-received albums and charting singles for ABC/Dunhill and Warners. 
In the 80s, Dozier would find more success working with English artists like Alison Moyet, Boy George and especially Phil Collins.  Through Collins and his work producing Eric Clapton's album "August," Lamont would write songs for and become friendly with the guitarist.  They would comfort each other when they both lost their sons around the same time, with Lamont's son passing of a heart attack at age 24.
Dozier's book also provides unvarnished discussions of his two failed marriages and his third happy one.  He also talks about how the pressure to make hits at Motown and in the years beyond lead him to bouts of anxiety, depression and substance abuse, all of which he has overcome. 
Remarkably, Dozier still sits down at the piano every morning and writes about 20 songs a month.  This is the result of the principles of songwriting he discusses throughout the book and in the afterword.  In essence, it's about being emotionally honest and ego free – to be willing to follow your feeling and the muse to yield success, something Dozier has done more than any American songwriter of the 20th Century if you look at the charts.