Billy Strings has announced his Summer 2022 tour dates after a year of awards and acclaim. The tour will take Billy on a journey from California to Massachusetts, with a stop at Manhattan's The Rooftop at Pier 17 and more.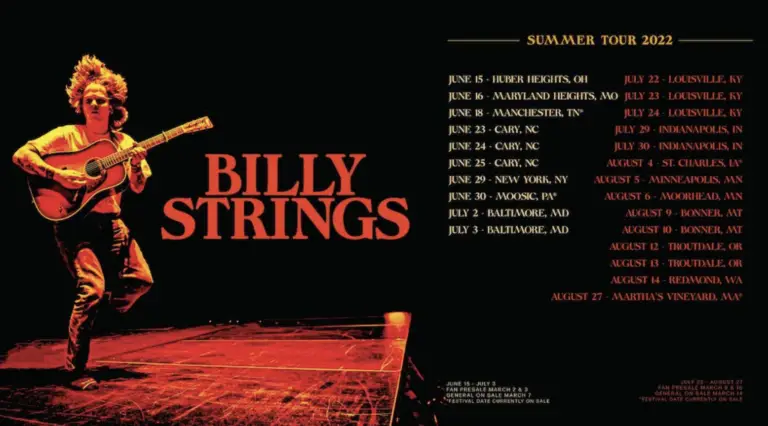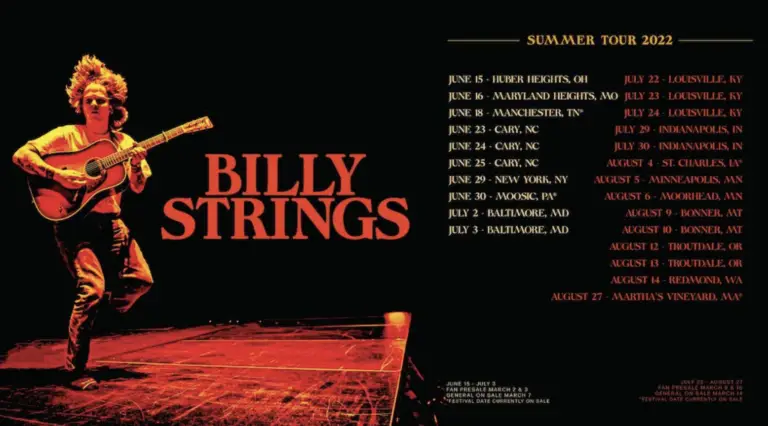 Fans will have the opportunity to see the glory of Strings latest release, Renewal, first hand as Strings embarks on his extensive summer tour. Produced by Jonathan Wilson, the album honors the history of bluegrass while allowing for Strings' brilliance to shine through. Elements of rock, metal and psychedelic music are seen throughout the project as Strings shares his honest perspective.
The Grammy-nominated artist received widespread acclaim for Renewal, along with his performance for "Love and Regret". He also won "Best Headliner/Artist Development Story" at the 33rd Annual Pollster Awards, along with topping numerous "Best of 2021" lists.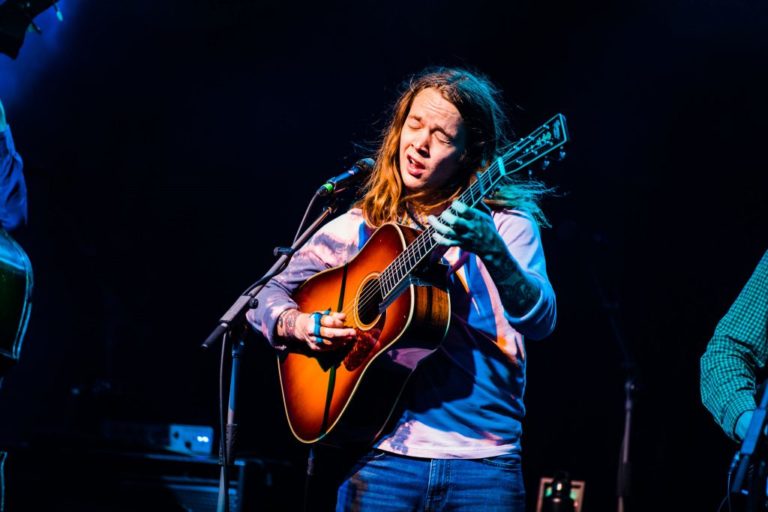 Tickets will go on sale in two phases. Phase one begins 3/7 at 10 AM and phase two begins 3/14 at 10 AM. More information can be found here
March 3—Madison, WI—The Sylvee (SOLD OUT) 
March 4—Madison, WI—The Sylvee (SOLD OUT) 
March 5—Madison, WI—The Sylvee (SOLD OUT) 
March 9—Cleveland, OH—KeyBank State Theatre (SOLD OUT) 
March 11—Cincinnati, OH—Andrew J Brady ICON Music Center (SOLD OUT) 
March 12—Cincinnati, OH—Andrew J Brady ICON Music Center (SOLD OUT) 
March 15—Boston, MA—Roadrunner (SOLD OUT) 
March 26—London, UK—Islington Assembly Hall (SOLD OUT) 
March 27—London, UK—Islington Assembly Hall (SOLD OUT)
April 1—Olympic Valley, CA—WinterWonderGrass Tahoe (SOLD OUT)
April 9—Santa Barbara, CA—Santa Barbara Bowl 
April 10—Santa Barbara, CA—Santa Barbara Bowl 
April 13—Santa Ana, CA—Observatory (SOLD OUT)
April 15—Las Vegas, NV—Brooklyn Bowl (SOLD OUT) 
April 16—San Diego, CA—Cal Coast Credit Union Open Air Theatre 
April 21—Houston, TX—713 Music Hall 
April 22—Austin, TX—Moody Amphitheater (SOLD OUT) 
April 23—Dallas, TX—The Pavilion at Toyota Music Factory 
April 29—St. Augustine, FL—St. Augustine Amphitheatre 
April 30—St. Augustine, FL—St. Augustine Amphitheatre (SOLD OUT)
May 1—St. Augustine, FL—St. Augustine Amphitheatre 
May 5—New Orleans, LA—New Orleans Jazz & Heritage Festival 
May 6—Nashville, TN—Ryman Auditorium (SOLD OUT)
 May 7—Nashville, TN—Ryman Auditorium (SOLD OUT)
 May 8—Nashville, TN—Ryman Auditorium (SOLD OUT) 
May 12—Morrison, CO—Red Rocks Amphitheatre (SOLD OUT)
 May 13—Morrison, CO—Red Rocks Amphitheatre (SOLD OUT)
 May 14—Denver, CO—Mission Ballroom (SOLD OUT)
Phase One : 
 June 15—Dayton, OH—Rose Music Center at The Heights (on-sale 3/7 at 10am local)
 June 16—Maryland Heights, MO—Saint Louis Music Park (on-sale 3/7 at 10am local)
 June 18—Manchester, TN—Bonnaroo
 June 23—Cary, NC—Koka Booth Amphitheatre (on-sale 3/7 at 10am local)
June 24—Cary, NC—Koka Booth Amphitheatre (on-sale 3/7 at 10am local)
June 25—Cary, NC—Koka Booth Amphitheatre (on-sale 3/7 at 10am local) 
June 29—New York, NY—The Rooftop at Pier 17 (on-sale 3/7 at 10am local)
June 30—Scranton, PA—Peach Music Festival
July 2—Baltimore, MD—Pier Six Pavilion (on-sale 3/7 at 10am local)
 July 3—Baltimore, MD—Pier Six Pavilion (on-sale 3/7 at 10am local)
July 22—Louisville, KY—Iroquois Amphitheater 
July 23—Louisville, KY—Iroquois Amphitheater 
July 24—Louisville, KY—Iroquois Amphitheater
Phase 2:
July 29—Indianapolis, IN—TCU Amphitheater at White River State Park 
July 30—Indianapolis, IN—TCU Amphitheater at White River State Park
August 4—Saint Charles, IA—Hinterland Music Festival 
August 5—Minneapolis, MN—Surly Brewing Festival Field
August 6—Moorhead, MN—Bluestem Amphitheater 
August 9—Bonner, MT—Kettlehouse Amphitheater 
August 10—Bonner, MT—Kettlehouse Amphitheater
August 12—Troutdale, OR—McMenamins Edgefield 
August 13—Troutdale, OR—McMenamins Edgefield 
August 14—Redmond, WA—Marymoor Park 
August 26-28—Tisbury, MA—Beach Road Weekend