Michael Franti & Spearhead are going on tour with a date in NYC at SummerStage on July 3.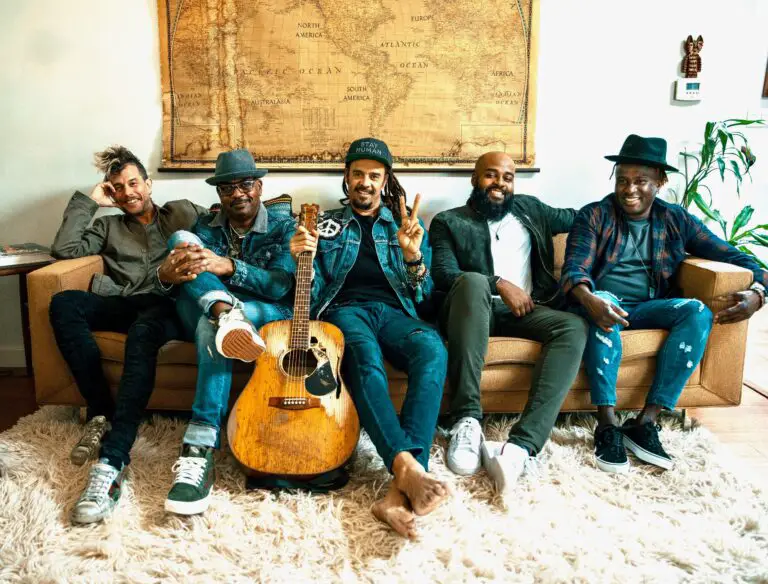 Franti is a globally recognized muscian and activist, and also an award-winning filmmaker. He is best known for his high energy live shows, inspiring music, and his powerful optimism.
Throughout his career, he has earned three Billboard No. 1 spots for the songs "Sound of Sunshine," "Say Hey (I Love You)" and "I Got You." His latest single with Spearhead's "Good Day For A Good Day" marked their 10th Top 25 AAA hit.
In 2019 he released his self-directed and award winning documentary called Stay Human and he also has a non-profit called Do It For The Love with his wife. The non-profit brings those with life threatening illnesses, veterans, and children with severe challenges to concerts worldwide.
Speaking about the tour, Franti said he is excited to be back.
We're so excited to head back out on the road this summer! After such a challenging few years, we are more ready than ever to share new music with our Soulrocker fam and join in community together.
Michael Franti will be going on tour with Spiderhead, with a date in NYC at SummerStage, and tickets can be found here.
Michael Franti & Spearhead's Follow Your Heart Tour Dates:
 
May 14            BeachLife Festival                                                     Redondo Beach, Calif.
May 14            The Venice West (BeachLife Afterparty)                   Venice, Calif.
May 19            Brooklyn Bowl+#                                                       Las Vegas, Nev.
May 20            Harrah's Lake Tahoe South Shore Room+#              Stateline, Nev.
May 21            The Center for the Arts+                                            Grass Valley, Calif.
May 29            BottleRock                                                                  Napa, Calif.
June 1              Belly Up Aspen+*                                                      Aspen, Colo.
June 2              The Fox Theatre+                                                       Boulder, Colo.
June 3              Gerald R. Ford Amphitheater+*                                 Vail, Colo.
June 4              Red Rocks Amphitheatre+                                         Morrison, Colo.
June 19            Levitt Pavilion*                                                         Westport, Conn.
June 22            Seacrets+*                                                                  Ocean City, Md.
June 23            Seacrets+*                                                                  Ocean City, Md
June 24            Greenfield Lake Amphitheater+^                               Wilmington, N.C.
June 25            Greenfield Lake Amphitheater+^                               Wilmington, N.C.
June 26            Salvage Station+^                                                       Asheville, N.C.
June 28            Oceanfront Concert Series (Free Show)^                  Virginia Beach, Va.
July 1              Snow Pond Center for the Arts+                                Sidney, Maine
July 2              Indian Ranch+                                                            Webster, Mass.
July 3              SummerStage in Central Park+                                  New York, N.Y.
July 8              Rock The Ruins+                                                        Indianapolis, Ind.
July 10            Wonderstruck in Cleveland                                        Cleveland, Ohio
July 13            The Danforth Music Hall+                                         Toronto, Ont.
July 14            Venue TBA+                                                              Grand Rapids, Mich.
July 15            Lake Superior Big Top Chautauqua+*                       Bayfield, Wis.            
July 19            Venue TBA+^                                                            Salt Lake City, Utah
July 21            McMenamins Edgefield+^                                         Troutdale, Ore.
July 22            Venue TBA+^                                                            Woodinville, Wash.
July 23            Athletic Club of Bend+^                                            Bend, Ore.
July 27            The Crest Theatre+^                                                   Sacramento, Calif.
July 28            Venue TBA+^                                                            Saratoga, Calif.
July 29            House of Blues+*                                                       Anaheim, Calif.
July 30            Venue TBA+*                                                            Los Angeles, Calif.
July 31            Venue TBA+*                                                            San Diego, Calif.
Aug. 2             The Rialto Theatre^                                                    Tucson, Ariz.
Aug. 4             Pepsi Amphitheater+^                                                Flagstaff, Ariz.
Aug. 5             Venue TBA+^                                                            Taos, N.M.
Aug. 7             I Bar Ranch+                                                              Gunnison, Colo.
 
+VIP Experience Offered
# Of Good Nature as support
* Tropidelic as support
^ The New Respects as support
 
European 2023 Tour Dates
Previously Announced and Moved to 2023
Jan. 25             Paradiso+                                                                    Amsterdam, Netherlands
Jan. 26             Doornroosie+                                                              Nijmegen, Netherlands
Jan. 27             Groningen+                                                                 Groningen, Netherlands         
Jan. 29             Maassilo+                                                                   Rotterdamn, Netherlands
Jan. 30             Ancienne Belgique+                                                   Brussels, Belgium
Jan. 31             Luxor+                                                                        Cologne, Germany
Feb. 1              Gretchen+                                                                   Berlin, Germany
Feb. 3              Circolo Magnolia+                                                     Milan, Italy
Feb. 4              Bierhübeli+                                                                 Bern, Switzerland
Feb. 5              New Morning+                                                           Paris, France
Feb. 7              St. Luke's Music & Arts Venue+                               Glasgow, U.K.
Feb. 8              Academy 2+                                                               Manchester, U.K.
Feb. 10            02 Shepherd's Bush Empire+                                     London, U.K.
 
+ VIP Experience Offered