Today marks the anniversary of the heralded moe. Tsunami Benefit show at Roseland Ballroom in New York City, which gathered a host of notable to musicians to raise money for a good cause. A terrible earthquake and a resulting tsunami devastated the area near Sumatra, Indonesia as the year 2004 came to a close. moe. decided to do what they do best in order to lend assistance and brought some friends along for the ride. Together with a matching donation from Dave Matthews, nearly $150,000 was raised for the relief cause. Those in attendance this evening certainly got their money's worth with a show featuring some traditional moe. songs, a whole lot of covers, and a mesmerizing 35-minute jam that nearly brought the house down.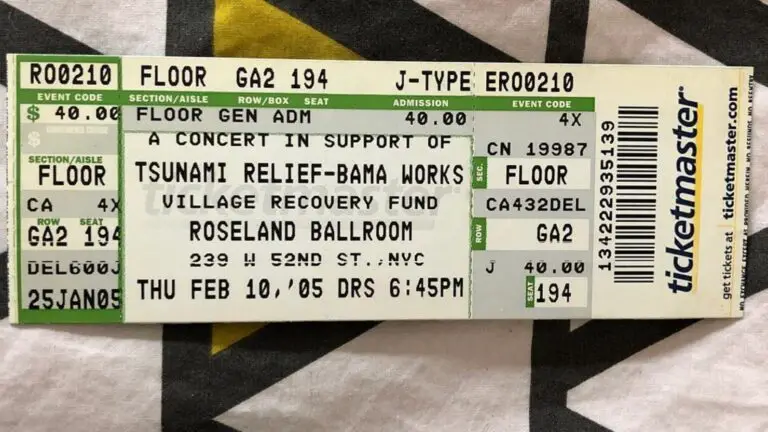 Bassist Rob Derhak greets the crowd at the start of the show and thanks them all for "supporting a great cause." And then instantly, the familiar pre-"Rebubula" noodling ensues and moe. opens the Roseland show with one of their signature songs, setting a lively tone early. No special guests needed for this one. Those begin with John Medeski and violinist Sam Bush coming out for a spirited take on "Mexico." Medeski, ever the keys virtuoso, helps drive the pace of this one through the roof with some triumphant fills on organ that helps build a steadily escalating and emotional jam. Bush then exits and Medeski remains on for "Plane Crash," again providing some extra rich sonic texture to another moe. staple before taking lead on the jam that ensues.
With three standout moe. songs now out of the way, the cover parade begins with a take on the legendary blues song "Got My Mojo Working," popularized by the great Muddy Waters in the late '50s. Guitarist Al Schnier deftly replaces "Louisiana" in the lyrics with "New York City" which does not go unnoticed by the crowd. Despite an uptempo, jazzy start the "Mojo" jam quickly devolves into a harrowing, psychedelic journey with Medeski again helping forge the path forward before the song rounds back into form.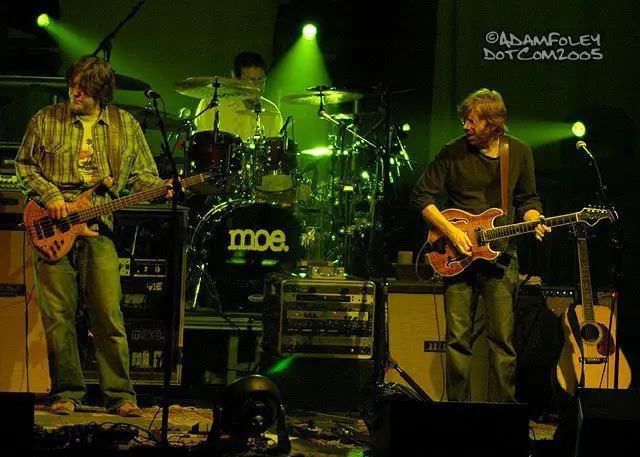 Sam Bush then reemerges with a mandolin and has the Roseland stage to himself for a cover of the Lowell George-penned "Sailing Shoes," a song he recently got to play with Little Feat in Jamaica according to him. By song's end, he's got most of the crowd engaged in a back-and-forth singalong. Bush then offers his thanks to both the crowd and moe. before the latter rejoins him on stage for one of his own songs, "Same Old River." It's a perky, bluegrass-y number that would fit perfectly in any stringed band show, with Bush ripping off a fierce mandolin solo in the middle.
One more special guest, "who needs no introduction" per Al, enters the first set fray and Trey Anastasio joins everyone on stage for an electric cover of "Crossroads" with both he and Bush handling vocals. An already tight jam doubles in speed about midway through as the first set comes to a rousing finish.
The second set picks up right where the last one left off, except Bush is now replaced by Jennifer Hartswick on vocals and Ray Paczkowski on keys with moe. serving as the backing band for "Night Speaks To A Woman," an early Trey Anastasio Band staple with which both newcomers are very familiar. There's not much lost with this version with Trey throwing down a scintillating solo in a jam that starts fiercely, breaks down into some loose improv, and then steadily builds back up to a joyous peak.
Derhak then takes another moment to thank tonight's patrons and mentions that Dave Matthews has offered to match whatever amount of money is raised this evening. Then it's back to the moe. catalog with "Spine Of A Dog" with the crowd ably assisting on the opening lyrics. The "Dog" jam then meshes incredibly seamlessly into the opening of "Buster" and moe. and friends take off with another longtime fan favorite.
This opening 1-2 punch gets a well deserved roar of approval from the Roseland crowd before moe. yields the floor for another cover. This time it's "Boogie On Reggae Woman," the Stevie Wonder song that is no stranger to a live Phish show with Anastasio handling lead vocals accordingly. Another lively jam ensues, this time with Paczkowski eagerly showing off his chops that helps drive the momentum. Towards the end, the music gets very percussion-heavy before falling out into full fledged "Drums" section, giving Jim Loughlin and drummer Vinnie Amico a chance to do the same.
Afterwards, Trey then reemerges with only himself and an acoustic guitar for a pair of Phish tunes. For Phish heads, this must have been like an oasis in the desert with the band's forgettable "final" shows at Coventry having taken place about six months earlier and it being years before they would reunite again. The crowd has no problem at all assisting on the "can I live while I'm young" lyric to "Chalkdust Torture" before adding their collective voice to the traditional opening of "Wilson."
The second set then comes to a gigantic finish with one last banger in "meat." that sees Medeski, Bush and Trey all lend a hand. What results is a 35-minute plus monster jam where everyone gets a chance to solo and shine. The jam starts out in traditional metal-esque fashion, before breaking down into a definitive bluegrass sequence with Bush leading the charge, before passing the baton to Medeski who helps steer it in another direction entirely. It eventually winds down into a near-ambient section with Loughlin chiming in on vibes and a plethora of effects emanating from Medeski's rig. It's a whirlwind cavalcade of sound that serves as the crux of the second set, if not the show itself, and is well worth a listen.
One last pair of covers serves as the encore for this benefit show, starting with Frank Zappa's "Peaches En Regalia," another song that's no stranger to a Phish show with Loughlin on vibes giving this one a proper feel. Anastasio and Hartswick then team up one last time on vocals for "After Midnight." Extra special attention is given to the "gonna let it all hang out" which moe. and friends certainly did this evening, and for a noble cause no less.
You can listen to and relive this memorable gig here or see below.
moe. Tsunami Relief Benefit Show Roseland Ballroom – New York, NY 2/10/05
Set 1: Rebubula, Mexico*, Plane Crash^, Got My Mojo Working^, Sailing Shoes**, Same Old River^^, Crossroads#
Set 2: Night Speaks To A Woman$%, Spine Of A Dog$ > Buster$, Boogie On Reggae Woman$%>Drums, Chalkdust Torture$$, Wilson$$, meat.*$
E: Peaches En Regalia*$>After Midnight*$%
* with John Medeski on keys, Sam Bush on Violin
^ with John Medeski on keys
** Sam Bush solo
^^ with Sam Bush on mandolin
# with Sam Bush on mandolin, Trey Anastasio on guitar
$ with Trey Anastasio on guitar
$$ Trey Anastasio solo acoustic
% with Jennifer Hartswick
and Ray Paczowski keyboard most of SET II