Bradley Nowell's spirit is ablaze in the Empire State as February heats up with live music across Central New York in the Big Orange. Original Sublime Bassist Eric Wilson and drummer Bud Gaugh carried Bradley's spirit on stage at Del Lago Casino this past December. Rome Ramirez fills in the guitar and vocals. "Sublime with Rome" made their debut in 2009 at Cypress Hill's smoke out festival in San Bernardino, California. And another musical seed from Bradley was planted in Badfish: A Tribute To Sublime that carries the Long Beach sound torch as well.
Badfish: A Tribute to Sublime came to Syracuse's Westcott Theater on February 3 2022. Joel Hanks, Scott Begin, Pat Downs and Dorian Duffy pass Sublime's sound nicely around the crowd. Come on down reggae style, wind up your body like a bass line wild, drink and dance and we can turn it out. Chicago's Dorian Duffy channeled the west coast bass lines to the great lake region of Upstate. The crowd responded with live art sketches and dancing on both floors of the cinema. The Westcott now has a mini mezzanine, "524 VIP Lounge", on the left stage.
The Badfish band brought Sublime's 90's Skunk Records art sound to the crowd. Playing "Badfish" off 'Jah Won't Pay the Bills. "Smoke Two Joints" with the Grateful Dead's "Scarlet Begonias" off 1992's 40 ounces to Freedom album. My "Ruca" was Down at the "Pawn Shop" on Westcott Street. April 29 (1992) Miami set a tribute for Spring off their 1996 self titled "Sublime" record. Herbie Manns's "Summer Time" was channeled through the speakers for "Doin Time". The living's easy.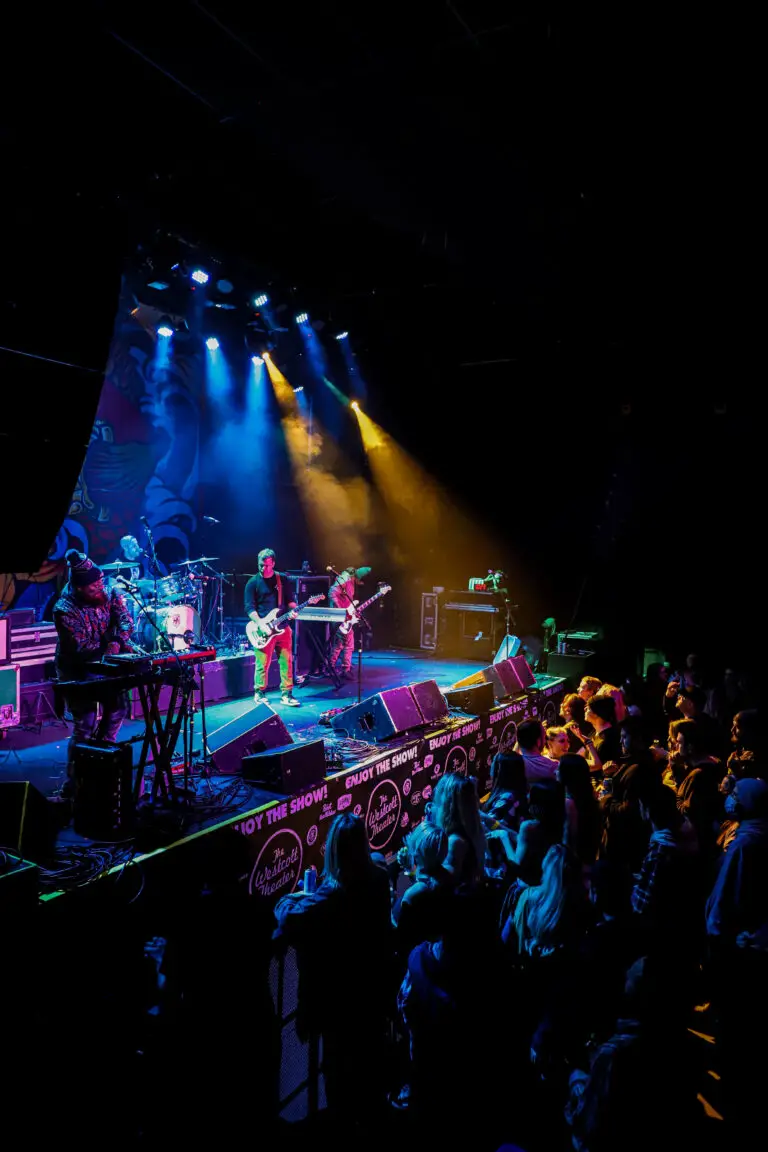 Artist Jon Phillips of Silverback music helped the band from Skunk Records do their self-titled "Sublime" album in 1996. Drummer, producer, and DJ Marshall Goodman mixed the original "Doin' Time". He merged reggae, punk, and hip hop together. Then blended the three together with the track. Jon Phillips tells a great story on Reggae TV on how the song made its way in to your hands. Phillips describes the piece as a pinnacle historical moment for music and the band.
It's a Herbie Mann rendition of Summertime. The way he played it. Just a nice vibe and I drew from that.

DJ Marshall Goodman
It's Gershwin's Summertime instrumentally interpreted by Herbie Mann's vinyl from a Village Vanguard sample by Marshall. He throws in a Beastie Boys sample, his break beat & flavor drums. Gives it to Brad. Brad writes this incredible lyrical and counterpart to it.

Jon Phillips
The Gershwin estate actually told the group that they wouldn't be allowed to put "Doin Time" out. Phillips started the channels to not allow that and have this music see the light of day. Jon said "It's worthy of it. To me It's historical"
The Gershwin Estate happened to be in the same office building as the record label Phillips was working for. He figured he'd knock on the door and see what the connections for clearance could be. The person they introduced him to that would help release it was a familiar face Phillips used to ride the elevator with. The guy happened to be from Jon's hometown in the Bay area and they had similar musical angles.
This is one of those pieces of music where it takes the history of what a great composer Gershwin did that they represented. It's sort of a passing it on to Jazz, Hip-Hop, in to this California reggae music that was permeating through the pop and sub culture

Jon Phillips
The Gershwin estate allowed the song in to your hands and boom box for play in the 90's as result. The Gershwin's just didn't understand the dark sublime twist to it to the classic piece.
Brad's original lyric was Doin' Time and the livings easy. The song is about how he relates to a relationship that hes in… is like a penitentiary. Its a love song. Its not this happy Summertime song.

Jon Phillips
The Gershwin's most important request was that "Doin Time" be represented as "Summertime". Miguel's vocals get spliced in to the track to honor the joint creative. The Gershwin's estate allowed their publishing to go down in the song's epic history. Lake Placid's Lana Del Ray has paid tribute to "Doin' Time" as well with her take on the track.
Jon Phillips founded Silverback Music in 1998. He works with a lot of New Orleans artists like Tony Hall & Dumpstaphunk. Silverback's creative vision continues to grow with in the spectrum of genre-bending improvisational rock, dub, reggae, psychedelic blues, punk rock, acoustic, soul, and funk. G Love told NYS Music that he was "to the moon" when Jon Phillips told him that B-Real of Cypress Hill would be featured on his track "Everyday People" collaboration with Slightly Stoopid. Jon Phillips told NYS Music "That Stoopid remix with him and B Real with the headhunters sample is ILL!"
It was a strange serendipitous coincidence it happened to be the case. I'd fight till the very end to see that song reach the masses and thank god it did. Its a really important piece of music in that respect.

Jon Phillips
Badfish: A Tribute To Sublime, Westcott Theater. Syracuse, NY
February 3rd 2022 Setlist:
Garden Grove, Bad Religion, Don't Push, Smoke Two Joints, Ball N Chain, Scarlet Begonias, Wrong Way, Same in the End, Johnny Butt, DJ's, Badfish, Lets Go Get Stoned, Jailhouse, Pawn Shop, Acoustic Stuff, Ruca, 40 oz to Freedom, April 29 1992 (Miami), Santeria, Doin' Time
Encore: Date Rape, Get Ready, Caress Me Down, What I Got