Filled to the Brim, a rock band consisting of high schoolers from Utica, will be performing at The Stanley Theatre on Friday, February 25th.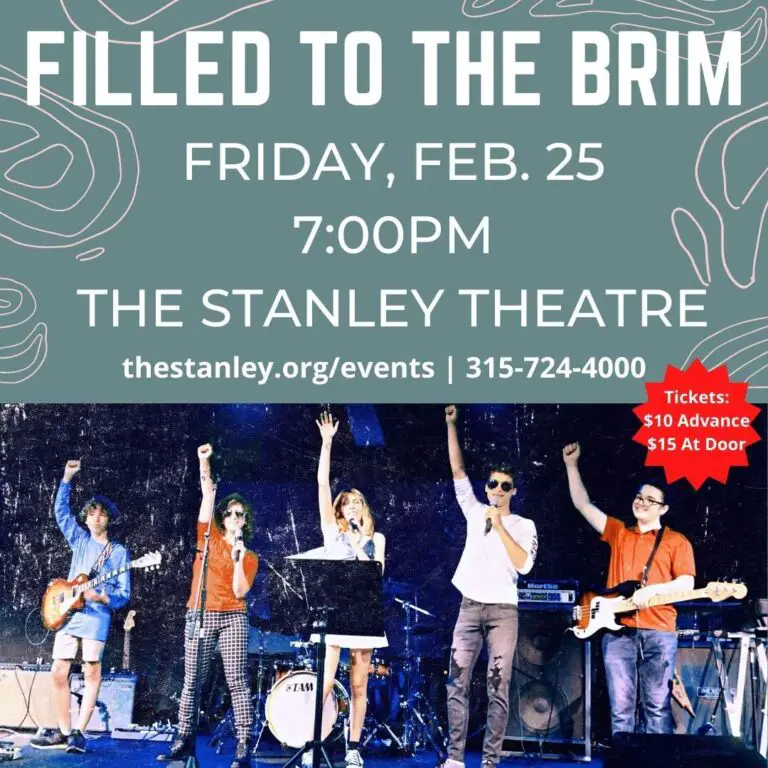 The band consists of Victoria Haggerty on lead vocals, Alyssa Tomassi on drums, Owen Paz on bass, Jack Towns on keyboards and Johnny Mudge on lead guitar and was first formed in 2018, where the young talents met at Jim O'Mahony's Rock Camp in Marcy, New York. During those two weeks, the band composed their first song, "Turn Back The Time," and released a music video for the song less than a year later. 
In March 2019, the band recorded a music video for their single, "Turn Back the Time" with Lisa Baron from Upstate Studios, now known as Baroness Films in Utica, NY. Over the course of 2019, they played shows and continued collaborating until they found that they had created enough songs for a full album.
They headed back to the studio in December 2019 and recorded their 11 track self-titled with Andrew Greacen from MoreSounds Studios.
Since then, Filled To The Brim has continued writing songs and playing shows. In 2020, the band released their self-titled album and in 2021, the band released their single "Only U." Both are available for streaming on Spotify, Apple Music, and YouTube.
The Stanley Theatre will be hosting the band on Friday, February 25th. The theatre operates as a non-profit organization run by the Central New York Community Arts Council. Since 1928, the theatre has hosted movie screenings, plays, concerts, and more.
Tickets start at $10 can be purchased through Ticketmaster.