Pink Talking Fish, who perform the music of Pink Floyd, Talking Heads, and Phish, have announced new tour dates for Spring 2022, the most notable of which will be in New York at the Gramercy Theater on April 20.
The New York concert is part of the NYC Phish AfterParty series hosted by the NYC promoter CEG Presents. After major Phish concerts at Madison Square Garden several venues around the city host after parties for those who are still awake, as Phish fans keep the party going.
And what better way to do that than by adding some Talking Heads and Pink Floyd to the mix.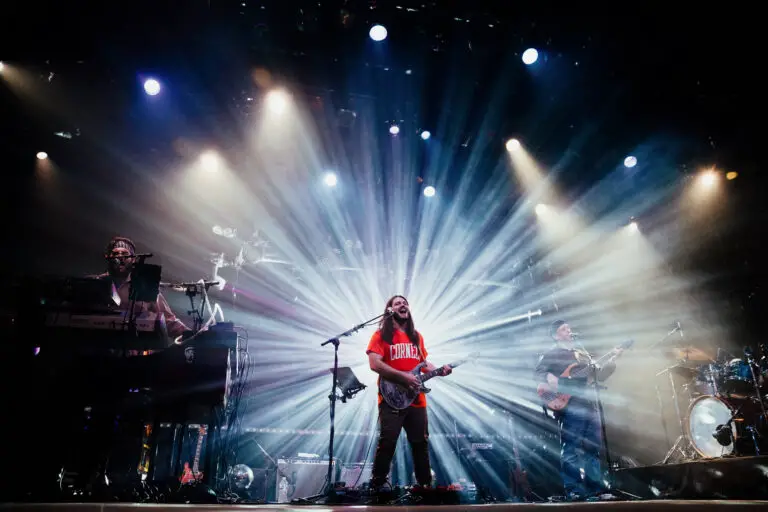 With the new Pink Talking Fish tour stop in New York, what is already a huge show as Phish returns to the Garden on rescheduled New Years dates, the dancing doesn't have to end just because the concert did. Doors open at 11:30pm and tickets are now available online.
Other than the Gramercy Theater show the new Pink Talking Fish tour will only have one other show in New York state proper, in Saratoga Springs on April 16. There are, still, several other shows in neighboring states: Hartford, CT on Feb. 18, Jay, VT on Feb. 19, and Burlington, VT on March 19.
Other notable stops include a three day stint in Denver, Colo. for a special David Bowie and Prince show. Where they'll cover songs of the two rock legends alongside guests Chuck Morris from Lotus and The Horn Section, made up of former members of Turkuaz.
Tour Dates
2/18: Hartford CT at Infinity Hall
2/19: Jay VT at Jay Peak Resort
2/26: Ardmore PA at Ardmore Music Hall w/s/g Qway
3/11-12: Denver CO at So Many Roads Brewery
3/13: Denver CO at So Many Roads Brewery – Prince/Bowie featuring PTF, The Horn Section, Chuck from Lotus + more
3/19: Burlington VT at Higher Ground w/s/g Swimmer
4/08: Ventura CA at Ventura County Fairgrounds – Skull And Roses Festival
4/09: Seattle WA at Nectar Lounge
4/16: Saratoga Springs NY at Putnam Place
4/20: New York NY at Gramercy Theater – Phish AfterParty
4/21-22: Ferndale MI at Otus Supply
4/23: Chicago IL at Park West
4/24: Columbus OH at Woodlands Tavern