As the early 1990s progressed, Phish would continue to make their mark in and throughout the Northeast. A major hub for this was obviously New York City. After years of playing The Wetlands, Phish had finally progressed to the Roseland Ballroom, starting with a gig there in March of 1992. The tour that began 1993 would add two more shows here and today marks the anniversary of the second one. Amazingly, this would somehow be their only shows in the city this year as tours began to stretch nationwide. They certainly made the most of their stay though, ending their brief Roseland residency with a show that features a healthy helping of new songs, classic favorites, and a remarkable pair of special guests to help them close it out.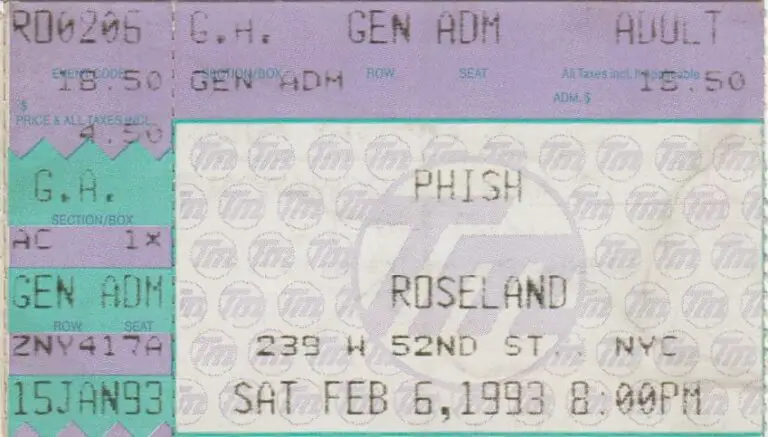 An enthusiastic Roseland crowd seems to recognize "Golgi Apparatus" right away and the show is off and running with the venerable Phish classic. This is followed up with "Foam," another hit off the band's seminal Junta release. Despite some brief feedback issues, it's a quick yet crisp version with a seemingly extra peppy bass line provided by Mike Gordon.
"Wilson" then has a bit of an extended intro with a different feel, with only the band singing the name of the fictional Gamehendge ruler as this pre-dates the now customary crowd chants. In an extended break before the "blap boom" ending portion, Trey Anastasio throws in both "Simpsons" and "Random Note" guitar signals that a good portion of the crowd seems to recognize. Then Phish steers into "My Friend, My Friend," a track from their album Rift that was officially released just days earlier. As soon as "Friend" finishes, Phish wastes no time in doubling down on first set Rift tunes with Jon Fishman starting up the iconic drum intro to "Maze." A rousing McConnell organ solo is supplanted with one from Anastasio and the first set at Roseland this evening is officially firing on all cylinders now.
After a standard run through of "Horn," another first set staple, Phish launches into a flawless "Divided Sky" that features some more wonderful interplay between McConnell and Anastasio, with the latter spitting pure "fire" by song's end in a potential nod of what was still to come. The now raucous Roseland crowd makes their feelings known after this one before Phish slows things down a tad with McConnell taking lead crooning duties on "Lawn Boy."

Afterwards, the band breaks out a fairly new song (at the time) with only the third "The Wedge" ever performed live, after debuting three nights prior. It's got a real jazzy, piano-fueled intro that makes it stand out when compared to its modern day version and McConnell follows this up with a dazzling solo mid-song that seems to have Trey yelling along in approval. A fairly standard "Bouncing Around The Room" follows this before the first set comes to a screaming halt in the form of a rabid "Run Like An Antelope" that has the whole band working together as one to bring the jam to a proper peak.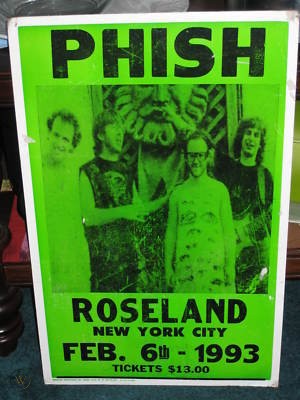 Tonight's second set picks up right where the first one left off in the form of "Chalkdust Torture." While this classic Phish number produces its typical high octane guitar and bass riffs, it doesn't yield much of a jam. Instead, after a quick wrap up of "Torture," the band dives back into the Rift chest and pulls out the Mike Gordon-penned "Mound." But exploratory-wise, the second set doesn't really take off until the "Stash" that follows, with Anastasio throwing out probing guitar fills atop some intense rhythms generated by Gordon and Fishman.
The call is then made for some mid second-set a cappella and Phish goes with the first "Sweet Adeline" of 1993 before an especially attentive Roseland crowd. Then, after Phish's instrumental ode to NPR with "All Things Reconsidered," the heavy hitters come back into play, starting with a "Mike's Song" with a fun little verse added to the intro. Gordon has a little fun with the standard lyrics as well before the song takes a turn into its typical dark and foreboding ambiance. It's a standard "Mike's Groove" with the bliss-filled "I Am Hydrogen" dropped in the middle before "Weekapaug Groove" whips the Roseland crowd back into a collective frenzy. After this classical trifecta, Phish brings it back to the new school with the second ever "Lifeboy" performed live.
After this insightful newcomer, Phish decides to integrate some bluegrass into the show and breaks out an extremely tight "Uncle Pen" before a "Big Ball Jam" breaks out, the short-lived Phish gag in the early '90s where giant inflatable balls were thrown out into the crowd with each band member "playing" along to a respective ball and its bouncing trajectory. Not much of a jam ensues though so Anastasio jumps behind the drum kit and Fishman then emerges for "a sad song" called "Lengthwise," despite being prodded by the crowd to recite "The Prison Joke" again. After urging the crowd to break out lighters for the song, he adds an extra verse about burning his finger for holding one too long.
With the Big Ball and Fishman theatrics now out of the way, the show comes to a legendary finish, starting with "Buried Alive" where none other than Blues Traveler's John Popper emerges to sit in and adds an absolutely ferocious harmonica solo that takes this song to another level. He then stays on for a set-closing "Possum," adding a lovely touch to the intro before leading one of the more explosive jams of the evening.
As if one special guest weren't enough tonight, Phish once again doubles down and brings out another one for the encore. With Popper still on stage, Phish do two "fake" botched intros to Jimi Hendrix's "Fire," seemingly blaming Gordon for the errors. So instead, Mike moves over to keys and they nonchalantly bring out none other than Noel Redding himself, the original bassist for the Jimi Hendrix Experience, to come out and do the honors. It caps off an incredible finishing sequence to, amazingly, the last New York City show of the year for Phish.
The whole show can be streamed here at PhishTracks with many audio clips found on YouTube as well.
Phish Roseland Ballroom – New York, NY 2/6/93
Set 1: Golgi Apparatus, Foam, Wilson, My Friend My Friend, Maze, Horn, Divided Sky, Lawn Boy, The Wedge, Bouncing Around The Room > Run Like An Antelope
Set 2: Chalkdust Torture, Mound, Stash, Sweet Adeline, All Things Reconsidered, Mike's Song > I Am Hydrogen > Weekapaug Groove, Lifeboy, Uncle Pen, Big Ball Jam, Hold Your Head Up > Lengthwise > Buried Alive, Possum
E: Fire