2022 NYC Winter Jazzfest has announced its lineup running from January 13-22, 2022 presenting a full spectrum of jazz. The Artist-in-Residence will be Chicago composer and multi-instrumentalist Angel Bat Dawid.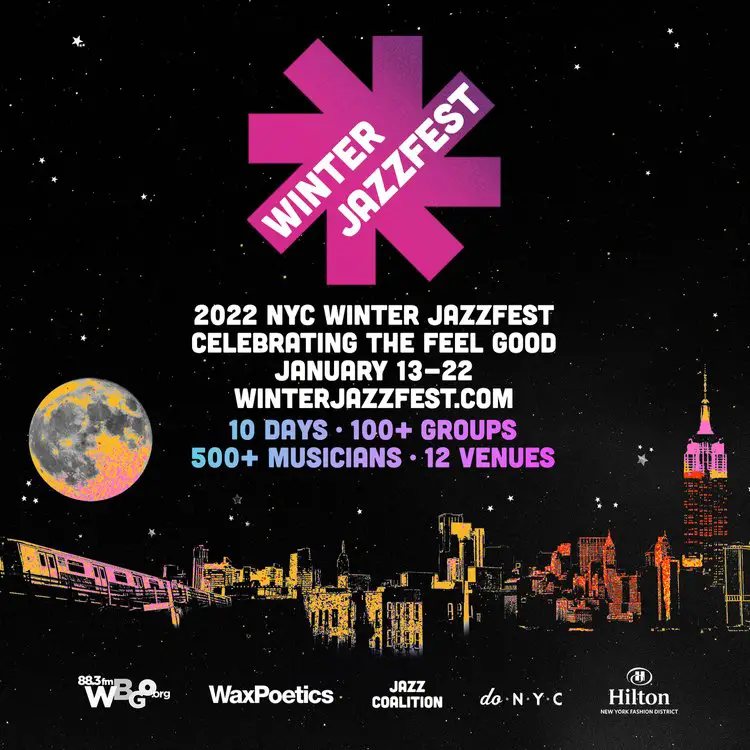 This will be the 18th annual rendition of the NYC Winter Jazzfest. The festival was founded in 2005 and over the years has cemented a reputation as a hotbed of cultural discovery, supporting the rich growth and continued vitality of the jazz community. 
This year's festivities will include 10 nights of programming: marquee performances, including major world premieres, from artist-in-residence Angel Bat Dawid, Pino Palladino & Blake Mills, Ben LaMar Gay, Jaimie Branch, Fay Victor and Kate Gentile; a Summer of Soul screening/convo and "The Feel Good" Party with Questlove and guests; and once again our weekend multi-venue, multi-artist marathon, which has become recognized as one of New York's most essential nightlife offerings, giving audiences full access to all participating venues and dozens of groups performing from early evening deep into the wee hours.
NYC Winter Jazzfest's Artist-in-Residence is composer and multi-instrumentalist Angel Bat Dawid who is known in the world for the premiere of "Afro-Town Topics: A Mythological Afrofuturist Revue". Inspired by Fats Waller, Bat Dawid presents a new original score using the traditional framework of a musical revue (a type of multi-act popular theatrical entertainment that combines music, dance and sketches) as a compositional blueprint with the intention of creating and exploring the production of new Afro sonic realities and futures. Additionally, Bat Dawid will perform a DJ set at the opening night event at City Winery on January 13 and present her Sistazz of the Nitty Gritty on January 14 during the NYCWJF Marathon.
With the support of South Arts, Mutual Mentorship for Musicians will hold its inaugural residency under the auspices of NYCWJF.  Supported by a consortium of public and private funders including the National Endowment for the Arts, the Andrew Mellon Foundation and nine state arts agencies, South Arts has, through its Jazz Road Creative Residency program, provided grants of up to $40,000 this year to 52 artists or groups including M3, in order to foster their artistic and professional growth while allowing them to engage in a wide range of artistic and community projects throughout the US. 
M3 was cofounded by acclaimed musicians Jen Shyu and Sara Serpa in 2020 to address ongoing gender inequity and underrepresentation in the jazz and creative music worlds, and to foster partnerships among women and non-binary musicians around the world through new composer commissions, published writings, collective conversations and other programs. The M3 residency seeks to reverse the imbalance seen at many jazz festivals by presenting 21 women and non-binary bandleaders, showcasing them across 10 days as performers, composers, workshop leaders and facilitators. 
Participants include Samantha Boshnack, Romarna Campbell, Caroline Davis, Miriam Elhajli, Ganavya, Eden Girma, Val Inc. AKA Val Jeanty, Maya Keren, Erica Lindsay, Lesley Mok, Camila Nebbia, Shanta Nurullah, Cleo Reed, Michele Rosewoman, Sara Serpa, Jen Shyu, Monnette Sudler, Anjna Swaminathan, Sumi Tonooka, Fay Victor and Malika Zarra.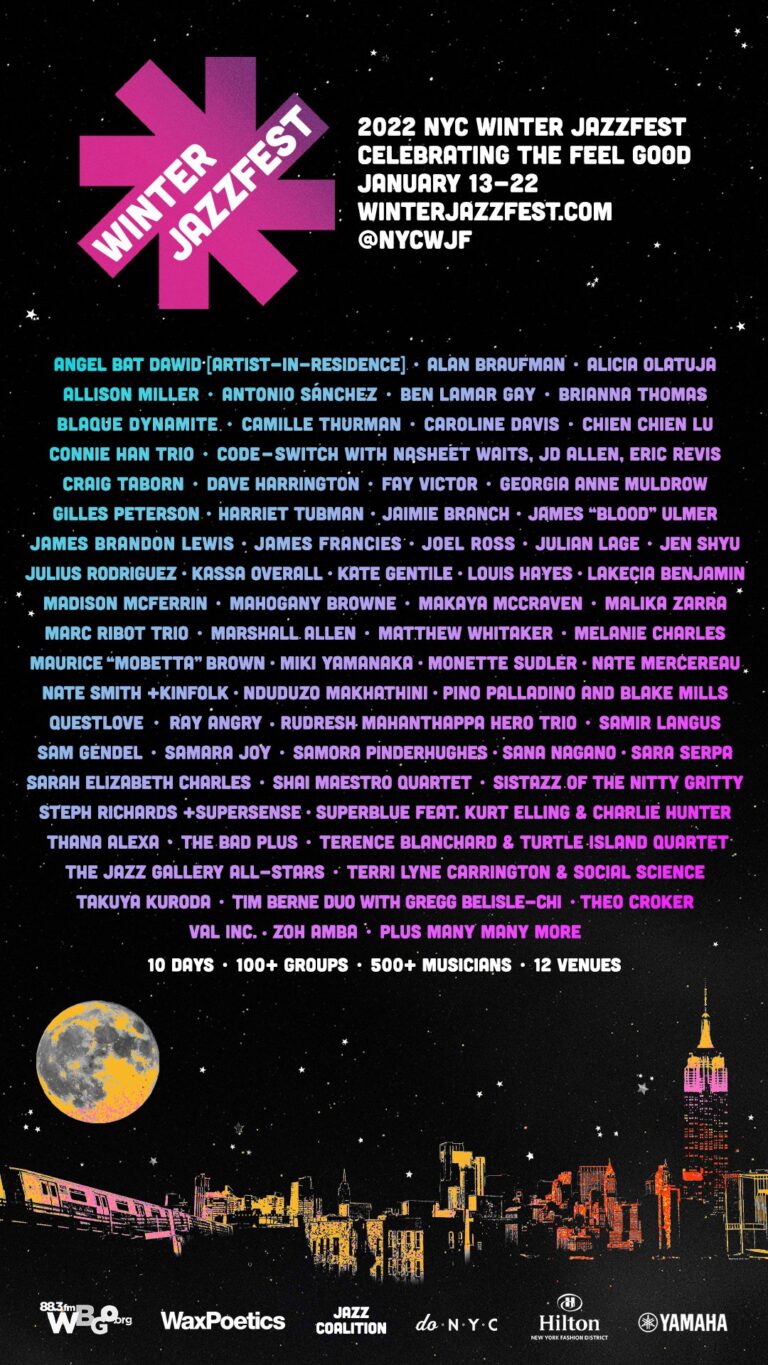 The current lineup for NYC Winter Jazzfest includes: Angel Bat Dawid (Artist-in-Residence), Alan Braufman, Alicia Olatuja, Allison Miller, Anjna Swaminathan, Antonio Sánchez – A Bad Hombre Project, Ben LaMar Gay, Brianna Thomas, Camila Nebbia, Camille Thurman, Caroline Davis, Chien Chien Lu, Cleo Reed, Code-Switch with Nasheet Waits, JD Allen, Eric Revis, Connie Han Trio, Craig Taborn, Dave Harrington Pranksters East, Eden Girma, Erica Lindsay, Fay Victor, Ganavya, Georgia Anne Muldrow, Gilles Peterson (virtual), Greg Ward's Rogue Parade, Harriet Tubman, In Common: Walter Smith III and Matt Stevens featuring Kris Davis/Harish Raghavan/Terri Lyne Carrington, Jaimie Branch, James "Blood" Ulmer, James Brandon Lewis, James Francies, Joel Ross, Blaque Dynamite, Jen Shyu, Joel Ross, Julian Lage, Julius Rodriguez, Kassa Overall, Kate Gentile, Lakecia Benjamin, Lesley Mok, Louis Hayes, Madison McFerrin, Mahogany Browne, Makaya McCraven, Malika Zarra, Marc Ribot Trio, Marshall Allen, Matthew Whitaker, Maurice Brown, Maya Keren, Melanie Charles, Michele Rosewoman, Miki Yamanaka, Miriam Elhajli, Monnette Sudler, Nate Mercereau, Nate Smith +KINFOLK, Nduduzo Makhathini, Pino Palladino and Blake Mills featuring Sam Gendel and Abraham Rounds, Questlove, Ray Angry, Romarna Campbell, Rudresh Mahanthappa Hero Trio, Sam Gendel, Samantha Boshnack, Samara Joy, Samir LanGus, Samora Pinderhughes GRIEF, Sana Nagano, Sara Serpa, Sarah Elizabeth Charles SCOPE, Shai Maestro Quartet, Shanta Nurullah, Sistazz of The Nitty Gritty, Steph Richards +Supersense, Sumi Tonooka, SuperBlue: Kurt Elling featuring Charlie Hunter, Takuya Kuroda, Terence Blanchard featuring The E-Collective and Turtle Island Quartet, Terri Lyne Carrington & Social Science, Thana Alexa, The Bad Plus, The Jazz Gallery All-Stars, Theo Croker, Tim Berne Duo with Gregg Belisle-Chi, Val Inc. AKA Val Jeanty, and Zoh Amba.
For more information on 2022 NYC Winter Jazzfest visit their website.