For the sixth episode of Season 47 of Saturday Night Live, actor Jonathan Majors was joined by four-time musical guest Taylor Swift, fresh off the release of Red (Taylor's Version) on Friday.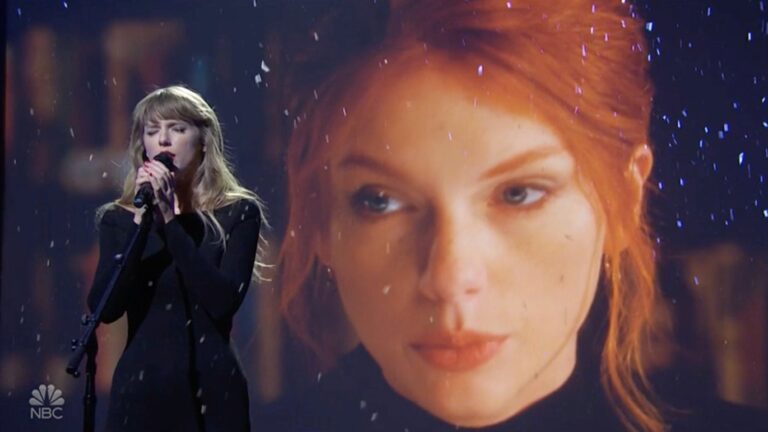 Swift made her first appearance of the night in a digital short from Please Don't Destroy, a New York-based comedy trio featuring Ben Marshall, John Higgins, and Martin Herlihy, the latter the son of former SNL writer and Adam Sandler collaborator Tim Herlihy. What seemed to be a music video on a day in the lift of Pete Davidson suddenly turned into "Three Sad Virgins," with Davidson mocking Marshall, Higgins and Herlihy, joined by Swift partway through.
Swift would only perform one song this evening, the first time in seven years – Prince performed a single tune in 2014 – with the 'new' "All Too Well," an extended update of the same song from Taylor Swift's Red, released in 2012. The new take on the album was rerecorded to circumvent a dispute with her former label, and received immediate praise in scope and execution.
"All Too Well" featured Swift performing in front of a screen that shows clips from the short film of the same name, which was also released on Friday. Starring Sadie Sink (Stranger Things) and Dylan O'Brien (Teen Wolf) as "Her" and "Him," the couple moves from romance to break up, due to uncaring behavior from "Him." "Love is so short, forgetting is so long," a quote from Pablo Neruda, references Swift's brief three-month relationship with actor Jake Gyllenhaal.
Clad all in black with a red guitar, Swift performed, "All Too Well" and live scoring the film clips behind her. A rose petal filled stage, with alternating blue and red lighting, lasting an impressive 10 minutes. Swift put her guitar down towards the end, singing passionately for a build up that drifted into falling snow as the performance came to a close.
Jonathan Majors was underutlized this evening, but shone particularly well on "Broadway Benefit," a Broadway musical spoof where he flexed his singing chops alongside Bowen Yang and Cecily Strong.
Swift and Majors would joyfully bump chests (while wearing masks) during the show closing goodbyes. Next week Shang Chi star Simu Liu with musical guest Saweetie for the Thanksgiving episode of Saturday Night Live.